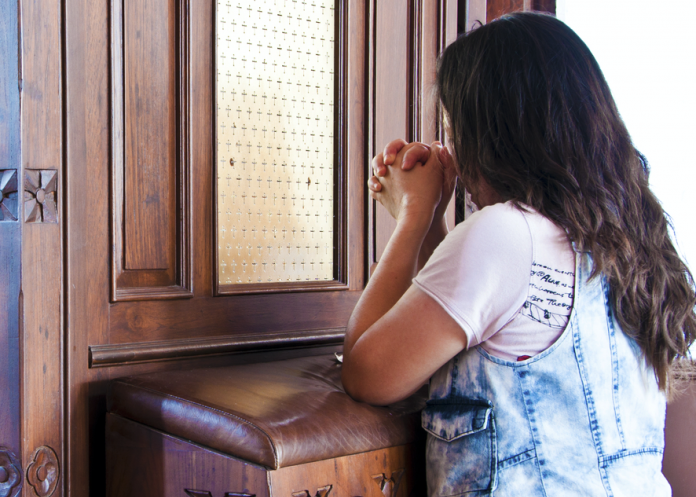 Connie Clark
I stopped going to confession when I was 15. That was the year face-to-face reconciliation arrived, and my self-conscious teenaged self didn't want any part of it. I didn't make it back until I was an adult, but I regret those lost years deeply. And I talk to my students honestly about it. I tell them how much better my life is with confession than without it.
Sharing our personal experiences helps put a familiar face on a sacrament that might seem daunting to many kids (and adults). Here are some other ways to help older students get comfortable with the sacrament of reconciliation.
Start with a gift
Whether you receive the sacrament regularly or it's been a while, give yourself the gift of learning something new. Who knows, maybe an "ah-ha" moment lies ahead that the Holy Spirit wants to convey to your students through you. I recommend A Fresh Look at Confession: Why it Really is Good for the Soul by Fr. David Knight (Twenty-Third Publications). This isn't a children's book, but it can inspire and renew our adult understanding of reconciliation.
Play tour guide 
It's a safe bet that many of your students haven't received the sacrament since their first reconciliation. And since several priests are often stationed throughout churches at those events, many children don't enter the confessional. So, you might have students who have never been inside one. Think they might feel scared about entering a dark, tiny room alone? You bet. So arrange a little field trip. Schedule a time with your parish office and take your students inside the confessional. Let them sit down, kneel, and enter the priest's room, too. Review what happens in confession so they know what to expect.
Party on
In the sacrament of reconciliation, God offers forgiveness and remission of sins — he wipes the slate perfectly clean. That's a good reason to celebrate. If you arrange to have a priest hear confession during class time, invite him and your students to a little celebration afterwards. Ice cream, pizza, or homemade cookies are fine, unless it's Lent. In that case, arrange some outdoor games, or show a fun, appropriate movie (review it yourself first) and serve popcorn.
Make it easier
There's no law saying you need to memorize what to say in confession. It's fine to bring along a — pardon the expression — cheat sheet. And remind students that in confession, the priest speaks in the person of Jesus, who always loves us, especially when we forget what to say!
Connie Clark is a catechist at Saint Kilian Catholic Church in Mission Viejo, California. Her latest book is 50 Prayer Services for Middle Schoolers: For Every Season of the Church Year and More, (Twenty-Third Publications). Her website is connieclark.org. 
:::
Image credits: Ravipat/ Shutterstock 177374549