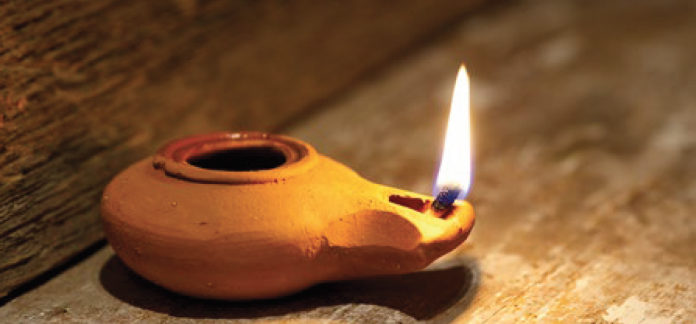 BY LYNN WEHNER
"I will open my mouth in parables, I will utter what has been hidden since the foundation of the world." (MATTHEW 13:35)
In his parables, we find Jesus revealing what has been hidden. During Advent, what often is hidden in the cacophony of the world around us is the true message of the season: Get ready. As the season of Advent approaches, let's look at one of Jesus' most poignant parables—that of the Wise and Foolish Virgins—and seek ways to answer the call to be always prepared for his coming.
From the Word
"Then the kingdom of heaven shall be compared to ten maidens who took their lamps and went to meet the bridegroom. Five of them were foolish, and five were wise. For when the foolish took their lamps, they took no oil with them; but the wise took flasks of oil with their lamps. … [T]he bridegroom came, and those who were ready went in with him to the marriage feast; and the door was shut. Afterward the other maidens came also, saying, 'Lord, lord, open to
us.' But he replied, 'Truly, I say to you, I do not know you.' Watch therefore, for you know neither the day nor the hour" (Matthew 25:1-4, 10-13).
Class Discussion
✱ What things do we have to prepare for in a normal day?
✱ How do we prepare for Christmas?
✱ Who is the bridegroom in this parable? What is the marriage feast?
✱ Do we know when Jesus is coming again?
✱ Can we prepare for something, even if we don't know when it is?
✱ What things can we do in our faith lives to prepare for Jesus' coming?
Activities
1. What's Missing?
Lay out on a table items that are missing something in order to be useful: a
flashlight with no batteries, a needle with no thread, a mechanical pencil with no lead. Invite students to come up and choose one, then tell what is needed. Discuss how this compares to an oil lamp with no oil.
2. "Getting Ready" Charades.
Have teams draw cards and act out for teammates the activities listed (things you prepare for). "Getting ready for bed" might mean acting out brushing teeth, washing face, and fluffing pillows. "Having a party" might mean blowing up balloons and making a cake. Team with the most correct guesses wins.
3. P.R.E.P.A.R.E.
Ask students to create acrostic poems, using the letters of the word PREPARE. They will write the word vertically on a piece of paper and, next to each letter, write a word or phrase that expresses a way to prepare this Advent season for Jesus' coming (P for Pray; R for Reconciliation, E for Eucharist, etc.). They can do a "secular" one about preparing for Christmas as well as a "faith" one, and then compare the two poems. We get ready for things every day of our lives. But what could be more important than getting ready for the kingdom of heaven? Done well, this lesson can help your students be prepared for Jesus to come—both this Christmas and at the end of time.
Lynn Wehner is a Catholic writer, editor, and inspirational speaker who lives with her husband and their children in Connecticut.
The article was originally published in Catechist magazine, Nov/Dec 2016.
Image credit: Shutterstock 182536394