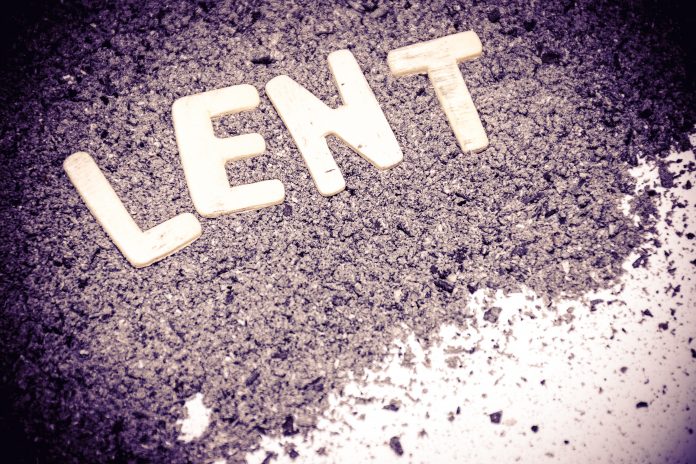 by Jeanne Heiberg
I recently saw in an art exhibit a gentle landscape in which gold leaf or paint was worked into the clouds of the sky and the hills of the earth. Its title was "On Earth as It Is in Heaven." Gold is a symbol of heaven, and this is what God wills for us: the happiness of heaven already experienced here on earth. Jesus taught us this in the Lord's Prayer, in which the words of the painting's title are preceded by "thy kingdom come, thy will be done."
Thy Will Be Done
The Lord's Prayer (Matthew 6:9-14) corrects the meaning people often give to the words "God's will," when something terrible happens. People want to comfort others who are suffering and help them accept their situations. However, saying "it's God's will" can give the impression that God wants us to suffer for some reason. But God wills only our well-being and happiness.
Some say suffering flows from our fallen state, our separation from God. Psalm 91 promises angelic help and protection from all kinds of disasters for those who cling to God. When we excluded God from our lives, God's love can only wait until we invite it in again.
The separation from God that Jesus came to heal affects all our relationships, where trouble often occurs. Father Rick Shaw, our sacramental minister at St. Patrick's, Athens, NY, recently pointed out that people of any Christian denomination or any religion with a belief in God can pray the Our Father. Because of this, it could be called the "family prayer of God," for God wants all his children to be united in peace and love.
This message is especially powerful because it comes from Jesus—an innocent man, the Son of God. He took on himself the most terrible punishment a world separated from God could dish out to bring us back into the unity of God's kingdom and its happiness.
That is what Lent, leading into Passiontide, is all about. Jesus, at one with his Father, was willing to suffer on our behalf to reunite us with God so we can begin to live the happiness of heaven as much as possible right now, here on earth, and in fullness in eternity.
Created for Happiness Now
Lent, the Church's yearly retreat, is a good time to remember that we are created for true happiness in being one with God now and in eternity. Lent brings into focus practices that lead toward unity, peace, and joy: prayer, meditation, spiritual reading, trust, giving up superficial pleasures for the sake of real joy, thinking of others and helping them, and making do with less so that others might have something.
This Lent, let the Lord's Prayer guide you into a deeper relationship with the Source of All Life as you invite God's Kingdom of Heaven into your minds and hearts and the whole world.
Use the following outline with your students to make the Lord's Prayer your Lenten guide. Discuss and pray each line. Then make collages that express each line, working with one line each week. Or, toward the end of Lent, take one class period to make the collages, letting each child visually express a different line to form the prayer together as a class.
Say to the Children
To help students visualize and create collages, share with them whatever you find appropriate from the material above and the comments below.
Ash Wednesday: Our Father, who art in heaven: Jesus tells us to connect with God, to begin prayer by placing ourselves in the presence of our wonderful Creator. God is always present to us, but we are not always present to God. We have to stop, quiet ourselves, and focus on God, the loving Father who created all of us.
That little word our is important. We are part of a family, a community. As we find our oneness, our connection to God, we also discover our connection with one another.
The First Week of Lent: Hallowed be thy name: We begin with praise to remind ourselves that God is totally and wholly holy, with us, in us, and all around us, everywhere. However, God is also far beyond us. In our fallen state, we cannot begin to understand God's ways. That is why Jesus came and told us to pray.
The Second Week of Lent: Thy kingdom come; thy will be done on earth as it is in heaven: Jesus taught who and what we really are: God's beloved children. God wants good for us, and Jesus told us to invite God's kingdom—God's will—into our minds and hearts. The more we learn from Jesus, the more we know that God is always with us, doing everything possible for us to know heavenly happiness if we let him. (In making this point, share your faith with great enthusiasm.)
Staying connected to God, we will not be overwhelmed by life's difficulties—by times of trouble, chaos, or confusion. When difficulties come, we will be ready. With prayer, we will know what to do.

The Third Week of Lent: Give us this day our daily bread: The word bread as used here refers to all our real needs. It doesn't say "Give us this day our daily cake" or "daily candy." Biblical bread included several whole grains, beans, and lentils (Ezekiel 4:9), providing a whole protein and other nutrients that meet most physical requirements.
We have to do our part, though, and choose what is good for our bodies. This is also true of our minds, hearts, and spirits. God loves us and wants to take care of us. Lent is a time to grow in trust that this is so. Our part is to pray and to choose what is healthy, to forego junk food. It includes feeding our minds, hearts, and spirits with things like good books, spiritual reading, wholesome conversation, and responsible TV viewing.

The Fourth Week of Lent: Forgive us our trespasses as we forgive those who trespass against us: Jesus knows how important forgiveness is to our growth in God and to our relationships with one another. Psychologists say that forgiving others is the key to happiness. Refusing to forgive and hanging on to anger and resentment is like taking poison ourselves and then expecting the offending person to be the one who gets sick. In other words, we hurt only ourselves.
Jesus told us to forgive others seventy times seven times because it is good for us. It's one of the most important things we do. Forgiveness builds loving relationships—with God and God's people. But forgiving is hard to do—and we can't do it alone. We need God's help. Jesus tells us to ask for it.
The Fifth Week of Lent: Lead us not into temptation, but deliver us from evil: Here is another job that needs God's grace and help. We are all in danger of succumbing to temptation—to doing, thinking, and wanting things that will do us harm or hurt others. Lent strengthens us against temptation and evil. If our relationship with God is strong, if we appreciate God's gifts and goodness, and if we see good in others, then temptations are less enticing. We may not even notice them.
Lent is a time to strengthen goodness and those heavenly connections that keep us safe from inner and external harm. We may experience accidents, sickness, and hurts—and at some point, we all will face death. But evil will never be able to take a grip on those who pray and live the prayer that Jesus gave us.
The Sixth Week of Lent: For thine is the kingdom, the power, and the glory: This final phrase added to the prayer that Jesus gave us, that we pray at every Mass, is perfect to lead us into Holy Week and Easter. We praise and thank God, whose Son Jesus endured extreme evil; who raised Jesus up to live forever in the kingdom, the power, and the glory; and who will welcome us into the kingdom, the power, and the glory as well. Wow! God definitely wills our good!
To honor and celebrate the Lord's Prayer, have students make collages for each petition of the Lord's Prayer.

ACTIVITY: The Lord's Prayer Craft
MATERIALS
* magazine clippings of images, words, photos, and color swatches (or pre-cut color swatches of material)
* construction paper or card stock (various colors, to serve as background material)
* unique textures such as tinfoil, paper bags, various wrappers, newspapers
* scissors
* glue sticks
* gold paper and paint
PROCEDURE
1. Help students brainstorm ideas for visually expressing each petition of the Lord's Prayer. Shapes, colors, words, symbols, and pictures can express heaven, joy, love, food, forgiveness, fear, temptation, eternity, glory, etc. For example:
Our Father…: A sunrise or sunset; hands embracing the planet Earth
Hallowed be…: Hands raised in prayer; swatches of bright colors
Thy kingdom come…: Serene landscapes; the color gold or images of the sky woven into landscapes
Give us this day…: Loaves of bread or crackers; any arrangement of food; a meal being served or enjoyed
Forgive us…: Two different-colored hands clasping in peace; people embracing or holding hands
Lead us not…: A road that leads into storm clouds; an arrangement of various dark colors; visible danger or violence; a snake
For thine is…: Ocean scene, perhaps with streams of light from the sky
The important thing is that the children become involved in the idea of each petition and then create images that express these ideas in ways that are meaningful to them.
2. Cut out images, words, and color swatches from magazines (or use color swatches of material) that capture the meaning of each petition of the Lord's Prayer.
3. Arrange images, words, and color swatches on background pieces and glue them in place.
4. If you wish, have children write the lines of the prayer that go with their art (or type them on the computer) to glue underneath or place next to the art.
5. Create a Lord's Prayer exhibit in your classroom, hall, or church. If possible, have someone scan collages into a computer, place each image above the text that goes with it, and give each student a Lord's Prayer book that they helped create. Or make just one booklet and present it as a gift to your parish priest, other parish leaders, or your parish library.
A Lord's Prayer Blessing
You will need a dish of holy water, a sprinkling sprig, and a Bible open to one of the readings noted below. Optional: You might want to add a plant or a safe candle to your prayer table as well. Also consider other prayer enrichments such as an audiotape, CD, or YouTube download of Charlotte Church or another artist singing the Lord's Prayer (search the Lord's Prayer on the internet). Place the children's collages on or around the prayer table or have children hold them.
Opening Song: Any rendition of the Lord's Prayer
Opening Prayer: Thank you, Jesus, for giving us a prayer that connects us to Our Loving Father in Heaven. You help us to know how much God wills our good. Help us to pray and connect to God often, and to trust in the love of God that created us.
All: Amen.
Readings: Psalm 91 (we cling to God; God is with us); Matthew 6:9-14 or Luke 11:2-4 (Jesus gives us the Lord's Prayer)
Commentary: As we struggle through the difficulties of an earthly kingdom separated from God, let us work this Lent to open ourselves to God and God's will for our happiness. The Lenten practices of prayer, fasting, and giving alms to help others will also help us. Let us often pray to God in our own words, from deep in our hearts. Let us also pray the beautiful prayers the Church gives us, especially the great words that Jesus gave us as a model for all prayer.
Blessing: As we bless these symbols of that great prayer, the Lord's Prayer (sprinkle holy water on the collages), and those of us gathered here (sprinkle all present), let us thank Jesus for all he gives us and does for us.
Closing Prayer: To end this time of blessing, let us pray together the family prayer that can be prayed by all who believe in God, the guide for all prayer that Jesus gave us.
All: Our Father…

Jeanne Heiberg is the author ofAdvent & Christmas Crafts (Paulist Press) and Advent calendars (Creative Communications). She has taught art, writing, creative catechetics, and meditation, and has directed parish catechetical programs.
---
Copyright 2011, Bayard, Inc. All rights reserved. This article is protected by United States copyright and other intellectual property laws and may not be reproduced, rewritten, distributed, redisseminated, transmitted, displayed, published or broadcast, directly or indirectly, in any medium without the prior written permission of Bayard, Inc.
This article was written by the Catechist Staff and appeared in Catechist magazine, January 2011.
Image Credit: Thoom/Shutter Stock 559092118