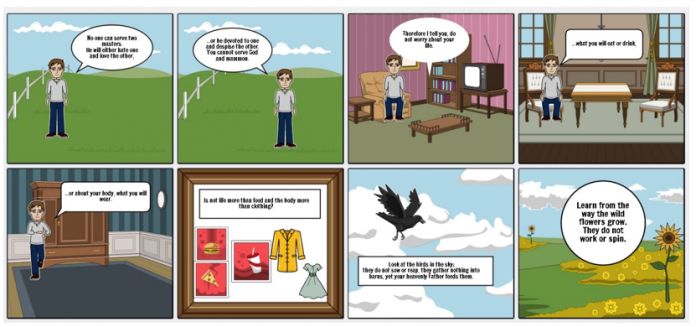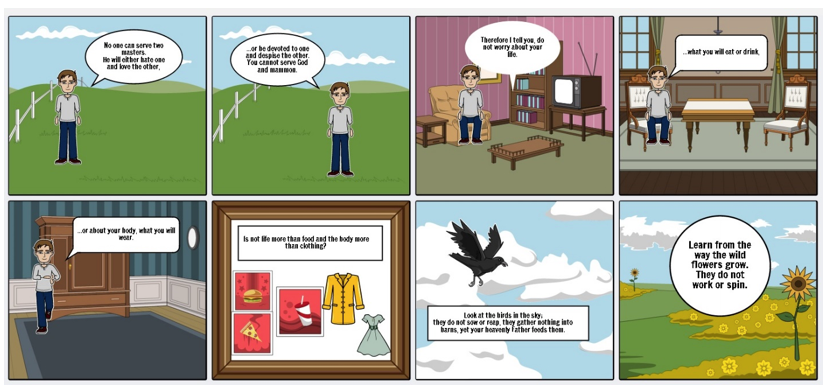 Sr. Caroline Cerveny, SSJ-TOSF
Storyboard That helps create digital stories. It is easy to use, inexpensive, and fun to use! There is a 14-day free trial for teachers at StoryboardThat.com. Besides a mobile device or a computer, good Wi-Fi service is needed in the church, classroom, or hall where you meet.
With Storyboard That, I encourage catechists to engage their students in re-telling Scripture stories. Here is an example using a Sunday Gospel reading, Matthew 6:24-34.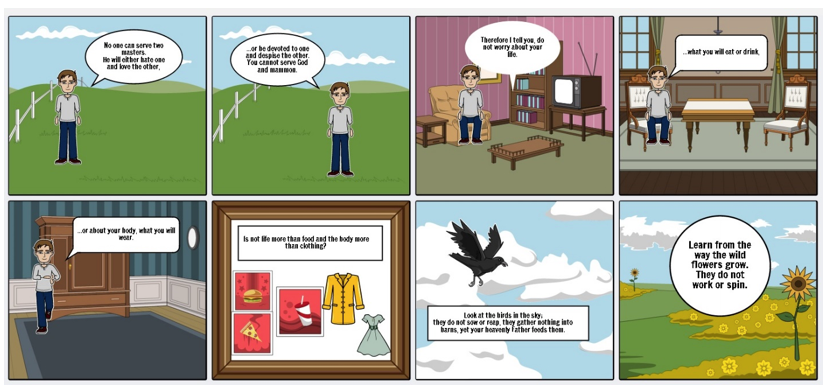 Storyboard That offers a variety of backgrounds and characters. Users can change the pose and expression of characters by selecting from a range of emotions and actions, and text tools are available. By engaging your students in re-telling Scripture stories, you can share the story in various ways: Print the story with or without the text, download the images to use in a PowerPoint presentation, show as a slide show, or embed on a website.
I discovered this tool at the Future of Educational Technology Conference in Orlando, Florida. Find another article about the 2017 conference with my takeaways for religious educators and Catholic school teachers, "What I learned at FETC: Leading 21stCentury Faith Learning."
You might also like this article: "Easy-to-Use Engagement Tools", Catechist, September 2017.
Sr. Caroline Cerveny, SSJ-TOSF, DMin, is a faith-based educational technology specialist. She is founder and president of Digital Disciple Network and co-founder of Digital Discipleship Boot Camp. Visit Facebook.com/digitaldisciplenetwork/ to share what is happening in your parish.