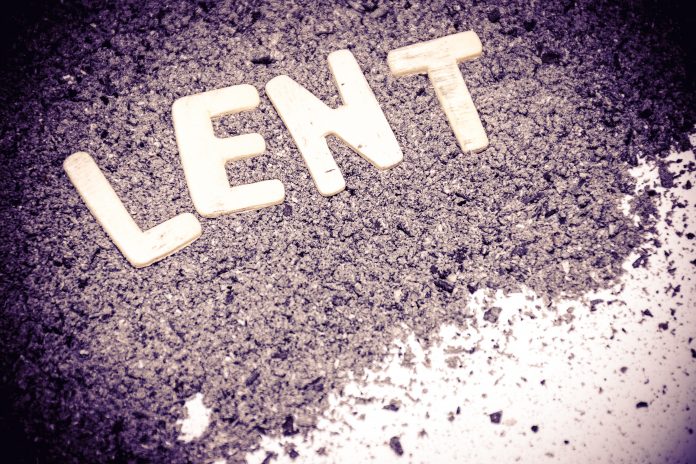 by C. K. Michaels
For the past six years, I've looked forward to class with my seventh-grade students the week before Ash Wednesday—because old ideas become new again each year. The first year I taught seventh grade, I developed a lesson plan around the three main disciplines of Lent: praying, fasting, and almsgiving. That lesson turned out great—and I give glory and praise to the Holy Spirit for that. And I've used the same lesson plan for the week of Ash Wednesday ever since.
Six years ago, we started the class time with prayer and then we talked about praying, fasting, and almsgiving. I raised this question: What are things we can do during Lent in the spirit of prayer, fasting, and almsgiving? As the students offered ideas, sometimes with details, I made a list on the board. Then we "edited" the list so that each idea was summarized in a word or a catchy phrase. We really had fun and ended up with 21 ideas.
Before the next class, I printed the list on a piece of poster board and hung the list in the classroom, where it remained throughout Lent. After Easter, I took the poster board home and stored it, only to come across it the following year as I made a lesson plan for the week before Lent.
What I realized is that I couldn't remember what some of the phrases meant, but I could imagine what they might suggest. So I hung the poster board in the classroom the week before Lent that year, and the students and I had a great discussion about things on the list and what they might suggest—and that gave all of us ideas for our own Lenten practices.
I suggest you do the same. Share this list with your students and have a discussion about what they think each item suggests for praying, fasting, and almsgiving. Some things are clear; others are vague and so can get some great ideas going. (I really like the line "Know before you go," and so I offer here a little more detail about what that means.)
Leave the list in the classroom during Lent and think about using it again next year. It's exciting to hear new ideas about these things year after year.
1. Delay gratification.
2. Fast from preferences.
3. Ask, "How can I help?"
4. Make good happen anonymously.
5. Listen with love.
6. Really go to Mass.
7. Do chores that aren't yours.
8. Notice God in nature.
9. Have no-technology-today days.
10. Go to Confession.
11. Compliment.
12. It's not about me.
13. Be uncomfortable.
14. Pray the Rosary.
15. Truly share. Really care.
16. Accept love.
17. Be quiet.
18. Know before you go. (Read the Sunday's Gospel before Mass.)
19. Look about, do without.
20. Make a difference.
21. Opt for peace.
C. K. Michaels has been a seventh-grade catechist for eight years. 
---
Copyright 2011, Bayard, Inc. All rights reserved. This article is protected by United States copyright and other intellectual property laws and may not be reproduced, rewritten, distributed, redisseminated, transmitted, displayed, published or broadcast, directly or indirectly, in any medium without the prior written permission of Bayard, Inc.
This article was written by the Catechist Staff and appeared in Catechist magazine, January 2011. 
Image Credit: Thoom/Shutter Stock 559092118