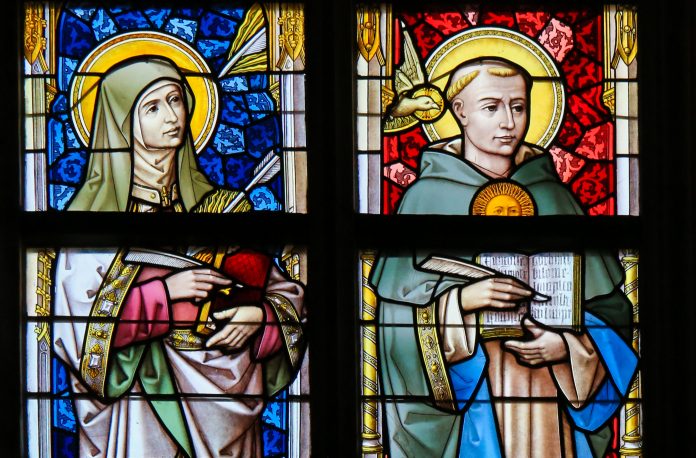 by Patricia Mathson
Celebrating
Saint Genoveva Torres Morales
Shared
God's Love
Feast
Day: January 5
[CLICK HERE] for a Saint Page that your learners can take home to
share with their families.
Genoveva lived in Spain and had a difficult life. Her parents died in
1878, when she was only eight years old. When she was 13 years old, her left
leg had to be amputated and she used crutches the rest of her life. Genoveva
did not feel sorry for herself, though. Rather, she always tried to help others.
Faced
Disappointment
Genoveva was a person of great faith and courage. She wanted to join
the Carmelite Order but was not accepted due to her health. She was very
disappointed, but she did not give up. She knew that God has a purpose for each
of our lives.
Helped
Women in Poverty
In 1911, Genoveva decided to start a religious order called the
Congregation of the Sacred Heart. She and the other sisters helped women living
in poverty who had nowhere to go. The sisters offered the women a place to live
and companionship. Genoveva saw a need and did something about it. She is an
example for our lives.
Loved
Others
Genoveva shared God's love with others each day. She was a kind and
caring person. She died in 1956 and was canonized in 2003. At her canonization
Mass, Pope John Paul II called St. Genoveva Torres Morales an "instrument of
God's tender love."
What
Can We Do?
* Let's talk about St.
Genoveva. What happened when she was 13 years old? Did she feel sorry for
herself? Was she sad when she was not accepted as a Carmelite sister? Did she
give up? Who did she help? Does God have a purpose for each of our lives?
* Let's make a list of ways to share God's love with others. We can
treat all people with respect. We can listen to someone when he or she needs to
talk. We can make a card for a person who is sick. We can be friendly to a new
child at school. We can pray for others. What else?
* Let's help children who are in the hospital. We can bring in coloring
books and crayons to donate to a children's hospital. These things will cheer
up the children and give them fun things to do while they wait for the doctor
or spend time getting better.
Prayer
Loving God, thank you for being with us in all things. May we look
beyond our own needs and share your love with others following the example of
St. Genoveva. Give us courage to face the challenges in our lives as she did. For
with you all things are possible. Amen.
Patricia
Mathson has many years of experience in faith formation as a DRE and holds a
MRE degree from the University of Dallas. She is the children's ministry
coordinator at Hope Family Center in Des Moines, IA. She is the author of many
books includingPlant the Seed:
Sharing the Gospel with Children (Liguori
Publications).
---
Copyright 2013, Bayard, Inc. All rights reserved. This article is protected by United States copyright and other intellectual property laws and may not be reproduced, rewritten, distributed, redisseminated, transmitted, displayed, published or broadcast, directly or indirectly, in any medium without the prior written permission of Bayard, Inc.
This article was written by the Catechist Staff and appeared in Catechist magazine, December 2012.
Image Credit: Shutter Stock 544541167