JEANNE HEIBERG
An old hymn opens with these words: "Sing them over again to me, wonderful words of life" ("Wonderful Words of Life" or "Sing Them Over Again to Me," words and music, Philip P. Bliss, 1874). This song praises the healing, life-giving words of Jesus calling us to faith.
Recent tests demonstrated just how potent words can be. Researchers used magnetic resonance imaging (MRI) to observe brain activity while people looked at different words. Words such as "fear," "anger," and "hate" generated unhealthy reactions. Words such as "hope," "love," and "friend" strengthened immune systems, improved circulation, and increased white blood cells.
Recall a time when you were criticized with mean, harsh words. Did you feel yourself shrink and cringe, become leaden, sick, and tense? Negative words can bring these kinds of bad feelings along with confusion and an inability to talk or act like the great person you are.
Now recall a time when you someone complimented you or expressed appreciation, love, kindness, or understanding to you. Did your heart expand, your spine become straight, and your chin lift? Positive words lift you up, give you courage and confidence, and help you think more clearly so that you know what to say and do. They help you be the great person you are.
Word Power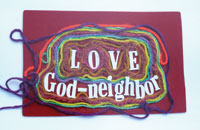 Words may be able to affect plants, and even ice crystals. Jane Hershey, a holistic health nurse, wrapped different words around pots of calendula seeds. The seed that got negative words such as "I am weak and unhealthy," did poorly. The seed that got positive words such as "I am healthy and flourishing" grew into a large, healthy plant. When Jane reversed the situation and gave affirming words to the wimpy plant, it picked up and flourished; with negative words, the large plant went into decline.
Researcher Masaru Emoto, author of The Hidden Messages in Water, placed negative words under one glass of water, positive words under another. He froze both and then examined the ice crystals under a microscope. Ice crystals from the glass with positive words were exquisite, symmetric, and harmonious. Those with negative words were misshapen and fewer in number. Many crystals simply disappeared.
If negative and positive words can affect plants and ice crystals, how much more important it is to affirm people with life-giving words that help them grow and flourish.
The Word in Scripture
I spent many hours last spring developing material for a writing retreat I called "Abracadabra—The Magic of Words." There really is an Aramaic word, abracadabra, that means "I will create what I say."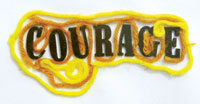 The Aramaic culture that gave rise to abracadabra believed in the power of words to effect what they say. Hebrew Scriptures show belief in the authentic power of God's word. The writer of Genesis, for example, sees the universe coming into existence with God's spoken word: "Let there be light, and there was light" (Genesis 1:3 ff). From darkness, confusion, and chaos, God draws the harmonious, well-ordered cosmos.
During the writing retreat, I told students that one of the rewards of writing is to bring order, meaning, and light into the chaos and confusions of our life experiences. The same can be said a hundredfold for lives lived according to God's word, especially the Word of God that is Jesus.
God's creative words continued through prophets such as Isaiah: "For just as from the heavens the rain and snow come down and do not return there till they have watered the earth, making it fertile and fruitful, giving seed to him who sows and bread to him who eats, so shall my word be that goes forth from my mouth; it shall not return to me void, but shall do my will, achieving the end for which I sent it" (55:10-11).
Psalm 119:105 celebrates the enlightenment God's word brings with, "Your word is a lamp for my feet, a light for my path."
Saint Paul sees the word active at work in the faithful (1 Thessalonians 2:13), and the Word speeds forward and is glorified in them (2 Thessalonians 3:1).
Jesus, above all, has shown us the power of words. With no more than his spoken word, he returned life to the human body ("Your son is alive and well," John 4:43-54); he taught with authority ("…he spoke with authority," Luke 4:32); he healed ("Be clean," Matthew 8:1-4); he forgave ("Child, your sins are forgiven," Mark 2:5); he instituted the great mystery of his presence to us in the Eucharist ("…do this in memory of me," Luke 22:19).
Throughout the Gospels, Jesus gives us wonderful words that inspire and reassure us. "Love one another as I have loved you" (John 15:12); "I am the light of the world" (John 8:12, 9:5); "Let your light shine" (Matthew 5:16); "I have come so that you may have life, and have it more abundantly" (John 10:10).
The Word in the Classroom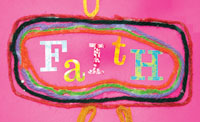 As catechists, teachers, and parents, we know the power of words to motivate, engage, and affirm children, to help them celebrate their gifts, to let them know they are loved even when they try our patience. One psychologist said that it takes 27 compliments to make up for every criticism.
The start of the school year is a good time to remember this. You can help students realize the power of words and learn how to use that power for their own good and the good of others. Jesus and Scripture teach us how.
Another line in the hymn mentioned at the beginning of this article is "Words of life and beauty teach me faith and duty." The right words at the right time in the classroom can help learners keep their minds going toward positive, affirming, beautiful thoughts.
Say to the Children
Words are important to our lives and well-being. We use them every day, but they are not all equal. They are not all good for us. Some words can harm us. Other words are wonderful and can help us to be achievers—successful and in tune with God and other people and ourselves.
Scientists observed that some words can disturb people, while other words can help people be healthy and happy. How do you feel when I say the word "fear" or "hate" or "anger?" These are disturbing words. How do you feel when I say words like "joy," "love," "peace," "friend," "kindness"? (Give more ideas from this article and, especially for older children, Scripture.)
Can words help you to feel happy? They can if they are words of hope and love. For example, Deirdre's big sister Jennifer got a letter from her boyfriend who is a soldier stationed in Afghanistan. The letter said, "I love you. I'm coming home soon, and I can't wait to see you." Jennifer laughed and cried with joy.
The Bible is filled with such words. For example, verse 105 from Psalm 119 says to God, "Your word is a lamp for my feet, a light for my path." God's words bring light, love, guidance, hope, and help to people. Our own positive words can help someone through dark and difficult times, until that person reaches peace and happiness again.
Certain parts of the Hebrew Scriptures, especially the Psalms, and Jesus' teachings in the New Testament give us many wonderful words that inspire and reassure us. (See "The Word in Scripture" and share examples that will be best understood by your students.)
Over a long period of time, God's prophets and holy people brought more positive and life-giving words to God's people. The climax was Jesus, the Word of God, who brought us so many words of life. Saints—such as Paul, John, and Peter, and in our own times, Mother Teresa, the popes, and Christian writers—have continued to share with us words of peace, joy, and hope. God used all of them to set the world on a course for the better, with more inspiring thoughts, words, and actions. Wonderful words are still powerful for us today.
Thoughts give rise to feelings and actions. Let's start out this school year by training ourselves to see, think, say, and act with wonderful words for the best year ever!
Scripture Word Search
Have students search their Bibles to find words of life and love that affirm and give joy. Have children list at least 10 Scripture quotes (20 for older children) that are positive and uplifting. You might direct the children to lines such as "I am the light of the world"; "Love one another"; "I have come that you may have life and have it more abundantly"; "Pray always." Share a few of your own uplifting Scripture quotes. Use these affirming words for prayer and use your favorites in the Wonderful-Words Posters craft below.
While it lifts us up to think of a wonderful word or saying, it's even more powerful to see it and hear it; and speaking it affects us further. From his or her Scripture quote list, have each student select one favorite uplifting word and write it on a piece of poster board. Then have each student hold up his or her word for all to see and say it out loud. Then have the entire class shout the word like a cheer. This activity will help students long remember these wonderful words.
ACTIVITY: Wonderful-Words Posters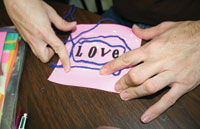 MATERIALS
* 9" x 12" card stock, construction paper, or light cardboard (for background)
* pencils
* scissors
* glue
* yarn
* hole punch
* markers
* glue-on, self-adhesive, or computer-generated letters
Option: watercolor and brushes (small cups of water for cleaning brushes; paper towels for overall cleanup)
PROCEDURE
1. Cut background into 6" x 9" pieces (for shorter words) or 4 1/2" x 12" pieces (for longer words).
2. Place the letters of the word or words—evenly spaced and centered—on the background. Tip: Sketch letter placement with a pencil.
3. Place a line of glue around the word/words and press a piece of yarn on it. With a different color of yarn, create another outline, then do another, radiating outward till the background is filled with rhythmic moving lines honoring this wonderful word.
Option: If using paint, paint around each letter or the whole word with a color of paint that contrasts with the background. Continue as above with a different color of paint instead of yarn.
4. Punch a whole in the top of the background and thread a piece of yarn through the hole and tie the ends into a knot to serve as a hanger. Hang the wonderful colorful words throughout the classroom, on bulletin boards, and from the ceiling. Remember to celebrate, think, give, and use affirming words as much as possible during the coming year.
Wonderful-Words Prayer
Hang the wonderful-words posters around the classroom or have students hold them. On your prayer table, place a Bible marked with the readings (see below), a dish of holy water and sprinkling sprig, a small plant, candles, and art to make a beautiful prayer focus.
Opening Song: "Your Words Are Spirit," based on Psalm 19 ©1993. Bernadette Farrell. Found in Spirit & Song, published by OCP.

Opening Prayer: Thank you, Loving Creator, for the wonderful words you give us in Scripture, and for the Word made flesh, Jesus. Thank you for the inspiring words of saints and others. Thank you for the words of caring people in our own lives. Help us to share wonderful words with one another, and to affirm ourselves, our families, and our friends. May we use wonderful words to celebrate the world you have given us. Let us think, feel, and say wonderful words to celebrate life. May wonderful words increase our happiness, success, and joyful service to others.
All: Amen.
Readings: Genesis 1:3 (God's word creates); Isaiah 55:10-11 (God's word returns to God); Psalm 119:105 (God's word is a lamp to our feet); 1 Thessalonians 2:13 (God's word is at work in us); 2 Thessalonians 3:1 (we pray that God's word will speed forward); John 1:14 (God's Word was made flesh in Jesus)
Blessing: Jesus, God's Word of Love to us, bless these wonderful-words posters. May they remind us to affirm one another, to trust in your goodness, and to use wonderful words in ways that bring about your peace and happiness (sprinkle with holy water). Help us to study and learn well in the coming year.
All: Amen.
(Optional: Wonderful-Words Cheer: Have students hold up their wonderful-words posters and call out their words at the same time—like a cheer.)
Closing Prayer: Loving Lord, may the words we use find favor in your sight. All: Amen.
May the words we use keep us cheerful, enthusiastic, and happy so that we learn about you throughout the coming year. All: Amen.
May the words we use keep our feet firmly planted on the pathway to success in this life, and happiness at home with you forever. All: Amen.
In the name of the Father, Son, and Spirit, go now to give and receive joy through wonderful words. All: Amen.
Closing Song: "Wonderful Words of Life." Text and music: Philip P. Bliss, 1838-1876. Or "With One Voice" ©1998, Ricky Manalo, CSP. Found in Breaking Bread, OCP.

Jeanne Heiberg is the author of Advent Arts and Christmas Crafts (Paulist Press) and Advent calendars (Creative Communications). She has taught art, writing, creative catechetics, and meditation, and has directed parish catechetical programs. Jeanne writes, paints, and gives writing workshops in upstate New York.

This article appeared in Catechist magazine, August 2010.
Image Credit: Jeanne Heiberg