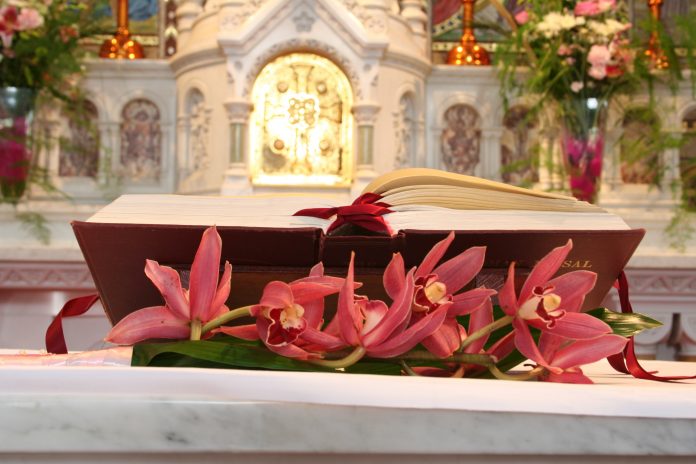 by Janet Schaeffler
See the Expanded Study Guide at the end of this article for additional Reflection Questions and Exercises.
As I spent time in reflection to prepare for writing this article, I become aware of how often we use the word faith:
Faith is the key ingredient that powers his drive for nomination.
You are in our thoughts and prayers as you continue on this faith journey.
The challenge of faith for many of us is…
We may discuss the principles of faith, not the works of faith.
Have a little faith.
I couldn't have gotten through it without my faith.
A quick internet search of the word faith (which young people would immediately do) resulted in 553,000,000 results; "what is faith" yielded 255,000,000 results.
The Prologue and Part One of the Catechism of the Catholic Church explores topics such as "Handing on the Faith: Catechesis," "The Interpretation of the Heritage of Faith," "The Obedience of Faith," "The Characteristics of Faith," "The Language of Faith," etc. A Bible concordance reveals 447 passages about faith in Scripture.
There is much to say and reflect on regarding this mystery, faith.
Is faith one of those words we use often, not realizing the depth of its meaning? Could we ever realize its expanse?
In many ways, we could make several distinctions of faith or look at faith through different lenses and, through each, see a new facet.
Faith and the Act of Faith
For instance, there is a difference between faith and the act of faith. "Faith" is a generous invitation from our loving God to each and every human person. This is a personal invitation to enter into an intimate, loving relationship with God, an invitation that never forces but always surrounds us with love and urging.
The "act of faith" is our response to this invitation, this gift. Saint Augustine prayed, "You have made us for yourself, O Lord, and our hearts are restless until they rest in you." We, as humans, are always searching; we are incomplete. Faith is God's gift, God's invitation to relationship, so that we may be filled with the life and love of God.
Because God is all-loving, because God created us free, and because faith is an invitation and a gift, it is never forced. The act of faith is our response; it comes from our search for our completeness; it is our response to God's gift of love, life, and relationship. As a result, faith is about much more than an assent in our minds to beliefs and truths about God, the Trinity, the Church, and various teachings. It is an encounter with God; it is a relationship. Faith is alive. It is growing. It is never the same from day to day. It is a lifelong journey.
Three Dimensions of Faith
In some ways, we can understand our lifelong journey of faith as encompassing three dimensions: intellectual faith, relational faith, and practicing (or active) faith.
Intellectual faith: Our "intellectual faith" might be the first that comes to mind: that body of truths that we know, that we know about, that we can articulate. This is crucial to who we are and whose we are. As Catholic Christians, we profess our intellectual faith each Sunday in the Creed. This is further nurtured as we continue to learn, in lifelong formation, about what it is that grounds us as disciples of Jesus, the Christ.
Each Sunday we pray, "I believe." In the early Church, credo was the verb form of the noun faith. The dictionary definition of believe is "to have confidence in the truth or the reliability of something, although without absolute proof that one is right in doing so." Often, when we pray the Creed today, then, we transfer that definition so that we presume we're praying, "I give my assent to."
That is true, but it goes far beyond that. The Latin roots of the word combine to mean "I give my heart to." The heart is where we are most truly ourselves, more so than in our intellect. In the giving of our heart, credo means "I commit my loyalty to." When we pray "credo" at the beginning of the Creed, we are saying "I give my heart to God."
The pre-modern meanings of the word believe also go deeper than just the intellect. Prior to the seventeenth century, the word believe did not mean believing in the truth of statements or propositions. Grammatically, the object of believing was not statements but a person.
The contexts in which it was used in pre-modern English made it clear that it was all about persons: to hold dear, to prize, to give one's loyalty, to give one's self to, to commit one's self. Most simply, to believe meant "to love."
In fact, the English words believe and belove (beloved) are related. What we believe is what we belove. To believe in someone is to belove that person. To be a disciple of Jesus is all about believing in him and all that he beloves. Intellectual faith is more than just facts and doctrines!
Relational faith: Thus, the second dimension of our lifelong faith journey, "relational faith," flows naturally and is interrelated and interconnected to the first. It's all that was described at the opening of the article: Relational faith is an invitation from our loving God, a divine gift, a grace from God that enables us to make an authentic human act of faith. We respond to God's loving gift.
The centrality of faith as our relationship with God is clear as we—catechists—are continually reminded of the goal of catechesis: "The definitive aim of catechesis is to put people not only in touch, but also in communion and intimacy, with Jesus Christ" (General Directory for Catechesis, n. 80). The Catechism of the Catholic Church likewise reminds us, "Catechesis aims at putting 'people…in communion…with Jesus Christ: only he can lead us to the love of the Father in the Spirit and make us share in the life of the Holy Trinity'" (n. 426).
Our relational faith is our personal response, yet it is an act linked to the faith of others. We never do it alone. An anonymous Christian is an oxymoron. The Catechism of the Catholic Church reminds us:  "…faith is not an isolated act. No one can believe alone, just as no one can live alone. You have not given yourself faith as you have not given yourself life…I cannot believe without being carried by the faith of others…" (n. 166).
Practicing (or active) faith: Perhaps the best way to explain "practicing (or active) faith" is through something Daniel Berrigan, SJ, once said. He was asked, "Where does your faith reside, where is its real seat?" His answer is probably not what his questioner was expecting, yet it is clear and leaves us with much to reflect upon, as well as to be challenged by: "Your faith is rarely where your head is at and rarely where your heart is at. Your faith is where your ass is at! Inside what commitments are you sitting? Within what reality do you anchor yourself?"
Thus, practicing (or active) faith completes our intellectual and relational faith. Each is needed; each builds upon the other. We can't bypass or eliminate one. Daniel Berrigan—as well as the Gospel—challenges us to be aware of the third dimension of faith: to continually look at what we are doing and how we are living. Perhaps an added beatitude for us today, reminding us of our practicing/active faith, would be "Blessed are those who hear the Word of God and live it."
In his book titled The Future of Faith (HarperOne, 2010), Harvey Cox surveys today's religious landscape and divides Christian history into three parts: the Age of Faith (the first centuries of the Church, during which time the followers of Jesus lived in his Spirit, embraced his hope, and followed him in the work he had begun); the Age of Belief (from the Council of Nicaea to the late twentieth century, during which time the Church replaced faith in Jesus with dogma about him); and the Age of the Spirit (our current times in which Christians are rediscovering the awe and wonder of faith in the tremendous mystery of God). According to Cox, the return to the Spirit that so enlivened the Age of Faith is now enlivening a global Christianity, returning to an age of faith marked not by a strict concentration on dogma but by practice. People today desire to live the faith and be disciples—not just know the facts, doctrines, and dogmas.
This Journey that Lasts a Lifetime
The incredible reality that faith is a journey that lasts a lifetime leaves us appreciating the fact that our faith journey can be chaotic, challenging, and comforting.
Chaotic: In the past few decades, there has been much "discovered" about chaos theory, the very complex way the world works. We need only return to Genesis 1:2: "…the earth was a formless wasteland, and darkness covered the abyss, while a mighty wind swept over the waters."
The beginnings, described in Genesis, are often echoed in our lives of darkness, emptiness, tossing, and churning. Chaos, however, is not detrimental for those on the journey of faith, for those who see with the eyes of faith, for those in relationship with the One who offers faith.
What can happen in these chaotic times for those who respond to the gift of faith? Do the gentle winds of faith console? Do the fresh winds of faith support? Do the powerful winds of faith energize?
Challenging: The lifelong journey of faith is not a complacent one; it is not one that can be taken for granted or be put on the back burner. Because faith is fundamentally a relationship—as are all bonds—it must be nurtured.
Each of faith's three dimensions (intellectual, relational, and practicing/active) needs continual tending. Friends in close relationship strive to know more and more about each other; lovers can't learn enough. This describes the reality of intellectual faith. In many ways, the challenge of constant and ongoing learning in faith is made easy today because children, youth, and adults of all ages and needs are surrounded by creative and faith-filled opportunities to continue growing in faith.
Relational faith is nurtured through daily presence, such as prayer and meditation, the celebration of the Sacraments, and recognizing God in everyday life and ordinary moments.
Nurturing the dimension of practicing/active faith is a challenge—and a mandate—that flows from our baptismal promises. It's who we are. Saint John Chrysostom reminds us, "The sincerity of our prayer is determined by our willingness to work on its behalf." In faith, we are called to be what we have promised in Baptism: to live our prayers.
Comforting: In this fast-food, easily disposable culture, we are privileged to be on a journey of faith that is lifelong, permanent, enduring, and constant. We have been invited into a relationship with our God who loves unconditionally, cares completely, and forgives unceasingly.
Additional Resources
Amodei, Michael. Questions of Faith: A Workbook Companion to the Catechism of the Catholic Church. Notre Dame, IN: Ave Maria Press, 2000.
Cooney Hathaway, Patricia. Weaving Faith and Experience: A Woman's Perspective. Cincinnati, OH: St. Anthony Messenger Press, 2010.
Groome, Thomas H. Will There Be Faith? A New Vision for Educating and Growing Disciples. New York, NY: HarperOne, 2011.
Himes, Michael J. The Mystery of Faith: An Introduction to Catholicism (ten programs on DVD format). Available from AmericanCatholic.org.
Paprocki, Joe. A Well-Built Faith: A Catholic's Guide to Knowing and Sharing What We Believe. Chicago, IL: Loyola Press, 2008.
Silf, Margaret. Simple Faith: Moving Beyond Religion as You Know It to Grow in Your Relationship with God. Chicago, IL: Loyola Press, 2012.
Tilley, Terrence W. Faith: What It Is and What It Isn't. Maryknoll, NY: Orbis Books, 2010.
Weston Jesuit School of Theology. A Living Faith: Themes from the Catechism of the Catholic Church.  Eight hours of presentations and discussions on essential themes taken from the Catechism: Sacraments, ethics, morality, prayer, etc. Chicago, IL: Loyola Press.
Sister Janet Schaeffler, OP, is a facilitator of days of reflection, retreats, workshops/presentations, and online classes for the University of Dayton. She is an author, a college/university teacher, a member of the Project Team for Faith Formation Learning Exchange, and a presenter for Coaching Parents. She created and publishes "GEMS"—a monthly newsletter from an ongoing international best practices study on adult faith formation. In April 2010, Sr. Janet received the Distinguished Service Award in Catechetics from the National Conference for Catechetical Leadership.
Expanded Study Guide
Sister Janet Schaeffler, OP, sets the stage for the 2012-2013 University of Dayton catechist formation series titled "Life in Abundance: Celebrating the Year of Faith." She encourages us to look at faith through different lenses. In its recommendations for observing and celebrating the Year of Faith, the Congregation for the Doctrine of the Faith writes: "The Year of Faith is intended to contribute to a renewed conversion to the Lord Jesus and to the rediscovery of faith." This series supports you on this journey.
We come to understand that faith is an invitation, a gift; it is never forced. Faith is relational. We confess and live our faith in Jesus only as members of the believing community. Just as in our daily life we need one another, so, too, in our faith journey. We need the support of others to help us remain focused and on track. Faith is a journey that lasts a lifetime and can be chaotic, challenging, and comforting. Pope Benedict XVI is calling Catholics to rediscover our journey of faith in a more reinvigorating way so that it will "arouse in every believer the aspiration to profess the faith in fullness and with renewed conviction, with confidence and hope" (Porta Fidei, n. 9).
Reflection Questions
1. How has my understanding of faith changed over the years?
2. When have I discovered myself on a quest (searching) for God, Jesus, or a deeper grounding in faith? What was the result of my quest?
3. Saint Augustine wrote: "You have made us for yourself, O Lord, and our hearts are restless until they rest in you." How does his prayer resonate in my life today?
4. How do I practice a "living faith" each day of my life? (Be specific.)
5. Which practices of faith help me on my continuing lifelong journey of faith?
6. In my journey of faith, what is/has been chaotic, challenging, and comforting?
7. How do I, as a catechist, ensure that I am cultivating the goal of catechesis (see General Directory for Catechesis, n. 80) in my teaching with breadth, depth, and meaning?
8. Why is an "anonymous Christian" an oxymoron"?
9. Harvey Cox divides Christian history into three parts. How do I see the age of the Spirit reflected in Pope Benedict XVI's call for a Year of Faith?
Exercises
1. Have your students develop a timeline of their journey of faith thus far. Have there been twists, turns, construction points, and detours? Discuss their timelines with regard to what we come to understand about our personal journey of faith. Create an exhibit of the timelines behind your classroom's prayer table.
2. Search YouTube video clips of Fr. Robert Barron's "Faith Seeking Understanding." How might these video clips be integrated into your catechesis as discussion starters? You may find other videos to support your lesson plans.
3. Have your students interview several adults about their understanding of faith and how it has changed over the years. Have each student prepare a three-minute presentation on the results.  (Because most students have access to some digital technology for audio and video recording, they might arrange these in PowerPoint presentations.)
4. Introduce your students to the lives of a number of faith heroes. Discuss what experiences in their lives nurtured or strengthened their faith. Ask students to research other significant faith heroes and create a faith-hero wall in the classroom or hallway. The "wall" could be created on a  large roll of shelf paper so that it easily can be rolled and stored for ongoing reference during the Year of Faith.
5. Demonstrate to students how to compose personal Faith Contracts. Ask each student to prayerfully reflect and compose a Faith Contract for consciously nurturing a reinvigorated faith during the year. Prepare a special prayer service blessing these Faith Contracts. Place them in a special box on the classroom prayer table and/or bring them up to the altar during a special liturgy, as an offering and blessing. Occasionally during the year, open the box and invite students to read their Faith Contracts for reflection, discernment, and re-commitment. Celebrate these Faith Contracts in November 2013 as not the end but the beginning of a "lifelong faith journey."
Additional Resources
Catechism of the Catholic Church. Washington, DC: USCCB Publishing, 1994 (usccb.org).
Congregation for the Doctrine of the Faith: Recommendations for the Year of Faith (vatican.va).
Disciples Called to Witness: The New Evangelization. Committee on Evangelization and Catechesis. Washington, DC: USCCB Publishing, 2012 (usccb.org).
Porta Fidei (The Apostolic Letter for the Indiction of the Year of Faith). Benedict XVI. Vatican City, 2011 (vatican.va).
United States Catholic Catechism for Adults. Washington, DC: USCCB Publishing, 2006 (usccb.org).
---
Copyright 2012, Bayard, Inc. All rights reserved. This article is protected by United States copyright and other intellectual property laws and may not be reproduced, rewritten, distributed, redisseminated, transmitted, displayed, published or broadcast, directly or indirectly, in any medium without the prior written permission of Bayard, Inc.
This article was written by the Catechist Staff and appeared in Catechist magazine, August 2012.
Image Credit: Shutter Stock 2510744