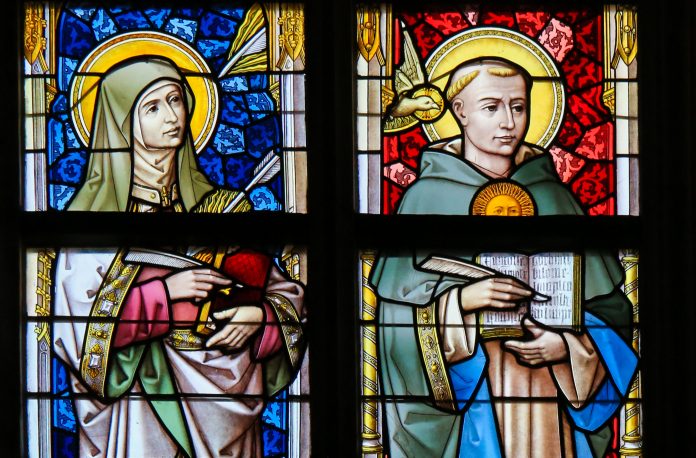 by Patricia Mathson
[CLICK HERE] for a fun activity page about St. Anne Marie Eugenie.
Anne Marie was born in 1817. She was sad when her parents separated. She moved with her mother to Paris. When she was 15 years old, her mother died, and she went to live with relatives. It wasn't until a Catholic cousin invited her to church that she learned about living the gospel.
Make a Difference
Anne Marie Eugenie wanted to make a difference in the world. She knew that education was important for all people. She founded a religious order in 1839 that today is known as the Assumption Sisters. She tried to give glory to God in all that she did each day.
Live the Gospel
By her word and example, she lived the gospel. Anne Marie Eugenie wrote in a letter, "I believe that each of us has a mission on earth. It is simply a question of seeking how God can use us to make his gospel known and lived." Anne Marie Eugenie was canonized in 2007.
Her Work Goes On
Today, the Religious of the Assumption serve in 34 countries. They minister in schools, colleges, health clinics, and retreat centers. We, too, are called to follow the example of St. Anne Marie Eugenie and live as gospel people each day.
What Can We Do?
* Let's discuss the words of Anne Marie Eugenie: "I believe that each of us has a mission on earth. It is simply a question of seeking how God can use us to make his gospel known and lived." What does this mean for each of us?
* Let's help others to be well-educated, like Sister Anne Marie Eugenie did. Let's work with a younger group of children on an art project, a prayer service, or one-on-one reading of Bible stories.
* Let's make Bible verse posters to remember to live the gospel. Use verses from the Gospels such as: "Come follow me" (see Matthew 4:19); "Love the Lord your God" (Mark 12:30); "Forgive and you will be forgiven" (Luke 6:37); "Love one another" (John 13:34).
Prayer
Loving God, show us how to give glory to you in our lives each day just as St. Anne Marie Eugenie did. May we live the gospel and serve others in your name. Help us to live the life for which we were created.
Amen.
Patricia Mathson has many years of experience in faith formation as a DRE and holds a MRE degree from the University of Dallas. She is the children's ministry coordinator at Hope Family Center in Des Moines, IA. She is the author of many books including Plant the Seed: Sharing the Gospel with Children (Liguori Publications).
Never forget to look up the online HTML CheatSheet when you forget how to write an image, a table or an iframe or any other tag in HTML!
---
Copyright 2012, Bayard, Inc. All rights reserved. This article is protected by United States copyright and other intellectual property laws and may not be reproduced, rewritten, distributed, redisseminated, transmitted, displayed, published or broadcast, directly or indirectly, in any medium without the prior written permission of Bayard, Inc.
This article was written by the Catechist Staff and appeared in Catechist magazine, February 2012.
Image Credit: Shutter Stock 544541167