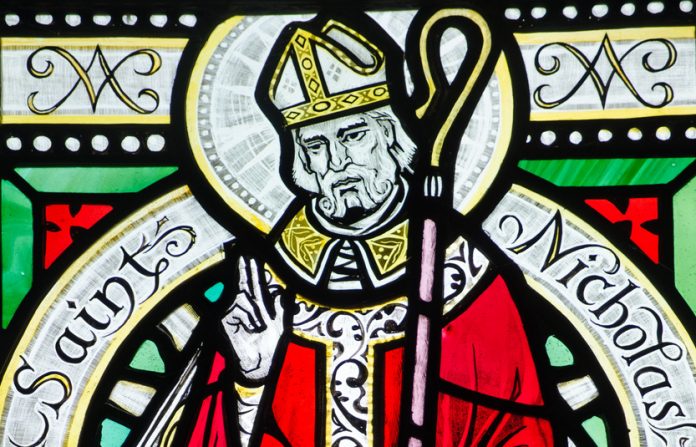 CONNIE CLARK
At the start of Advent, tell your students the story of St. Nicholas. Organize simple service projects as a memorable tradition for every December 6.
For example, a visit from St. Nicholas is a fun way for older students to connect to younger kids in your school or community. It can be as simple as setting aside a half an hour for your older students to deliver candy canes and holy cards to younger students' classes. Next year, you might add to the project by having your students create bishop mitres out of cardstock to wear as they deliver the treats.
If classes meet on different days, just have students write special notes to include with the goodies, and then leave them with your DRE or in teachers' inboxes for delivery later.
Another great St. Nicholas Day project is to give students plastic gloves and cleaning clothes and let them spruce up the church in preparation for Christmas. (Get permission from your parish office first.) They can dust and polish pews, pick cereal off the floor, straighten missals and songbooks, and do any other small jobs as needed. They will feel a sense of pride when they attend Mass with their families, knowing they had a hand in making the church beautiful.
Parish Appreciation
Another St. Nicholas Day tradition is to have the students write notes of appreciation to all the people who work at your parish-your pastoral associate, choir director, bookkeeper, and, of course, your pastor. Like St. Nicholas, these good folks often do their work unnoticed, and would probably appreciate the gesture of gratitude. You can find their contact information on your parish bulletin or website.
Is there a retired priest or nun in your community? Perhaps your students can bring them a small, decorated Christmas tree, or make them some homemade St. Nicholas Day cards.
St. Nicholas Traditions
A popular St. Nicholas Day tradition in England, other countries in Europe, and parts of the US is choosing a "boy bishop" who dresses in bishop's garb and mitre, reads a homily, and processes in a parade. You can adapt the idea by creating a "college of bishops" for all the boys in your class. They might bring treats to younger students or read them a story.
Sure, service projects can seem like mammoth undertakings, especially at this time of the year. And something invariably goes wrong. One year, our class collected blankets to deliver to a homeless shelter on St. Nicholas Day. A scheduling mix-up meant we weren't able to make our delivery until a few days later, but students still got the message. They learned the more important lesson that it is possible to emulate St. Nicholas, who followed Jesus' teaching to "sell what you have and give your money to the poor."
Connie Clark is a catechist at Saint Kilian Catholic Church in Mission Viejo, California. Her latest books are 12 Fun and Easy Plays for Middle Schoolers and 50 Prayer Services for Middle Schoolers (Twenty-Third Publications). Her website is connieclark.org.
This article was originally published in RTJ's creative catechist November/December 2013.
Image: Amanda Lewis, istock