Question: I need a patron saint for my new role as a youth leader and catechist. Please help! — Nervous but willing
Sr. Brittany Harrison, FMA responds:
Dear Nervous but willing: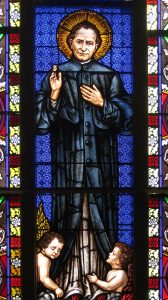 Congratulations on taking on a new role as a youth leader and catechist! St. John Bosco (Don Bosco) is the perfect patron saint for you because he centered his entire life on bringing young people to Jesus. He developed an educational system called the "Preventive Method," which aimed at inspiring in young people a desire to do the good and avoid the bad. It is rooted in reason, religion, and loving-kindness.
When Don Bosco speaks of "reason," he means respecting young people's minds. A catechist should not just make rules, but should explain why they exist. If a young person asks a question, a catechist should try to answer it, or admit they do not know the answer but will find out. By doing this, the catechist establishes a trusting relationship with their students.
"Religion" means more than just saying prayers, although that is important. Forming a young person's conscience and helping them to desire the good and reject the bad is key. By showing them the attractiveness of goodness and holiness and the ugliness of sin, and exposing them to all that is true and beautiful in the faith, young people develop a sense of faith.
"Loving-kindness" is self-explanatory. As catechists, we must respect young people, never embarrass or humiliate them when correcting them, and try to understand their struggles. A good catechist is seen as a friendly adult who desires their good and never belittles them. Don Bosco declared, "Young people must not only be loved; but they must know they are loved."
Love is seen in small acts of kindness tailored to each child's personality. The ultimate goal of the Preventive Method is to help both young people and their catechists to become saints. Begin now to pray for your students and invoke the help of their guardian angels, something encouraged by Don Bosco himself. If you read more about Don Bosco's life and
try to imitate his style of relating to young people, you will be a very effective catechist.
Be assured of my prayers.
SR. BRITTANY HARRISON, FMA, or "Sister B" as she is known to young people and on Twitter(@SisterB24) is a Salesian Sister of St. John Bosco and the campus minister and chair of the theology department at Mary Help of Christians Academy in North Haledon, New Jersey.
This article originally published in Catechist magazine, January 2019
PHOTO: GNHEYOB/CC