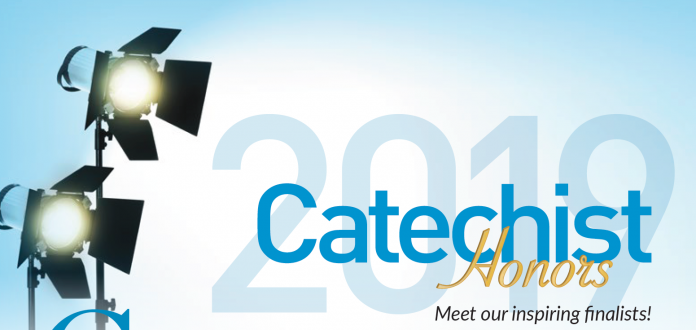 Catechist Honors celebrates the dynamic mission of gifted catechists, parish catechetical leaders — especially directors and coordinators of religious education (DRE/CRE) — plus youth ministers and religion teachers in Catholic schools. Nominations were collected from April 1 to September 1, 2018, via Catechist.com. These pages contain inspirational profiles of our finalists. Their stories come from their nomination letters as well as questions we asked them, after they were selected by our advisory team. Our finalists demonstrate the importance of passing on the faith. May their examples inspire you in your mission!
The top 10 finalists with bios listed here were awarded a certificate and a $100 gift card from Bayard Faith Resources. Meet our inspiring finalists!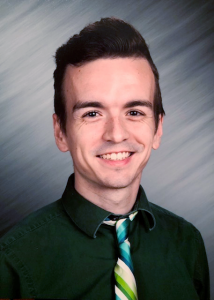 A Selfless Leader and Life-Changer
JUSTIN JACKSON serves at St. John the Evangelist Church in Spencerport, New York, as a catechist for the sixth grade. He also directs the summer Vacation Bible School. He was
nominated by Julie Bailey.
Justin began as a catechist while still in high school, and he soon proved his ability to lead youngsters in faith with a contagious energy and passion for Jesus. A few years later, Justin asked to take on a second section of the sixth grade. He has held this dual role for 12 years, consistently integrating the prescribed curriculum (Pflaum Gospel Weeklies, the Holy Bible, and the Catechism) with his own teacher-made materials to create a faith-filled, fun, and sought-after catechetical model that continues to inspire other catechists.
Justin has successfully directed Vacation Bible School for nine years. This year he has organized activities and lessons for 103 children, plus trained 52 teen volunteers and 20 adults. VBS directors from different churches in our area visit our VBS each year to "see what Mr. Jackson has created this year." Because of his generous nature and desire to spread the good news, Justin eagerly shares his ideas with this large, ecumenical group. Justin has encouraged countless youths and teens in their own faith journeys. He selflessly leads others to Christ.
Justin, what inspires you most about serving in this way?
Seeing children light up and see their faith as relevant, fun, and necessary keeps me going and makes the countless hours spent preparing worth it. When students explain to their parents the Bible truths learned at VBS or in class, and then, in turn, those parents share this with me, I see how truly important our work as a catechist is. We are life-changers.
What spiritual practices are helpful to you?
Daily prayer and fellowship are important spiritual practices for me. Connecting with others with faith as the backbone has made my relationships with others stronger, and in turn, my faith as well.
Who has been a positive influence on your faith?
My family and the leadership at St. John's have impacted my faith and desire to teach the faith. I attended a Catholic elementary school with great teacher models of faith, and now as an adult, I continue to work with amazing models of faith at St. John's.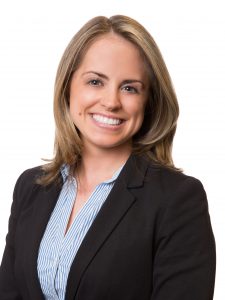 A Passion for Catholicism's Genius
JESSICA REGIDOR is a catechist at St. Simon Parish in Los Altos, California. She has taught fourth-grade faith formation for four years. She was nominated by Sr. Mary-Han Nguyen, OP.
Jessica has a passion for coaching and equipping parents to be the primary catechists of their children. She started the practical trend of sending recap emails home to parents of those in the children's faith-formation program. After every session, Jessica sends an eloquent recap email to her students' parents. They receive a summary of what was learned that day, including two sections: "Sunday Connection at Home" with ideas and links to videos that supplement the topics discussed; and "Additional Reflections for Parents" with videos, articles, and books to help expand their understanding. The result is that parents appreciate the information, and Jessica's students are more consistent with attendance. Jessica has since shared her technique and mentored all catechists to send email recaps. Jessica continues to be a positive influence on her students and their parents.
Jessica, what's the most challenging topic you've taught, and how did you teach it?
It is helping students see the link between faith and reason and understand that religion is not opposed to science. Some think this does not need to be addressed until high school. Being in Silicon Valley, these questions begin much earlier. Students want to understand why faith in God makes sense, why being Catholic matters. My goal for students is to have a sense that the Catholic faith is a smart and deeply intellectual tradition with much more to offer them as they progress through life. I approach this first with morality and virtue, as fourth-graders are keenly interested in justice, fairness, and goodness. Starting with the common-sense nature of why we need virtue, we expand through the year to the various ways faith helps them grow into being fully human, walking in friendship with God, and how the sacraments help us to be Christ for others.
What spiritual practices are helpful to you?
Besides Sunday Mass, two practices that keep me grounded are prayer and confession. Monthly confession keeps me aware of my weaknesses and the need for Christ's forgiveness, healing, and strength. Morning prayer on my way to work helps keep my heart and mind focused on what matters most. A weekly family rosary keeps our family united in our faith.
Can you share a favorite saint and how they inspire your mission?
Two figures have inspired me: The first is our Blessed Mother, who said, "Let it be done to me according to thy word." Those words are a constant inspiration to me … each challenge God brings my way has a reason and purpose. She has been a model of faith, trust, and modesty. As the woman at war with the serpent, she is also a warrior, a model of perseverance against evil. The other would be St. Thomas Aquinas — a champion of showing how faith is not opposed to reason.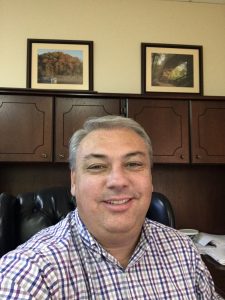 A Committed Coach for the Faith
ROB RICHARDS serves at All Saints Catholic Church in Taylorsville, Kentucky. A catechist for the last five years, he currently teaches a seventh and eighth-grade class. He was nominated by Rebecca Culver.
Rob began seven years ago as a substitute in the classroom. He is a natural and soon became a catechist, taking courses toward certification. His commitment to his faith shines in and out of the classroom. Rob wants youth to succeed. He is like a coach. He cheers them on. He motivates them. His teaching style is very creative. He continually engages students, parents, and other catechists. During the spring he had an activity outside that involved running. He was running along with his students, cheering them on to the completion of their project. When we celebrate All Saints Day, Rob is the first person to dress up like his favorite saint.
Each spring, Rob does a Stations of the Cross — a presentation at a level that allows children to understand the final days of Christ. At the end of the year, it is always exciting to hear, "I'm in Mr. Rob's class next year, YEAH!"
Rob can make you laugh while creating a teachable moment. Whether he is trying to demonstrate using a hula-hoop or explain the parts of the Mass, he makes you want to learn. When he realized that some youth were struggling with bullying, he developed a  program to address that.
Every year, Rob plans an overnight spiritual event at Carter Cave. He combines the beauty of nature with hiking, canoeing, Scripture, prayer — making it a faith-filled experience. His faith life makes us all stronger. His leadership style makes him an incredible catechist.
Rob, what is the best advice you have ever received in this role?
Be genuine with the kids. Early on they can be very guarded about expressing their thoughts in class and with each other. However, once they realize how sincere you are, they begin to open up, and that is when the real development begins.
What is your best teaching tip?
Make the subject relatable to the things students experience in their lives. I like to brainstorm a subject that we will be discussing in the class prior to getting into the lesson. It allows students to provide either words or examples associated with the subject. This engages them and makes understanding the lesson easier.
Can you share a Bible verse or a favorite saint and how they inspire your mission?
Psalm 23: "The Lord is my Shepherd, I shall not want." This demonstrates God's love for us — to not be afraid — and trust in him. One saint that has influenced me (so much so that I have dressed up as him for our annual All Saints celebration) is St. Francis Xavier. He dedicated his life to missionary work, bringing Christ to many people.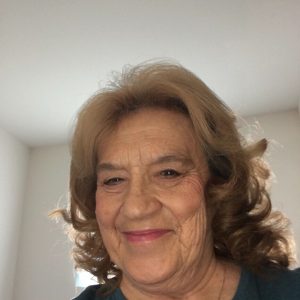 A Heart Like Jesus
MARGO CHILCOTT is a catechist at Immaculate Conception Parish, Ira Township, Michigan, teaching third grade and serving the Children's Liturgy of the Word. Her nomination was offered by Tina Kovalcik.
A dedicated catechist for more than 25 fruitful years, Margo teaches faith-formation and Children's Liturgy of the Word. She is involved in the Good Friday Journey for children and Vacation Bible School. She teaches with a heart like Jesus, reaching out to both children and parents. Her lessons focus not only on the lesson content but are infused with the liturgical season. She believes children learn by examples, song, and hands-on activities. The core lesson taught each week radiates with the trinitarian love of God the Father, God the Son, and God the Holy Spirit. This is evident as she infuses this great gift of love, hope, peace, trust, and forgiveness into her prayers, activities, snack time, greeting, and daily living.
Margo's love and trust in the Lord are evident. She always sees the good in every challenge and knows that Jesus is with her, helping her. She is a kind, loving, giving, unselfish, obedient servant and caring child of God, whose heart is on fire with his love and mercy.
Each year at Thanksgiving her third-grade class takes up a food collection for a less fortunate family. She teaches her students the importance of giving from their hearts for the goodness of another. Margo generously shares religious items, such as medals, books, toys, statues, holy cards, and items for the Hispanic community, or those preparing for sacraments. She donates and asks for nothing in return.
Margo, what's the most challenging topic you've taught, and how did you teach it?
Prayer is always a challenge. There are the ones we memorize, and yet prayer is also something you can do from your heart. Talking to God or Mary our Mother is like talking to our dad and mom. However, we get quick answers from Mom and Dad, but we must listen hard to get answers from God. Prayer is also found in what we do for others.
What's your best teaching tip?
Get to know your students. Teach from your heart. Read and reread the lessons. Pick out the important thing to hold the students' attention. Smile at them. Let them know they are loved and welcomed in your class.
What spiritual practices are helpful to you?
My spiritual practice consists of praying, confession, Mass, Holy Communion, Bible studies, and my quiet time — this is where I listen to the Holy Spirit. I like being with others and sharing beliefs and customs. I like to listen, to just be there for others.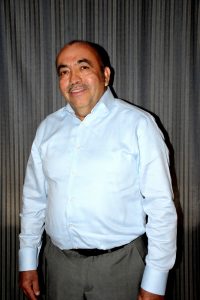 An Engaging Witness for Christ
CARLOS REYES has been a catechist for adults for seven years at St. John the Apostle Catholic Church, North Richland Hills, Texas. He was nominated by Donna Chesshir.
Carlos Reyes is a key catechist in the Spanish-speaking community. He personally teaches a number of classes, recruits and trains volunteers, and creates a community of support among those he serves. He also recruits and helps train volunteers to teach parents of students in five different sessions each week. He recruits and helps train volunteers to work with parents whose children are in the RCIA. He works with the faith formation staff and creates the schedule for the children's RCIA. He helps coordinate and teach the Spanish-language family workshops for those preparing for the sacraments of Penance and Reconciliation and Holy Communion.
He helps prepare the catechist retreat, presenting a couple of the retreat talks. He teaches the Spanish parent and sponsor class for infant baptism. To create community, he initiated a celebration for those RCIA families who have a baby during the formation year. He also set up a support system for one of the families whose mother died during the formation year. This included prayer groups while she was in the hospital, a rosary before the funeral, and fundraising to cover funeral costs.
In addition, he meets with various Hispanic ministry groups and individuals to encourage them to share their faith, be involved in the parish, and become catechists. Carlos is one inspiring and engaging witness to Jesus Christ!
Carlos, what's the best advice you've ever received in this role?
Never say no to the call of God. If you want something great to happen in your life, pray that you can hear Our Lord's voice. You will find treasure and purpose you did not know you had, and you will experience a unique way of living.
Can you share a Bible verse and how it inspires your mission?
Matthew 9:36-38 inspired my mission as a catechist. Shortly after I read, "The harvest is abundant, but the laborers are few," I was convinced that I was being called when there was a request for catechists at church. My journey continues with this verse as my inspiration.
Who has had a positive influence on your faith?
My wife of 27 years has been supportive and taught me to believe in myself. I thank the Lord because she has enriched my faith. Church retreats such as Cursillo have strengthened my relationship with Our Lord and my life with my family.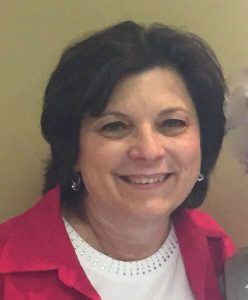 A Joyful Leader on Fire
JULIE DZANBAZOFF is the director of religious education at St. Vincent Pallotti Parish, Wyandotte, Michigan. For 16 years she has directed a weekly program for kindergarten through Confirmation-age students, including sacramental preparations with parents and retreats. She oversees the RCIA and has implemented a family model. She's responsible for Sunday Children's Liturgy for preschool and offers Bible studies and catechetical series for adults. Through her evangelization efforts, speakers and performers of the Gospels or those who portray saints have been invited to the parish. She was nominated by Donna LaMonica.
Julie works joyfully and tirelessly for Christ. She brings new ideas to the catechism program every year. This past year there was an awesome Lenten program with children performing "freeze stations," interpretive dance, singing, and an echo/gesture story. She successfully directed fundraising for youth to attend World Youth Day. Julie brings many programs for adults: adult retreat-type gatherings, Symbolon, and Fr. Michael Gaitley's 33 Days to Morning Glory. She keeps the Lighthouse Catholic Media kiosks filled at two parish churches. She has invited inspirational performances, too, such as St. Thérèse's Story of a Soul by St. Luke Productions, a St. Mark Gospel performance, and Grammy-nominated Catholic recording artist Vince Ambrosetti.
Julie, what's the best advice you've ever received in this role?
Pace yourself. There are so many great ways to minister to the children and parents, but it is all in God's perfect timing. Obedience to the Holy Spirit's guidance brings it all together.
What inspires you most about serving in this way?
The greatest inspiration is the joy of seeing someone's face (child or parent) when they've truly had a "Jesus Moment," as I call it.
What's the most challenging topic you've taught, and how did you teach it?
I find it most difficult to teach teens about the importance of Confirmation and allowing the Holy Spirit to work in their lives. I try to give them opportunities to be still and let the Holy Spirit speak to them — either in a quiet church or during a retreat. It's not uncommon after a meditation for them to ask if they can do that again.
Who has had a positive influence on your faith?
I was blessed with parents that always kept Sundays holy with Mass and family time. Catholic schooling helped me to love the sacraments of the Church. But it was in my young adult years — when I attended a Life in the Spirit seminar — that my life made a drastic change, and I'm on fire, still!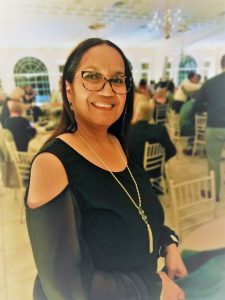 Teaches Through Life Experiences
CARMEN MARTINEZ has held the post of religious education faith formation coordinator, grades two through eight, at St. Joachim Parish, New Britain, Connecticut, for the past seven years. She was nominated by Jorge A. Martinez, Jr.
Carmen got involved in the catechist's life as a teen in the early 80s, at the behest of a nun. Since then she's dedicated much free time as a catechist. Only God knows the impact she's had on so many children and young adults. But here is one memorable example …
Carmen is a para-educator for children with special needs. During an assembly for educators in our city, the guest speaker was Nelba Márquez-Greene, mother of Ana Grace, whose life tragically ended in 2012 in the mass shooting at Sandy Hook Elementary School. During her talk, Nelba's eye caught Carmen's, and she abruptly stopped and called to her. She hugged Carmen tightly and thanked her for all that she taught her — the faith Carmen instilled helped Nelba in her unimaginable loss. Carmen was caught off guard.
After decades as a catechist, she's had hundreds of students and doesn't recall each of their names, though she teaches them all with the same love and faith.
Carmen, what's the best advice you've ever received in this role?
To be myself and use my own life experience. I use a combination of the religious education materials, hands-on projects, movies, and so on. But children listen intently when you speak from the heart. When I talk about my life-changing events, my children, my joys and difficulties, my young audience becomes attentive. Teaching this way impacts my students. Decades later, past students still approach me, thanking me.
What's the most challenging topic you've taught, and how did you teach it?
To honor your father and mother. Sadly, I've seen ever-increasing family structures consisting of a single parent or grandparent as head of household. I've talked about my own story — how I also have come from a single-parent home, how my father was never there, especially when I needed him the most. I had to forgive him because that is what the Lord teaches us. I explain how carrying hate or resentment keeps you from healing. It's a weight that needs to be released.
What spiritual practices are helpful to you?
I pray the rosary and the Divine Mercy Chaplet daily; it's the best workout for my soul. I also bringing Holy Eucharist to those too ill to attend Holy  Mass. Receiving Christ — there's
no greater gift.
Who has had a positive influence on your faith?
Hermana (Sister) Monserrate Berrios, a sweet little nun that found me — I was spiritually lost — in my youth, and Fr. Salvatore Rosa. Sr. Monserrate nurtured my faith and never gave up on me. She's forever my guiding angel. And four decades later, Fr. Rosa is still part of my life.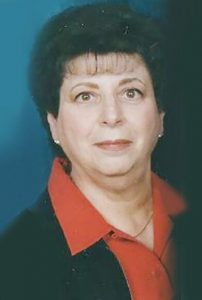 A Seasoned Youth Advocate
CORINNE SOMMO currently serves as a Confirmation coordinator and youth minister for students in grades six through 12 at Our Lady of Fatima Church, Wallingford, Connecticut. She was nominated by Nicholas Ferrauolo.
Corinne has served in a variety of religious education roles since 1972. She started as a catechist through volunteer work with the local elementary school religious education program. She served as director for several more years through the expansion of the program in Wallingford. After years of dedicated service, Corinne sought to strengthen her spiritual foundation as a catechist and was commissioned as a lay minister and youth minister in 1993.
Two years later she received her certificate in youth ministry studies from the Archdiocese
of Hartford. Corinne then started as Confirmation coordinator for Our Lady of Fatima, also organizing a peer ministry team. As team leader, Corinne encourages members to think critically, take action regarding issues facing the community, strengthen communication and listening skills, and develop the leadership skills necessary to guide younger members of the parish. She also redesigned the middle-school religious education program. Last year the Archdiocese of Hartford recognized Corinne for 45 years of service.
Corinne, what's the best advice you've ever received in this role?
Many teens and tweens are vulnerable at this age, doubting their self-worth. Developing an honest, caring relationship with students is essential and encourages them to trust — to take off their "masks" and be the authentic young people the Holy Spirit is leading them to be.
What's the most challenging topic you've taught, and how did you teach it?
Helping young people recognize the unique gifts God has given them. Once they've named those gifts, students are able to develop the faith and confidence to share them without fear of judgment. They share in the mission of the church — as altar servers, readers, teen catechists, and peer ministers. Peer ministry team members become role models,  advocating for younger students and facilitating activities — a service to the community.
What's your best teaching tip?
To treat each other with respect. Our peer ministry team designed a T-shirt with this message: "Help us to share your goodness with others, Lord. Small acts of kindness can transform a skeptical heart. May we recognize those moments throughout our day that offer the opportunity to bless others with the love of the Holy Spirit."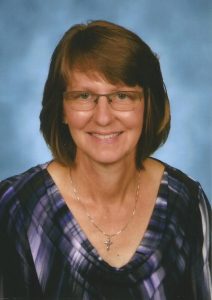 Dedicated to Bringing Youth to Christ
JULIE CAVANAUGH is the youth ministry coordinator at St. Patrick Church in White Lake, Michigan. Her nomination is from Shannon Fresquez.
As the parish faith-formation coordinator, I work with Julie on a daily basis. From my first meeting with Julie, I could feel the presence of God in her. She has such devotion to her faith and has answered her calling to be a youth minister. Julie dedicates her efforts to bringing the youth into a deeper relationship with God. She currently is responsible for the middle-school formation program (grades 6-8), Confirmation program (grade 9), and high school faith formation. She is also the sacramental prep section head for Holy Communion and Penance and Reconciliation.
She does this while also raising six children of her own. Julie's calling is to bring others to God. She speaks and youth listen. She never hesitates to go on a mission trip or go the extra mile. She is involved with other youth ministers in the vicariate.  Julie sets an example, truly practices what she preaches, and is a beacon for those looking for Christ. She is the living embodiment of a Catholic. Everything she does is focused on spreading the good news. She is always looking for new, innovative ways to engage youth — realizing what struggles they are up against — and always inviting speakers who speak to their issues. "Go and make disciples of all nations" … those are her marching orders, and she takes them very seriously.
Julie, what inspires you most about serving in this way?
There is nothing more affirming that all my time and effort was well spent than when the teen I least suspected — the one I assumed was merely going through the motions — gives testimony to the positive impact preparing for Confirmation had on their life.
What are your best teaching tips?
Service. Take them out of the classroom. Make learning experiential. Don't instruct. Have peer mentors. Be authentic and real. Let them see your emotions. Give them real-world examples of seeing God in everyday life. We learn to be Christ-like by doing what Christ did. "I can do all things through Christ who strengthens me." I say this first thing in the morning.
What spiritual practices are helpful to you?
Prayer and reading good Catholic books. Reading quenches my thirst for knowledge. Prayer helps me discern what to do with the knowledge I gain.
Can you share a Bible verse and how it inspires your mission?
My go-to verse is Philippians 4:13 — "I can do all things through Christ who strengthens me." I say this first thing in the morning. It's not my day to do what I want, but rather the Lord's day. I give Christ permission to lead me to do his will.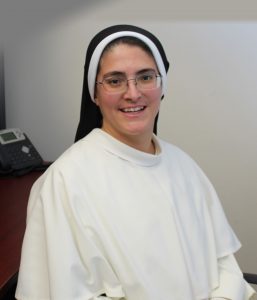 An Amazing Role Model
SR. MARIA FAUSTINA, OP, is the middle school religion teacher (grades 6-8) at St. Thomas Aquinas Regional School in Woodbridge, Virginia. She has been at this post for six years. Her nomination is from students Elizabeth Eckman and Mary Lou Moore.
From Elizabeth: I have grown in my faith in Sister's class. I, and most of my class, came in on the first day of school having been taught what to believe. Most of us did believe, but only because we were told what practicing Catholics believe. Sister showed us why we believe. She gave us insight into the Bible — showing us connections throughout the Bible, teaching the power behind the words. For example, she explained how the evangelists worded sections for a reason, and we could see why. Sister has changed my life for the better. I am now aware of my faith and why I believe it.
From Mary Lou: Sister has helped bring me closer to God than I have ever been before. She makes learning fun. For example, one time she helped us learn the names of all the disciples of Jesus by introducing us to a silly song. It got stuck in our heads, and bam! We knew the names of all the disciples. She also has made up songs to help us memorize other important things, like the mysteries of the rosary. Sister would take us to the chapel right outside our school so we could have some alone time with Jesus. She would read to us from the Bible. She would occasionally stop reading to explain any parts that may be confusing, and I found this very helpful. Because of Sister's influence I now read the Bible almost every night. Each night as part of our homework, we were assigned to read a section of the Scriptures.
Sister Maria Faustina, what inspires you most about serving in this way?
When I went to catechism [class] as a kid, I was always told, "God loves you." It was in the books, posted on posters, everything — but no one ever explained what it means that God loves us, nor how this is a relationship.
What's the most challenging topic you've taught, and how did you teach it?
Chastity! It's about learning how to be a friend to start with. In a highly sensual culture, chastity is a much misunderstood and uncomfortable topic. But young people desire friendship in such a deep way that they want to know how to get friendship "right" without being too discouraged when they don't. If they see friendship as something one practices and improves over time, they are more open to the awareness of what damages or strengthens friendship — now and in marriage later.
What spiritual practices are helpful to you?
Our religious community has time for daily prayer, meditation on the Scriptures, and listening to spiritual topics on a daily basis (we eat in silence and listen to these). Our Dominican monastic life is the foundation of our teaching.
Can you share a favorite saint and how they inspire your mission?
Um, just one? Right now, I have to say St. Martin de Porres. He was a man who loved deeply. His devotion and humility stemmed from a soul in love, and the incredible number of miracles were signs of love of Friend for friend.
PHOTOS COURTESY OF THE HONOREE PICTURED