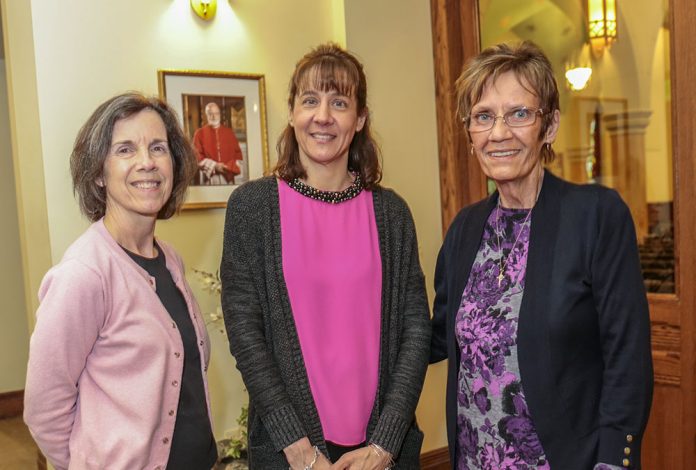 by Marlene Sweeney
A group of catechists were having lunch together. In their conversation, they realized that they knew absolutely nothing about the Book of Revelation. So they decided to approach their DRE to see if he would be willing to offer a class on that book of the Bible.
When some pre-school children asked questions about praying, their young parents turned to their parish DRE to help them learn more about traditional prayer.
At the last parish staff meeting, it was decided that the DRE needed to put together a summer in-service to teach some of the Second Vatican Council documents in honor of the council's fiftieth anniversary.
DRE = Master Catechist
DREs are often viewed as "master catechists." Their role is to oversee the curriculum that is being taught in a parish. Many times they are called upon to "fill in the blanks" when educational needs are presented in the parish. Often they are asked to research projects, give presentations, or teach topics that are varied and often complex. People in the community come to depend on them as excellent resource people for the plethora of interests that evolve in a learning environment. Most DREs love that facet of their jobs!
However, many will admit that there are seldom enough hours in the day to learn or teach such a wide variety of lessons. Rather, DREs need to depend on the expertise of others and direct people to good sources and reputable resources where they might expand their knowledge and educate themselves.
How might you do that in your parish while still maintaining interest in the learning? Where and who do you turn to when a topic is clearly beyond your comfort zone? What was your response the last time you were approached and asked "Can we study that?"
Learning in Relationship
I feel quite fortunate whenever a group of catechists approaches me with an area of interest. The idea that there is a shared curiosity to explore a topic of learning implies energy and a willingness to search out the best way the group might delve into a subject, assuming group responsibility.
Suggesting the formation of a study group often works quite well in a parish setting. As a staff person, I can see that the group secures a time and place to meet, and I can help it advertise the group within parish communications. Depending on the fabric of the group, I might be able to offer some "professional growth" funds, if needed, to procure materials or speakers. (From experience, I have learned to be forthright about what the budget might look like if I can offer assistance, and to be clear if I cannot.)
Depending on the topic, I initially suggest that the group meet and come up with some learning goals (what it hopes to accomplish). With that end in sight, I am better equipped to help the group brainstorm possible avenues of learning. Is there a text on the subject that the group might be willing to read and study? Perhaps there is a DVD series or an audio presentation the group can study and discuss. Might there be someone from the parish or the local area willing to come and speak to the group? Or perhaps we can arrange for an entire series of speakers on a given topic.
Once the methodology is agreed upon, I invite the group to do additional research to develop a working bibliography. This might include websites, current literature, and other available resources that a third party would be willing to review. That person could then offer input about the bibliography before the list is distributed to everyone in the group.
Occasionally, someone will ask to study a subject that I feel unequipped to handle or that seems inappropriate for the religious education venue. I try to be honest about my hesitation and explain why I feel the parish may not be the place to seek that learning. If the interested person seems unhappy with my decision, I ask him or her to continue the conversation with the pastor. I then let the decision rest with someone else who may have a different perspective.
Books Still Carry Weight
Every DRE who keeps bibliographies or puts together lending book-bags knows how useful this type of resource can be for a parent with questions, a struggling catechist, or even an occasional inquiring non-Catholic. Years ago I alphabetized my collected bibliographies by subject matter and, although an occasional book may become outdated, I simply have added to that book list through the years. If I feel the subject matter warrants updates, I remind interested parties to note the publication dates on the bibliography. For example, I find some resources on praying, grief, discipline, and history seldom need changing, while subjects like liturgy, ethics, and Church teaching on morality often require current titles.
Help Everyone Learn
Leading people to new ideas and lifelong learning is an important part of every DRE's ministry. When others see our openness and willingness to take on the challenges of helping everyone learn, they will come to our offices to ask, "Can we study that?"
Marlene Sweeney, M.Ed., MA, is a Certified Pastoral Associate in the Archdiocese of Chicago. Marlene is a writer and poet whose works have appeared in numerous books and periodicals. Email Marlene at mcsjames@yahoo.com.
---
Copyright 2013, Bayard, Inc. All rights reserved. This article is protected by United States copyright and other intellectual property laws and may not be reproduced, rewritten, distributed, redisseminated, transmitted, displayed, published or broadcast, directly or indirectly, in any medium without the prior written permission of Bayard, Inc.