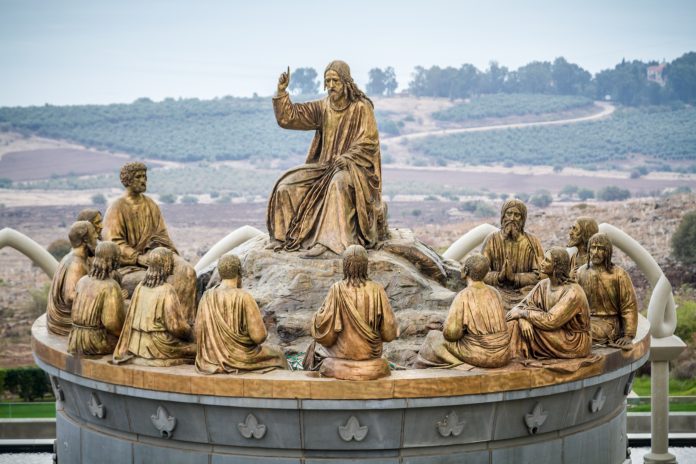 by Barbara Anne Radtke
Would you like to know more about the lives of the saints?
Could you use a refresher on the Creed?
Do you feel drawn to explore a new way to pray?
Much learning begins with curiosity. Adults are motivated to learn because they have a desire to know more. A question, a new situation, or an interesting conversation, for example, is an inspiration to dig deeper.
The way you learn depends on the kind of learner you are, the time you want to or are able to invest in learning, the availability of a learning opportunity, and the cost that may be involved. Fortunately, there are many ways, formal and informal, to pursue your lifelong spiritual learning.
Here are ten strategies that keep you learning and help you explore learning opportunities. The list begins with ideas that will help keep you current and the required minimal time and cost. As your circumstances permit, you may wish to engage in a more extended or more formal experience.
1. Read for information and spiritual enrichment. Since you are reading this article, you already are practicing a continuing education strategy. A subscription to a periodical that enriches and informs your faith can help keep you reading regularly.
To cultivate the habit of regular reading, decide how it fits into your schedule. If you are the family chauffeur, leave the periodical in the car or carry it in your bag so that you can read an article while you wait for your passengers. You also can make reading every new issue part of treating yourself. At a regular interval, such as once a month, take yourself to a favorite coffee spot for a latte and a half hour with the new issue. You might coordinate your subscriptions with other catechists and swap your issues.
2. Feed your faith with spiritual reading. Spiritual reading is a time-honored practice. Select a book that feeds you spiritually and keep it where you will read a little snippet every day. Find a book with short chapters or sub-sections. Keep the book where you can read it, such as on a bedside table or by a favorite chair. Find time each day to read a small segment. Give yourself five minutes to reflect on what you read. Journal about what you read.
3. Share your faith with others. For example, you might create a book club with other catechists. Set reasonable intervals to get the book read. For a variation on everyone reading the book together, make it a book report session. Rotate the responsibility for leading the discussion or reporting on the selected text. If you have the feeling that this would just be another meeting, start a blog and have people enter brief comments about something they read and would like everyone to know about. Elicit a commitment that, by the first of each month, each person will post a message on the blog about something interesting they have read.

4. Pray every day. This might be part of your spiritual reading. Or pray within your daily routine. For example, do you run, walk, or do another exercise where you use an iPod or MP3 player? There are several websites online where you can download a prayer for the day or talks on topics that will provide faith development or spiritual renewal.
5. Be informed about parish and diocesan learning opportunities. Be sure you are on the mailing list for programs that your parish or your diocese offers. These programs help you not only refresh the approach to your ministry but also cultivate a network with others involved in catechesis.
6. Participate in webinars. Insightful, informational, and inspiring webinars often are offered free of charge on the Internet. These can be particularly pertinent for catechist formation and learning more about the Catholic faith. Ask someone in catechetical leadership for recommendations about reliable sources for webinars. If you take a webinar live, it may be interactive and you can ask questions or make comments. Usually you do not need any equipment other than your home computer to participate. Many times webinars are archived and can be viewed whenever you like. (You can listen but do not have an opportunity to interact.) Webinars can be viewed by yourself or, if you have access to a larger screen like a television, you can view it with a group.
7. Review opportunities at nearby Catholic colleges or universities. They often provide continuing education opportunities by offering speaker programs or workshops that are free or reasonably priced and open to those who are not enrolled as students. Be sure to get on their mailing lists so that you can become aware of these opportunities well in advance of the schedule. Commit to attend one event each season or one a year.
8. Review opportunities in cyberspace. If you do not have a local Catholic college or university, research Catholic universities around the country. They often videotape speakers who are presenting at the college and then stream the video on their websites. All you need to know is where to look! Bookmark your favorite sites and return to them often. Gather people who might want to watch the presentation together and then discuss it.
9. Participate in on-line, non-credit courses. Colleges and universities often offer online non-credit, interactive courses and workshops for a modest fee. These courses are designed for participants with busy lifestyles. They are of shorter duration than a typical college semester, sometimes only three to four weeks. They can be asynchronous, i.e., do not require that one be online at any particular time.
Ask your catechetical leader if your diocese or parish partners with any particular university; sometimes there is a substantial discount for partners. In many of these programs, you can interact with other participants throughout the course. It is exciting to be in a discussion about faith with folks from across the country and in different parts of the world. It gives you a window on our global Church.
Many of these kinds of programs provide documentation of your participation so that you can apply the experience toward your catechist certification. Be sure to ask the agency through which you seek certification, such as your diocesan office of religious education, about this. Sometimes a series of courses or workshops will earn a non-credit certificate for a certain ministry.
10. Plan a long-range learning experience. Respecting your resources, such as time and finances, consider the possibility of earning undergraduate or graduate credits or certification in the fields of theology or ministry at a local college or university. These programs, in varying lengths and number of credits, are designed to help learners acquire both the content and the skills to enhance their ministries. The programs vary in the requirements for admission.
Institutions that offer these kinds of long-range learning experiences are sensitive to scheduling, offering courses on weekends, evenings, and during summer months. Increasingly, there are programs for credit that are offered online. Sometimes a program is designed as a hybrid experience, i.e., some courses in the program are offered online and some are offered on campus. Check to see if the program is accredited and how long it will take to earn the certificate and/or degree.
You are a lifelong learner! A commitment to sharing faith is a commitment to continue to grow in your understanding of the faith and its practices. To say "yes" to participate in a teaching ministry is also a "yes" to being a lifelong learner.
The Catholic Church encourages its adult members to continue being formed in the ways of faith. Catechists have the additional opportunity to model the habit of ongoing faith formation to students and other adults in the faith community. Whatever your learning style and your learning goals, multiple opportunities are available to meet your needs. All you need is a good strategy.
Prepare to Learn and Earn
Before you commence on a course of learning toward certification or a degree:
* Pray for the wisdom of the Holy Spirit.
* Be clear about your wants and needs.
* Name your goal.
* Assess your resources (time, energy, finances, learning style).
* Establish a general timeline to reach your goal.
* Consult with your catechetical leader.
* Ask for the support of your family and friends.
* Share your intentions with other catechists.
* Establish a routine that will discipline your time.
* Check websites and read the brochures of the programs under consideration.
* Meet with an admission officer to discuss your needs and the institution's expectations.
* Interview recent alumni of similar programs to learn from their experiences.
* Establish a relationship with an academic advisor.
* Celebrate your accomplishments along the way.
Barbara Anne Radtke is the Director of Continuing Education and a part-time faculty member in the Department of Religious Education and Pastoral Ministry in the Boston College School of Theology and Ministry. She holds a BA and an MA in Religious Education from The Catholic University of America and a PhD in Systematic Theology from Boston College.
---
Copyright 2011, Bayard, Inc. All rights reserved. This article is protected by United States copyright and other intellectual property laws and may not be reproduced, rewritten, distributed, redisseminated, transmitted, displayed, published or broadcast, directly or indirectly, in any medium without the prior written permission of Bayard, Inc.
This article was written by the Catechist Staff and appeared in Catechist, October 2011.
Image Credit: Shutter Stock 559112293