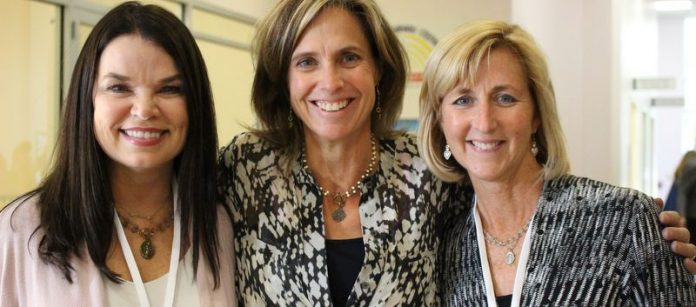 A Catholic women's ministry calling women to greater holiness
KELLY WAHLQUIST
In his apostolic exhortation Gaudete et Exsultate (On the Call to Holiness in Today's World), Pope Francis "re-proposes the call to holiness in a practical way for our own time," encouraging the faithful to see the entirety of their life as a mission and imploring them to embrace five great expressions of love of God as they strive for holiness. The understanding of life as a mission and the five spiritual attitudes of which the Holy Father speaks are at the very heart of a new and innovative Catholic women's ministry that is rapidly spreading across the country.
WINE: Women In the New Evangelization is a creative and inspired ministry that encourages women to grow spiritually as well as in their knowledge of the Catholic faith while teaching them how to be disciples of Jesus and mentors to other women. And while the acronym is fun and catchy, WINE isn't about the wine we drink; instead, WINE finds its roots in sacred Scripture. In the second chapter of the Gospel of John are Mary's final words in Scripture. She says to the servants, "Do whatever he tells you"( John 2:5). Mary isn't just speaking to the servants; she is speaking into our hearts, as well. In essence, Mary is telling us to do the will of God, to be holy.
In today's world, attaining holiness is especially challenging; the Christian life is a constant battle that requires strength and courage to live and proclaim the Gospel. This is something WINE understands and hits head-on. While all men and women are created in and for relationship, WINE contends that women are created radically relational. As such, the struggle to stay on the path of holiness is one that is made easier when women come together to support, encourage, nurture, and strengthen one another. WINE is about inviting women into relationship with other women so we can go deeper in our relationship with the Lord. It is about helping women be transformed by the encounter with Christ, renewed by the Spirit, and elevated in their God-given gifts.
WINE isn't just another program — not at all! It is a movement that teaches women the truth about their dignity and vocation and highlights the many tried and trusted resources available to help them on their spiritual journey. By bringing together the best Catholic programs, books, ministries, apostolates, musicians, authors, and speakers, WINE beautifully complements the ongoing activities of any women's ministry or faith-sharing group or can be utilized to begin and run a fruitful women's ministry. WINE hosts conferences and events, organizes parish small groups, promotes book clubs, and provides faith-filled and inspiring content via its website CatholicVineyard.com.
Everything WINE offers aims at helping women on their path to holiness. The characteristics that make up WINE beautifully reflect the five signs of holiness in today's world that Pope Francis mentions in Gaudete et Exsultate:
Perseverance, patience, and meekness — WINE has a charism of unity that stems from the cheerful humility of women who, like St. Elizabeth at the visitation, rejoice in elevating others in their gifts.
Joy and a sense of humor — There is a palpable joy that graces every WINE event and humor that radiates from those who have embraced the cross and give joyfully of their time, talent, and treasure.
Boldness and passion — Women of WINE are empowered to proclaim the Gospel with renewed conviction and hope. They find confidence and joy leading in ways they never imagined they could.
Community — It does not matter if she is 22 years old or 92 years old, the most common phrase uttered by a women participants is, "I feel like I belong."
Constant Prayer — Everything in WINE is soaked in prayer and in Scripture. Lectio Divina is taught and encouraged in WINE books and accompanying journals such as Created to Relate: God's Design for Peace and Joy, and Walk in Her Sandals: Experiencing Christ's Passion through the Eyes of Women. WINE's latest book, Gaze Upon Jesus: Experiencing Christ's Childhood through the Eyes of Women introduces visio divina (praying with images) while still engaging the reader in lectio divina.
New in ardor and expression, WINE pairs well with established women's groups, or it can stand alone as a way to invite women into transforming relationships with their sisters in Christ — and, most importantly, into a deeper relationship with God the Father, Son, and Spirit.
Kelly Wahlquist is a Catholic speaker and founder of Women In the New Evangelization (WINE). She is the Director of the Archbishop Harry J. Flynn Catechetical Institute and author of Created to Relate: God's Design for Peace & Joy and editor of Walk in Her Sandals, and Gaze Upon Jesus.
This article was originally published in Catechist magazine, September 2018
PHOTO: COURTESY OF CATHOLICVINEYARD.COM. USED WITH PERMISSION