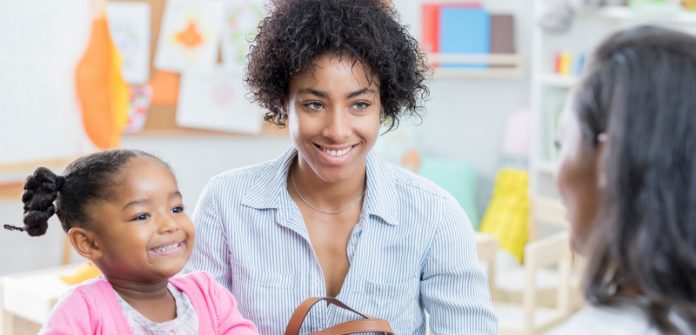 LEISA ASLINGER
My first year as a catechetical leader was one of the most difficult of my life. For months, I dreaded answering the phone, having discovered that the person on the other end was likely to be upset about something I knew nothing about. I disliked Wednesday evenings the most, since that was the night for religious education classes. Catechists, parents, and children all trudged in, tired and unenthused, and they left much the way they came! You can imagine my surprise and gratitude when a parent stopped me in the hall in early spring, exclaiming, "I can't wait for the mini-retreat!" Imagine my delight when nearby parents joined in, their enthusiasm apparent and genuine. What was this "mini-retreat," and how had it captured parents' hearts when nothing else seemed to be working? The mini-retreat was the capstone of the preparation process for first holy Communion, and it included prayer, activities, practice for the liturgy, and a tour of the church. Parents were encouraged to come (we later made parent participation part of the process), and the day simply "glowed".
Engaging Parents
Engaging parents is one of the most crucial things we can do as catechists and leaders.
When we engage people, we bring them to a deep sense of belonging within the parish community. Doing so leads them to deepen their faith and live it in their daily lives. This deep belonging happens most profoundly when people sense that being part of the community matters. They are connected to each other in genuine relationships and have the opportunity to offer themselves meaningfully. When we engage people, we help them to fall in love with Jesus through the body of Christ, expressed in the parish community. The more engaged the parish becomes, the more likely it will be for others to become engaged and to create a dynamic and living faith.
Engaging Sacramental Preparation
We often include a parent meeting at the beginning of sacramental preparation. I sometimes describe my early parent meetings as a bit of adult faith formation about the sacrament, followed by a long Q-and-A session where parents had the opportunity to ask questions like "What do they wear?" "Where do they sit?" "With whom will they be seated?" and "How long before the party?" An overstatement, certainly, but that captures the feeling of those early meetings!
When we approach our interactions with parents during sacramental preparation with the goal of further engaging them, the process takes shape with dramatically different results. We help parents to see us as partners in the process of forming their children in the faith, and we coach them to form their own children, helping them to learn with them in a safe and supportive environment.
Learning from Experience
That brings me back to the mini-retreat. Here is what I learned about why the mini-retreat was such an engaging experience. Think about these things and apply the learning to your own sacramental preparation process:
1. Use the language of partnership.
Parents are the primary influence of formation in faith for their children. When they know we are their partners, they feel more secure in their ability to teach their children.
2. Coach parents to form their own children.
Many parents never learned or cannot remember basic beliefs or the meaning of our sacramental and ritual life. They are uncertain and anxious when asked to share their faith or "do a lesson" with their children. When we coach parents, asking them to teach their child at a parish gathering with supportive and knowledgeable people on hand to help, the parent is evangelized in the process.
3. Listen to parents.
View your preparation process through their experience. Parents want what is best for their children, and of course, a rich life of faith is what is best for the child, and the family! Help parents know that you want what is best for both them and their children.
4. Invite parents to be involved.
Ask them to help prepare materials, accompany their child in activity center processes, or help with behind-the-scenes organization.
5. Make sacramental preparation special.
Offer a culminating experience like a mini-retreat, and make it a regular feature or your sacramental prep process. If you already have a retreat/practice day, enhance the engaging potential of the day by building strong connections with parents: draw them into relationships with one another; make parent coaching part of the experience; and allow the joy and the grace of the day to touch everyone!
Leisa Anslinger is the director of Catholic Life and Faith, a pastoral leadership resource center.
This article was originally published in RTJ's Creative Catechist January 2014.
Image: Steve Debenport, istock