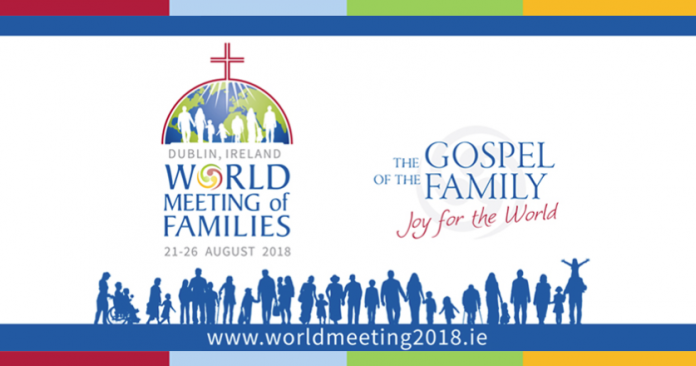 The World Meeting of Families happens every three years. It is going on this week in Dublin, Ireland.
Here are some links that will help you experience it even if you cannot attend.
The main website: https://www.worldmeeting2018.ie/en/
Class resources including coloring pages.
God, our Father,

We are brothers and sisters in Jesus your Son,

One family, in the Spirit of your love.

Bless us with the joy of love.
Make us patient and kind,

gentle and generous,

welcoming to those in need.

Help us to live your forgiveness and peace.

Protect all families with your loving care,

Especially those for whom we now pray:

[We pause and remember family members and others by name].

Increase our faith,

Strengthen our hope,

Keep us safe in your love,

Make us always grateful for the gift of life that we share.

This we ask, through Christ our Lord,

Amen.

Mary, mother and guide, pray for us.

Saint Joseph, father and protector, pray for us.

Saints Joachim and Anne, pray for us.

Saints Louis and Zélie Martin, pray for us.
The official hymn:
Pope Francis will visit Ireland this week. Here's a preview:
A few words from Pope Francis' video message:
"As you know, the World Meeting is a celebration of the beauty of God's plan for the family.  It is also an occasion for families from all over the world to meet and support one another in living out their special vocation.  Families today face many challenges in their efforts to embody faithful love, to bring up children with sound values and to be a leaven of goodness, love and mutual concern in the larger community.  You know all this.
"I hope that this festival will be a source of renewed encouragement to families everywhere, especially those families that will be present in Dublin.  May it remind us all of the essential place of the family in the life of society and in the building of a better future for today's young people.  Young people are the future! It is very important to prepare them for the future, preparing them today, in the present, but also rooted in the past: young people and grandparents.  This is very important."
NEWS: It is confirmed that Pope Francis will meet with victims of clerical sexual abuse.
Image credit: Courtesy of World Meeting of Families