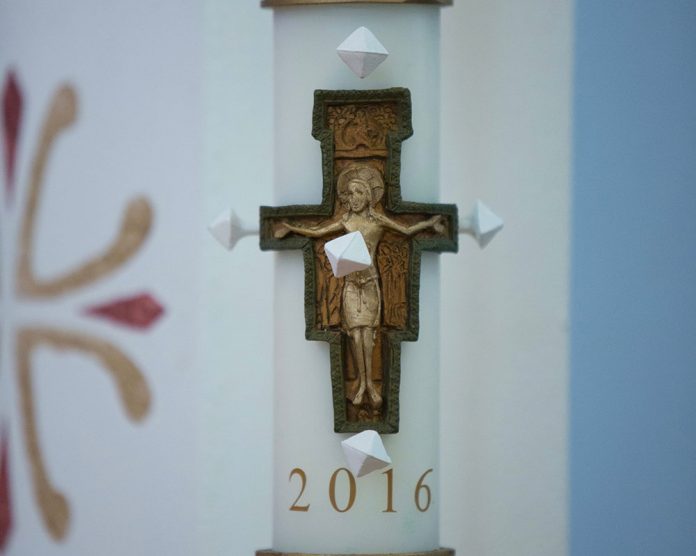 by Cullen Schippe
When I was a child, the Holy Saturday Vigil Mass was celebrated in the morning to nearly empty churches. That was before the Church restored the Easter Vigil (in 1955) as we have come to know it today. The long and little-understood ceremony was designed to end at noon with an early arrival of Easter. 
When the Mass was over, the bells of our parish church that had been long silent sang out. We could hear the bells in our home. So when they began to ring, three things happened. First, we would all say "Alleluia! Happy Easter!" Second, my mother would call her sister and they would sing an Easter hymn together over the phone. (Mom was the soprano and my aunt was the alto.)  
Finally, Mother would cut squares of white bread and add a pat of butter and a slice of hard-boiled egg to each. My dad would sprinkle a little holy water. With this tiny treat we would then symbolically break our Lenten fast. Only then could we raid the drawer where we stored all the candy we didn't eat during the past 40 days. 
I never really questioned the meaning or the origins of this family ritual, but it did fix in my mind two ancient symbols of the paschal feast—bread and the egg. The egg is a universal symbol of new life, and almost every Christian culture has some form of Easter bread. Bread, broken and shared, is symbolic of the Eucharist and of all the mysteries of Christ's passion, death, and resurrection. 
All Easter breads are leavened and sweet—rich in flavor and appearance. Whether called babka, kulich, pao doce, tsoureki, panatone, or hot crossed buns, these breads have traditions reaching back centuries—even millennia. They all bring the joy of the season to the family table. They all represent the great influence faith has had on culture. 
It is a shame sometimes that so many of the little customs and rituals get lost. They are, after all, great catechetical opportunities. A special Easter bread is a chance for us to share how we Easter people are to act in this world that is God's gift to us. 
Sharing such bread can also help families start a conversation on how each member can bring good news to everyone he or she meets.  
There is a great temptation for those who follow Christ and are members of his Church to run headlong away from a culture and a society that seems to militate against almost everything we believe and hold dear. When we feel the need to retreat, however, Easter calls us to advance.  
Here for me is the heart of the symbol of the Easter bread. Just as this bread cannot rise to its full wonder without the living culture that is yeast, society cannot rise to reach its full potential without the living culture of disciples who are in the world and who are influencing the world.  
The response to the Easter miracle is so much more than basking in the glow of the empty tomb. Easter is our time to hear the message that Christ is risen and is not here. He is going ahead of us, and now it is our job to bring the yeast of the good news to the lump of dough that is our world so that together the whole loaf can rise. 
Being a leaven in society is not just a tidy metaphor. It is what we Easter people do. As we sing our Alleluias, we are also witnessing to the reign of God and to Christ's victory over sin and death. The leaven of our lives brings to society a love of truth, a burst of joy, a sense of purpose, a spiritual life, and perhaps most of all, a passion for taking care of those in need.  
My Easter prayer for all of us called to the ministry of catechesis is taken from the collect for the Easter Mass. "That we who keep the solemnity of the Lord's Resurrection may, through the renewal brought by your Spirit, rise up in the light of life." May we also be the leaven that helps the bread of society rise in full sweetness and joy to a life full of grace and truth. 
Cullen Schippe has been in Catholic publishing for well over 40 years and currently serves as President and Publisher for the Peter Li Education Group. Email Cullen at cschippe@peterli.com. 
---
Copyright 2015, Bayard, Inc. All rights reserved. This article is protected by United States copyright and other intellectual property laws and may not be reproduced, rewritten, distributed, redisseminated, transmitted, displayed, published or broadcast, directly or indirectly, in any medium without the prior written permission of Bayard, Inc.
This article was written by the Catechist Staff and appeared in Catechist magazine, July 2015.