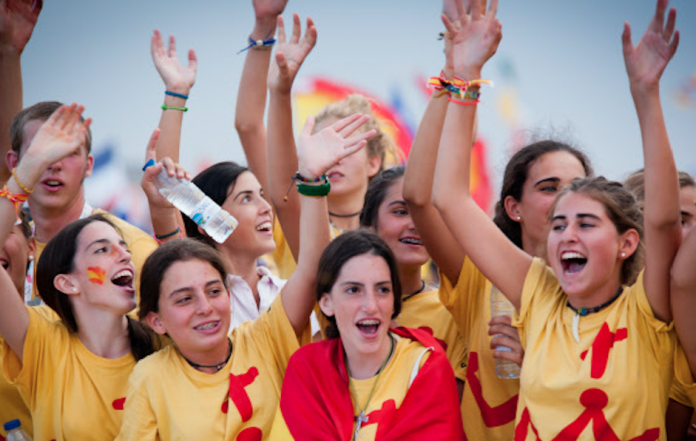 BY PAT GOHN
The Youcat, or Youth Catechism, released in 2010 under Benedict XVI's pontificate, contained an emphatic message from the pope in the foreword: "Study this Catechism! Study this Catechism with passion and perseverance."
Pope Emeritus Benedict, the renowned scholar, knows the benefit of study. Reception of faith in the heart requires the application of the mind in knowing and seeking it.
As catechists, we do well to personally heed Benedict's call to study–and to teach–with passion and with perseverance!
Our passion must be two-fold: to seek and know God ourselves, and to lead others to encounter him. The Youcat's question-and-answer format helps us examine the heart of such passion.
3. WHY DO WE SEEK GOD?
God has placed in our hearts a longing to seek and find Him. St. Augustine says, "You have made us for yourself, and our heart is restless until it rests in you." We call this longing for God. >>Religion. 27-30
It is natural for man to seek God. All of our striving for truth and happiness is ultimately a search for the one who supports us absolutely, satisfies us absolutely, and employ us absolutely in his service. A person is not completely himself until he has found God. "Anyone who seeks truth seeks God, whether or not he realizes it" (St. Edith Stein). >>5, 281-285
Our passion for God is not a private enterprise but one that calls us to communion with others. We are not alone in this work.
24. WHAT DOES MY FAITH HAVE TO DO WITH THE CHURCH?
No one can believe alone and by himself, just as no one can live alone and by himself. We receive the faith from the Church and live it out in fellowship with the people with whom we share our faith (166-169, 181).
Faith is the most personal thing a person has, yet it is not a private matter. Anyone who wants to believe must be able to say both "I" and "we," because a faith you cannot share and communicate would be irrational…
Believing is…participation in a common conviction. The faith of others supports me, just as the fervor of my faith enkindles and strengthens others.
The fervor of our faith coupled with our passion for our students' growth fuels a catechist's perseverance. We must practice what we preach.
347. WHY IS "NOT PRACTICING WHAT YOU PREACH" SUCH A DEFICIENCY IN A CHRISTIAN?
Agreement between one's life and one's witness is the first requirement for proclaiming the Gospel. Not practicing what you profess is therefore hypocrisy, a betrayal of the Christian duty to be "salt of the earth" and "light of the world," >>2044-2046.
Pope Benedict's Youcat foreword holds profound meaning for catechists as it does for youth:
You need to know what you believe…
You need to understand it like a good musician knows the piece he is playing.
Let us persevere in our mission!
Youcat (Youth Catechism of the Catholic Church) is available from Ignatius.com.
Pat Gohn is the author of Blessed, Beautiful, and Bodacious: Celebrating the Gift of Catholic Womanhood (Ave Maria Press).
The article was originally published in RTJ/Creative Catechist, September, 2014.
Image credit: From World Youth Day, 2011. Photo by Jean Matthieu GAUTIER/CIRIC.