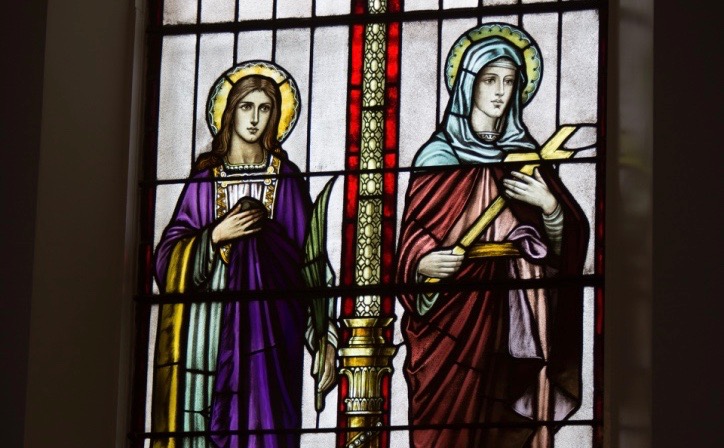 by Jared Dees
Picking a patron saint for your classroom can be a great way to engage students in learning and praying with the saints. There are official patron saints of many things including churches, schools, hospitals, countries, occupations, illnesses, and causes. Sometimes the Church officially designates patronages and sometimes individuals and groups select a patron saint for their own special interest.
This year, invite your students into a discussion about a patron saint they would like to select as a group for their classroom and their year in religious education.
Selecting a Classroom Patron Saint
First, consider choosing the patron saint of your parish. Often we take for granted that our parish has a special connection to an actual saint who intercedes for us and our community every day. It might be beneficial to focus on that saint this year.
Or you might consider selecting a saint based on the topics you teach this year. Is your curriculum focused on the Old or New Testament? Select a patron saint like St. Jerome, St. Paul, or one of the Four Evangelists. Are you teaching about the history of the Church? Select a saint from the time period you focus on the most or pick the patron saint of historians, St. Bede the Venerable. Do some research on your own to find other saints who are relevant to subjects on which your grade will focus this year.
Or, as a catechist with a clear vision of what you want your students to learn and be able to do this year, you might select a saint yourself based on this vision. If you have a particular Marian devotion that you want your students to share, then pick the Virgin Mary or a saint with a special Marian devotion, like St. Louis de Montefort or Blessed John Paul II. Just be sure to get your students to share your interest and excitement about learning and praying to this saint.
Remembering Your Patron Saint
Once you select a patron saint for your classroom, it will be important to think of ways you can remind your students of this saint and pray for his or her intercession. Try one of these ways to incorporate your patron saint into each class meeting this year:
* Have students write research papers. As one of their earliest projects this year, have students write research papers about the saint using books in your parish library or online resources. You might even supply some short articles that students can read as a class and summarize in a research project or presentation.
* Share brief facts or stories about your patron saint. Do your own research about the patron saint of your class and make a list of short facts or stories about the person. Then share one of these facts or stories with the students each time you meet. Make a long list so you have many facts and stories to choose from throughout the year.
* Recite prayers attributed to your saint. Look for prayers written by or attributed to your patron saint and make a plan to pray one or more of them together as a class throughout the year.
* Have students write their own short prayers based on what they know about the saint. These prayers can be prayers of intercession or prayers to God the Father that mention the saint as a model.
One of the best parts about this activity is that you can begin at any time throughout the year. As an alternative, you might even invite your students to pick their own personal patron saints to pray to this year.
All you holy men and women, pray for us!
Jared Dees is the creator of The Religion Teacher (thereligionteacher.com), a website that offers practical resources and teaching strategies for religious educators. He is also the author of the book 31 Days to Becoming a Better Religious Educator (Ave Maria Press, 2013).
---
Copyright 2013, Bayard, Inc. All rights reserved. This article is protected by United States copyright and other intellectual property laws and may not be reproduced, rewritten, distributed, redisseminated, transmitted, displayed, published or broadcast, directly or indirectly, in any medium without the prior written permission of Bayard, Inc.