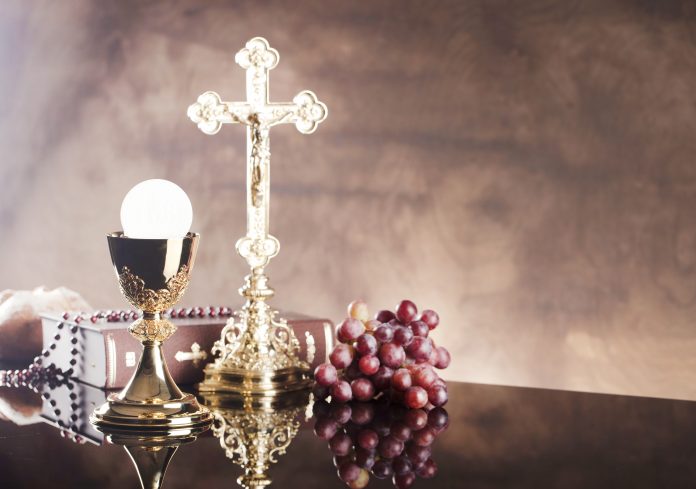 by Mary McEntee McGill
In early January we often take the time to consider ways for self-improvement. We make New Year's resolutions, renew our good intentions, and ponder our most cherished hopes. As Catholics, we have the gift of the Sacraments to help us be the men and women we hope and pray to be.
As we gather to pray this month, let us consider the Sacraments of the Church and how, through the grace of the Sacraments, we can achieve our goals to become the men and women we seek to be.
Jesus' parable about the sower and the seed can open our hearts to think about our needs and the grace of the Sacraments.
At the end of the prayer, you might want to give each person present a small packet of flower seeds and a small flower pot filled with soil. This symbol would help them remember God's presence in their efforts to realize growth as a result of their resolutions, intentions, and hopes.
Reading: Luke 8:5-8 (the sower and the seed)
Opening Prayer: Lord, you call us to love you and serve others. But like the seeds falling on rocky soil and failing to produce fruit, our intentions can fail to produce fruit when the difficulties of life interrupt our hopes and plans to serve you well. We ask that your Sacraments assist us in reaching our goals.
All: Amen.
Commentary: Sometimes we plunge forward with great intentions to achieve personal heights. For example, we often begin a new year with hopes to break bad habits and so become better persons. We forget, however, that such a task is the Lord's—and often we forget the power of prayer. We forget to let the Lord plant the seeds of our work. We forget that we must work together as a community. We forget that the Sacraments help us do that.
The Sacrament of Baptism reminds us that we are not alone. Baptism reminds us that we are members of a community of faith, and that the community surrounds us and assists us, our children, our families, and our friends. Eucharist and Confirmation bring us the grace to find our strength in the teachings of Jesus and the Church, and to share our strength in building up the unity of our faith community. Eucharist especially is our intimate experience of the Lord with us and in us—at the core of our existence.
With our New Year's resolutions, we often seek to forgive someone who has hurt us or to be friends again with someone from whom we've been separated. The Sacrament of Penance and Reconciliation calls us to forgive and gives us the grace to reunite with those we have cast away. The Sacrament of the Anointing of the Sick gives us God's healing grace. As Sacraments at the Service of Communion, Matrimony and Holy Orders confer a special grace to build up the Kingdom of God.
The Sacraments give us opportunities to gain what we hope for. They call us to be confident in seeking the strength of the Lord and help us to make our ways God's ways.
Reading: 1 Corinthians 3:5-11 (regardless of our efforts, only God causes growth)
Leader: We ask you, Lord, to be with us as we pray to be better persons. (Invite petitions from those gathered.)
R: Lord, hear our prayer.
Closing Prayer: It is January, Lord, and we come before you with our firm resolutions, our good intentions, and our cherished hopes for this coming year. These resolutions, intentions, and hopes are seeds we plant before you. May we turn to the strength of the Sacraments to be the good soil in which we plant these seeds. May we know that the Sacraments strengthen us, that they are like water, sunlight, and nurturing care for the seeds. May we draw from the Sacraments the grace we need to faithfully grow in faith.
All: Amen.
Share with one another a sign of peace.
Mary has professionally served parishes and dioceses for more than 40 years and continues to enjoy catechetics in Dallas, TX. She is the author of Stories to Invite Faith Sharing (Resource Publications).
---
Copyright 2012, Bayard, Inc. All rights reserved. This article is protected by United States copyright and other intellectual property laws and may not be reproduced, rewritten, distributed, redisseminated, transmitted, displayed, published or broadcast, directly or indirectly, in any medium without the prior written permission of Bayard, Inc.
This article was written by the Catechist Staff and appeared in Catechist magazine, December 2011.
Image Credit: Zolnierek/Shutter Stock 592148795