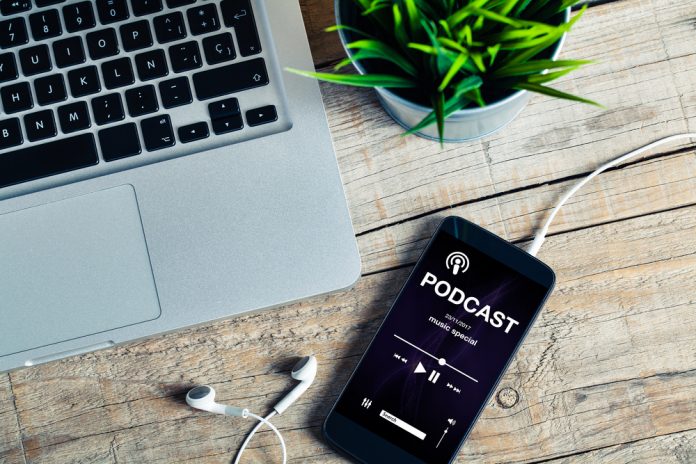 Resources to Strengthen and Develop Your Prayer
Kris McGregor
While speaking to some U.S. bishops in 2011, Pope Benedict XVI said, "Only through … interior renewal will we be able to discern and meet the spiritual needs of our age with the ageless truth of the Gospel." The pope, a year earlier, when addressing a conference about modern mass communication, called for a new type of Christian armada: "Let us set sail on the digital sea fearlessly, confronting open navigation with the same enthusiasm that has steered the Barque of the Church for 2,000 years."
Putting together the need for interior renewal and the call to use modern technology, Discerning Hearts (found at DiscerningHearts.com) was launched that same year. The ministry is dedicated to helping Catholics renew their interior lives by providing trusted spiritual resources through a variety of formats.
It's one thing to know the Catholic faith; it is another thing to live it. Certainly knowing the faith is essential, and by teaching the faith, catechists often know it better than anyone else. But for fully living the Christian life in the world something else is also needed: an interior life.
The interior life is developed through spiritual reading (primarily the Scriptures) and prayer, the kind of prayer that leads to an encounter with God. Through the practice of prayer, we realize a sacred space within ourselves where we contemplate God with wonder and reverence — and return to our daily tasks refreshed and renewed.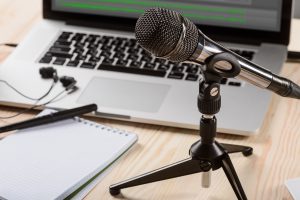 There is an art to prayer, and to learn it one needs sure guides, spiritual masters, those who have already successfully traveled the path from the head to the heart. Also key is help with discernment, for on the journey toward God there are many distractions, deceptions, and sources of discouragement. Discerning Hearts aspires to provide both. It contains a podcast library of more than 3,000 free audio programs featuring reliable teachers such as Fr. Timothy Gallagher, Dr. Anthony Lilles, Dr. Matthew Bunson, Joseph Pearce, Mike Aquilina, Dr. Paul Thigpen, and many, many others. It also provides professionally produced devotionals, including the Holy Rosary, Stations of the Cross, and numerous novenas.
Archbishop George Lucas of Omaha, Nebraska, who is on the Discerning Hearts board of directors, has said that "Discerning Hearts is a trusted resource for Catholic spirituality and teaching. I support it as an apostolate for the new evangelization that brings the Good News to every corner of the world through the internet." His support and oversight are important for ensuring that Discerning Hearts provides only materials that are faithful to the authentic teaching and spiritual tradition of the Catholic Church.
Discerning Hearts currently experiences more than 13,000 daily podcast downloads — and even more than that through their presence on iTunes, Google Play, YouTube, Facebook, and other "podcatchers." The Discerning Hearts free app allows for access over phones and tablets, and with the recent addition of the free Discerning Hearts Online Radio app, listeners can hear uninterrupted audio streams of spiritual teachings and prayers while in their home, office, or car.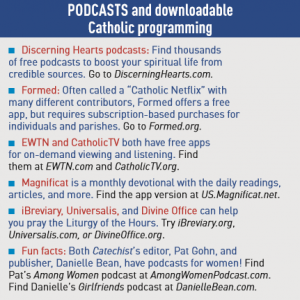 In addition to Discerning Hearts, there are many other outstanding sites with enriching spiritual materials. Formed — offered by the Augustine Institute in cooperation with content providers like Ignatius Press and Word on Fire — is a standout. Apps are also available from EWTN and CatholicTV, as well as Magnificat (a monthly devotional), iBreviary, Universalis, and Divine Office (which aid in the practice of praying the Liturgy of the Hours).
The armada that Pope Benedict XVI called for has indeed been launched.
Resources:
KRIS MCGREGOR is executive director and founder of Discerning Hearts (DiscerningHearts.com), a global apostolate of prayer and catechesis. A former DRE and director of liturgy, she is a podcaster, speaker, writer, and radio host on the Spirit Catholic Radio Network. Visit KrisMcGregor.com.
Image credits: David M G /ShutterStock (top) and Yuriy Golub / Shutter Stock (bottom)
This article was originally published in Cathechist magazine, October, 2017