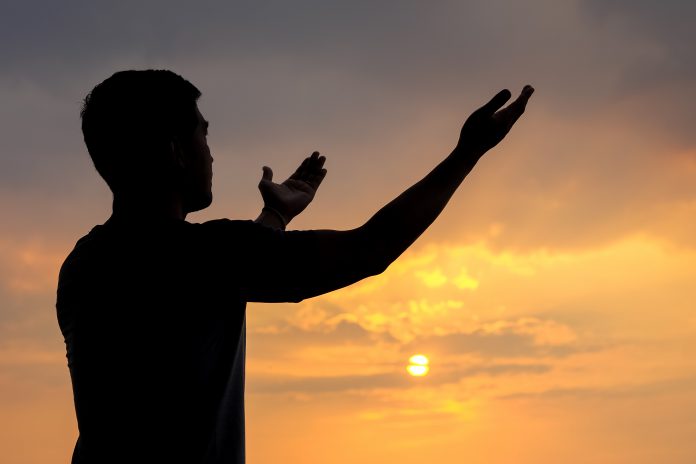 by Jeanne Heiberg
In the cold, dark days of February, it's good to think about the theological virtues—faith, hope, and love. Let me explain.
With nature asleep during the winter months, we need faith and hope that life will return—that spring will come. With more darkness in the balance of our days, we need assurance that the sun will bring longer days, that its light and warmth will again call forth life. As for love, isn't February the month when we give Valentine hearts to our dear ones as tangible signs of love?
Basic virtues
Faith, hope, and love are called theological—or basic—virtues because so many other virtues depend on them. The Catechism of the Catholic Church explains that "the theological virtues … are infused by God into the souls of the faithful to make them capable of acting as his children and of meriting eternal life. They are the pledge of the presence and action of the Holy Spirit in the faculties of the human being" (CCC, 1813).
In 1 Corinthians, St. Paul speaks about gifts that are unique to different members of the community. Some have the gift of prophecy, healing or interpretation of tongues and the "Spirit produces all of these, distributing them individually to each person as he wishes" (1 Corinthians 12:7-11). However, when it comes to the theological virtues, God wants everyone to have them. They are "infused" into the souls of all the faithful.
Gifts of God
Faith, hope, and love are gifts flowing from God's love for us. We can't create or obtain them on our own, but they do depend on our openness and our readiness to choose them and say, "yes" to them.
St. Paul wrote to the Church in Thessalonica, "We give thanks to God always for all of you, remembering you in our prayers, unceasingly calling to mind your work of faith and labor of love and endurance in hope of our Lord Jesus Christ, before our God and Father, knowing, brothers loved by God, how you were chosen" (1 Thessalonians 1:2-4).
The verbs "working," "laboring," and "enduring" show that God moves us to action to prepare us for these gifts. Muscles, talents, and foundational gifts of God need exercise to grow and become strong.
How do we receive and exercise these gifts? They are free gifts from God, but we can ask for them in prayer. We keep mind and heart open, especially through difficult times. Sometimes it's when everything seems to be going wrong that our faith grows. Can we believe that Jesus, who promised to be with us always, really is with us, even though we can't see him? Can we trust that God will take care of things as we do our best, as we act in love? Can we make decisions based on love and good for all concerned, rather than for what puts us on top but hurts others?
February is a good time to do our part in strengthening these gifts as we prepare for and enter into Lent. Lenten disciplines will help. Let's undertake them wholeheartedly, with enthusiasm, so that at Easter our faith in the Risen Jesus, our hope in everlasting life, and our love for God and others make our Easter Alleluia especially joy-filled.
Here are some ways to grow in faith, hope, and love, through traditions like prayer, fasting, almsgiving, and other practices. They can help you to make conscious choices that will bring you closer to God.
Traditions and Ways to Grow in Virtue
PRAYER: Prayer is important. Our mind can be so full of immediate thoughts (work, world problems, family needs, personal wants, etc.) that we must consciously take time to focus on God. Every day we need to make God our main focus for a set time. During the length we choose, we need to talk to and listen to God or to Mary, our beloved saints, and the angels.
SPIRITUAL READING: In this day of TV and texting, we need extra help to focus our minds on God. While we want to come to our own dialogue with the divine, resources such as books, daily meditation guides, and Internet aids can help. Check out the 3-Minute Retreat available at LoyolaPress.com/3-minute-retreats-daily-online-prayer.htm
COMMUNITY WORSHIP: Mass at least once a week is essential nourishment for mind and heart. Study the Mass readings ahead of time and discuss them with others.
SYMBOLS: Lent offers us great visual symbols such as the emptying of the holy water fonts for our desert journey, then later the blessing of Easter water. There are the ashes and the palms, the color purple, the cross, the stations, and parish reconciliation services.
ART: All year round works of art remind us of God's presence and God's importance in our lives. They should be genuine works of art—original paintings or carvings if possible, or good reproductions. Early icons, our tradition of Church art from the sixth to 13th century in Europe and later in Russia, are ideal. Their powerful abstractions help us realize that we are in touch with something beyond the everyday material world we see and touch. With their beauty and color of gold, they are signposts to heaven.
MUSIC: Music can also transport us to heavenly realms. There are many faith-focused CDs available to listen to while driving or at leisure at home. They can lift our spirits and direct our thoughts to faith, hope, and love.
PRAYER, FASTING, AND ALMSGIVING: Consciously setting aside a little more time during Lent for prayer and making sacrifices to help the poor expands our capacity to love. It also helps us to have faith that God takes care of our needs, and places our hope more firmly in heaven. Lent is a time for laying up treasure in heaven and growing in faith, hope, and love.
Say to the  Children
Lent is a time to focus on God and the things of God. This isn't a dull business; rather, it can be a great adventure, with prizes. Not prizes you can see like a medal or toy in a cereal box, but an invisible prize that brings invisible treasures. God loves you very much, and has all kinds of rewards for you if you are willing to listen and pay attention.
Faith
Three of the best rewards are at the heart of our faith; in fact, the first one we actually call faith, a precious gift from God that tells us we are wonderfully created by a loving God. We have to be open to receive and then exercise faith to keep it strong and growing. Jesus said he could not heal or perform miracles in certain places because of the lack of faith he found there. However, some of his miracles happened because ordinary people like you or I had faith.
Hope
The second reward is hope. Despair is the opposite of hope. Hope keeps us looking forward to the good, beautiful, and happy things God wants to give us in this life, and even more in the life to come. Hope lifts our hearts with joyful expectations now as we accept God's current gifts. Hope, with faith, looks forward to even greater rewards to come.
Love
The greatest prize in life is love, and it flows from faith. Fear is the opposite of love. If we have faith that God loves us and looks after us, we can overcome fears and be free to find solutions to problems and dangers that may arise. Free from fear and knowing God loves us, we can become channels of God's love in the world.
These gifts of God work together in a circuit in which each helps and supports the other. Faith in God helps hope to grow, and faith and hope help overcome fears. Then we become free to let God's love flow through us to others.
To celebrate these wonderful gifts, and as a reminder to exercise and grow in them during Lent, make faith, hope, and love banners. Here are some symbols that can be used to express each gift:
Faith, Hope, and Love Symbols
Faith: cross; also sun or three-leaf clover
Hope: anchor, Noah's rainbow, a sunflower (it looks to the sun), a sprouting branch or cocoon and butterfly
Love: heart, outstretched hand with heart, dove with heart
Activity: Faith, Hope, and Love Craft
Materials
• Construction paper, felt, or foam sheets to be the background pieces for individual banners: 6" x 18" (or 9" x 12"). Larger banners may also use 9" x 12" pieces with individual symbols that are later arranged on larger 18" x 48" backgrounds. Place 9" x 12" (or 8 ½" x 11") designs on alternating sides, in a checkerboard arrangement, facing. See photos for arrangement ideas.
• Rods or dowels for hanging, plus carrying poles for processions.
• Scissors, glue, patterns, or plain paper and pencils to create original designs.
An individual banner may feature one symbol or all three on a 12" x 18" background cut in half to 6" x 18". I have also worked with Confirmation candidates and their parents making processional banners each of which featured one of the seven gifts of the Holy Spirit plus faith, hope, and love, for 10 banners in all.
Procedure
1. For individual banners with three symbols, students use prepared patterns or design their own to fit a 6" x 18" (or size you choose) background. If possible, give them a choice of background colors.
2. Cut designs out of different colors, and glue (or sew) them onto the background
3. Attach three slit tabs; pass through the slits a skewer trimmed to size. Add a fringe-like piece at the bottom to frame. (For larger banners attach larger folded-over loops to large banners for hanging, and chevron-cut tabs at bottom to frame. Pass dowel or stick through loops and hang.)
Faith, Hope, and Love Prayer
Song: "Again We Keep This Solemn Fast" Found in Breaking Bread, OCP.
Leader: Keep the Faith! Don't give up Hope! Love makes the world go round! These truisms back up Scripture in which Jesus and St. Paul point to faith, hope, and love as important gifts of God that are worth developing.
Readings: 1 Thessalonians 1:1-5; 1 Corinthians 13:13; John 13:34-35.
Commentary: Use the GIFTS OF GOD section from this article.
Closing Prayer: We praise and thank you, loving Father, for your gifts of faith, hope, and love. May we enter Lent with enthusiasm to strengthen and expand them and celebrate Easter renewed and full of joy. Amen.
Jeanne Heiberg, MFA, is the author of Advent Arts and Christmas Crafts (Paulist Press), plus 15 other books and many publications, including Advent calendars. She has taught art, writing, creative catechetics, and meditation to all ages, and has directed parish catechetical programs. She thanks Susan Reinhold for ideas and words included in this article. She thanks Lilliana Mariani and her mom Lori, and Barbara Moore and her grandson Justin Di Lina, for crafts.
---
Copyright 2015, Bayard, Inc. All rights reserved. This article is protected by United States copyright and other intellectual property laws and may not be reproduced, rewritten, distributed, redisseminated, transmitted, displayed, published or broadcast, directly or indirectly, in any medium without the prior written permission of Bayard, Inc.
This article was written by the Catechist Staff and appeared in Catechist magazine, May 2015.
Image Credit: Shutter Stock 578942014