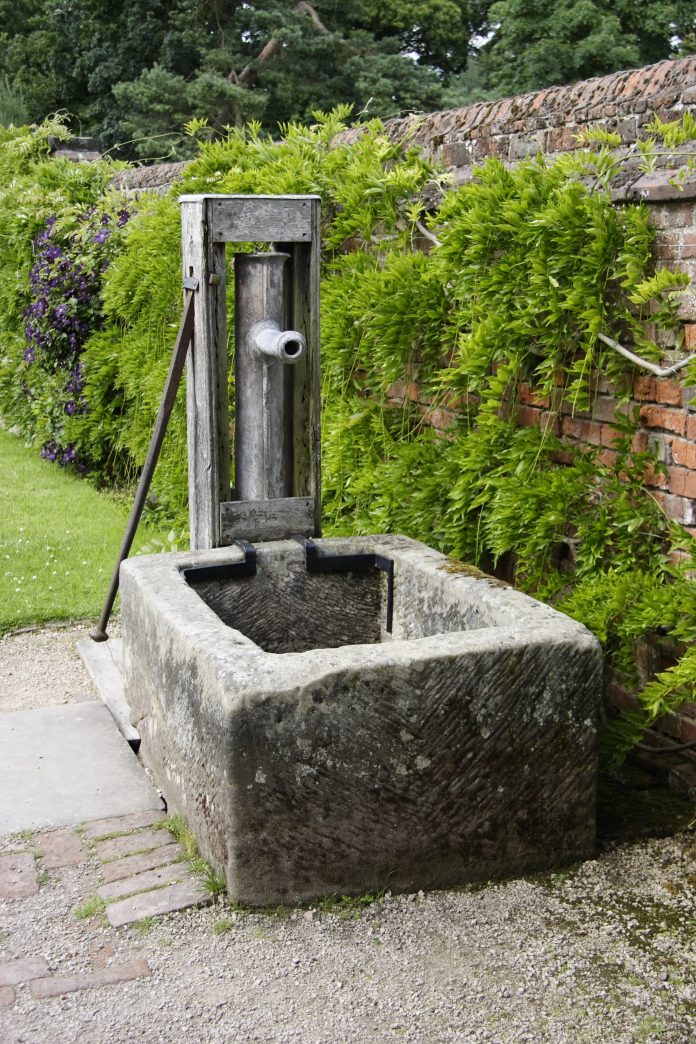 by Cullen Schippe
See the end of this article for Easter Water Activities
I loved to serve the Sunday High Mass. When I was a lad, we used to compete to serve the 11:00 Mass on Sundays—especially when Fr. Ted was the celebrant. The best part was what we called the "water works." Father Ted would fly down the center aisle with sprinkler flashing and cope flapping to the strains of the Asperges Me ("Sprinkle Me") or, at Easter Time, the Vidi Aquam ("I Saw Water"). Father was intent on hitting everybody in the church with a good dollop of holy water. We altar servers took the brunt and returned to the sanctuary with wet faces and damp surplices.
At the time, we didn't know what all that sprinkling was about, but we were having great fun. Now, of course, I understand that it is a ritual connection to all of us dipping our fingers in the holy water font and signing ourselves as we enter the church. It is a symbol of our Baptism into Christ—"For all of you who were baptized into Christ have clothed yourself with Christ" (Galatians 3:27). We are all members of Christ.
Easter is a water festival. Not only can we not live without water but we have in the water mystery a key to our life in Christ.
A reflection on water takes us through the whole history of salvation. We see a flood meant to purify humankind and a dove hovering over that floodwater to announce a return to dry land. We see the crashing waves of a passage through the Red Sea that leads God's people from slavery to freedom. We see the rain that falls on the just and the unjust.
We also see water blush at Jesus' command and become festive wine for a wedding party. We see Jesus waist-deep in the Jordan River as the clouds part and the Father announces great pleasure at his beloved Son. We hear Jesus' promise of living water to a Samaritan woman whom we would deem at best a woman of questionable morality.
We are in awe of Jesus' footprints on the Sea of Galilee, and we listen to his call to Peter to jump out of the boat and come to him. We are humbled like the centurion who pierces Jesus' side with a lance, and we marvel at the blood and water that comes forth. We feel the sand beneath our feet as we see the Risen Christ having breakfast at water's edge and encouraging his followers to strike out into the deep for a catch of fish.
Finally, we hear the commission to go forth and teach, baptize, and make disciples—to be new evangelists carrying good news to the four corners of the earth. We witness to the standing invitation to be submerged in the waters of Baptism and to rise from the pool as members of Christ's Body.
Catholics are a sacramental people who trust the power of signs to lead us to those things we can see only with the eyes of faith. As people involved in catechetical ministry, we need to encourage that trust in signs with those we teach.
And what better time to do this encouraging than during the Easter feast. Might I be so bold as to suggest that every lesson during the season begin or end with a signing with Easter water and a simple renewal of the promises made at Baptism? We can also suggest to families that they carry out this ritual at home during Easter. See "Easter Water Prayer" below.
The anthem "I Saw Water" and its accompanying ritual are seldom experienced in parishes anymore. But there is still great power in the simple signing with holy water. And with a few moments of catechesis during Easter, we can help those we teach to see in the mystery of water a loving community clothed in Christ.
Cullen Schippe has been in Catholic publishing for well over 40 years and currently serves as President and Publisher for the Peter Li Education Group. Email Cullen at cschippe@peterli.com.
Easter Water Prayer
Instructions
A simple ritual that celebrates the Resurrection and provides a reminder of the promises made at Baptism is a good way to keep the spirit of Easter alive in the classroom and in the home. "Easter Water Prayer" provides a simple ritual to use at the beginning of class or as a morning prayer. This page may be reproduced and distributed to each child in your class. You can explain to the children that you will be using this prayer at the start of each class during Easter Time.
All you need is the prayer and a container of holy water—preferably the Easter water that was blessed at the Easter Vigil.
It would help if you also send a short note home with the children to explain to their parents the purpose of this ritual. If you wish, you may also copy and distribute the Bits O' Wisdom column above to send home as well. If you use the prayer for younger children, you might want to encourage them to color their copies of the ritual and to take them home along with the note to their parents.
Suggested Content for the Note Home
Your child is bringing home a short ritual to help your family keep Easter alive in your home. You may want to post the prayer on the refrigerator and use it as a morning prayer. Members of the family can take turns being the Leader. It would be best if you obtain a container of the Easter water that has been blessed at the Easter Vigil. The water is available in church on Easter Sunday and during the days after.
You can use this prayer every day from Easter Sunday until the Feast of the Ascension.
You and your children will enjoy this simple prayer, and it may well become an Easter tradition in your home for years to come.
Have a wonderful Easter Feast.
[CLICK HERE] for "Easter Water Prayer" appropriate for families and classes with younger children.
[CLICK HERE] for "Easter Water Prayer" appropriate for families and classes with older children.
---
Copyright 2013, Bayard, Inc. All rights reserved. This article is protected by United States copyright and other intellectual property laws and may not be reproduced, rewritten, distributed, redisseminated, transmitted, displayed, published or broadcast, directly or indirectly, in any medium without the prior written permission of Bayard, Inc.
This article was written by the Catechist Staff and appeared in Catechist magazine, July 2013.
Image Credit: Shutter Stock 17453506