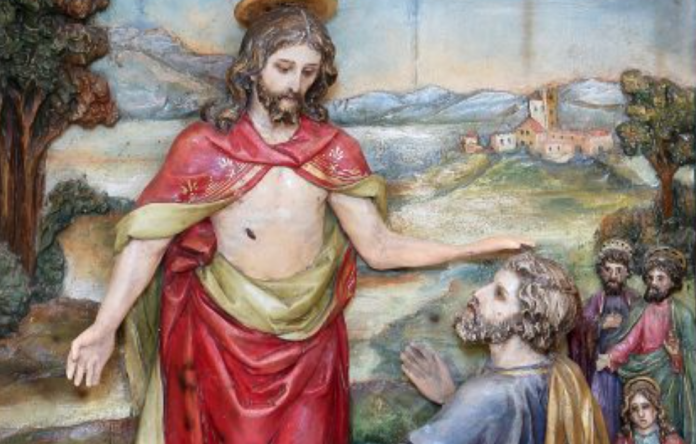 Jesus' words to Peter and the disciples set the tone for leadership
BY SARA BLAUVELT
Years ago I began a Lenten tradition of sending a short note to coworkers. The note highlights two things I have admired or learned from working with them: a personal quality and a professional quality. This has become a treasured part of the leadership process for me. Composing a sincere acknowledgement of another's gifts helps me to reflect upon my own work habits, strengths, and challenges. It allows me to affirm the leadership qualities I esteem, even as I strive to strengthen them in myself. Overwhelmingly, a deep, personal relationship with Christ is at the heart of those I most admire.
Jesus' relationship with Peter after the Resurrection suggests five ways we might hone stronger leadership skills in ourselves and others.
1. STRIVE TO GROW EVER CLOSER TO GOD.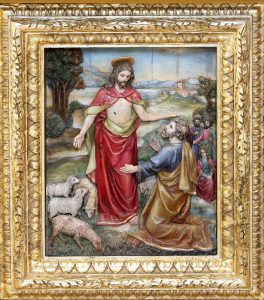 In John's Gospel, Jesus asks Peter three times, "Do you love me?" (see John 21:15-19). This essential question should beat in the heart of every disciple. It is especially important for leaders to regularly attend to this question. A personal relationship with Christ gives meaning and direction to all we do. Through daily prayer, Eucharist, and frequent reception of the sacrament of Penance and Reconciliation, I am reminded that God is God and I am not. This is remarkably freeing and empowering for the daily tasks at hand.
In response to Peter's profession of love, we learn Jesus' direction for Peter regarding how to lead: "Tend my sheep … feed my sheep … and follow me." These three imperatives offer important structure for our own leadership style.
2. TEND: A STRONG LEADER PAYS ATTENTION TO OTHERS.
Leadership requires that we keep our eyes and ears open to the work around us. By becoming aware of the strengths and shortcomings of those we supervise, attentive leaders can establish parameters and reasonable expectations consistent with the capabilities of the employee or volunteer. Paying attention is not to be confused with micromanaging. Accountability on both sides of the relationship is established. The respect engendered in an attentive relationship allows those we supervise the freedom and flexibility to achieve their goals.
3. FEED: A STRONG LEADER FEEDS THROUGH LISTENING TO OTHERS.
Effective leaders develop relationships marked by genuine dialogue. Leaders who, in a spirit of humility, are open to mutual exchange reap insight for fruitful observations of the person or situation at hand. Dialogue fosters innovative thinking, encouragement, honest feedback, and mutual influence. Ideas and concepts are multiplied, and all are fed in the process.
4. FOLLOW: A STRONG LEADER ACCOMPANIES OTHERS ON THE JOURNEY OF FOLLOWING JESUS.
Disciples follow Jesus by living out the grace and call of Baptism. Leaders must strive to create an atmosphere of trust for both those with whom they work and those they serve. A servant leader rolls up his or her sleeves and joins others in the tasks at hand. Trust animates a mutual spirit of collaboration and mission, even amidst challenges, with respect and confidence.
5. COME TOGETHER.
The Acts of the Apostles illustrates the importance of coming together in mission to learn, confer, refresh, support, and pray with each other. Not only is this key on the parish level, but we may also benefit by joining the national network of leaders found via the National Conference for Catechetical Leadership. At the next upcoming conference, diocesan and parish leaders from across the United States will tend and feed each other as they follow the Lord in ministry to his Church. Find out more at NCCL.org.
Sara Blauvelt, MA, is the director for catechesis, Archdiocese of Washington, D.C.
PHOTO: BUSHALEX/SHUTTERSTOCK
This article was originally published in Catechist magazine, February 2017. It has been modified to fit this format.