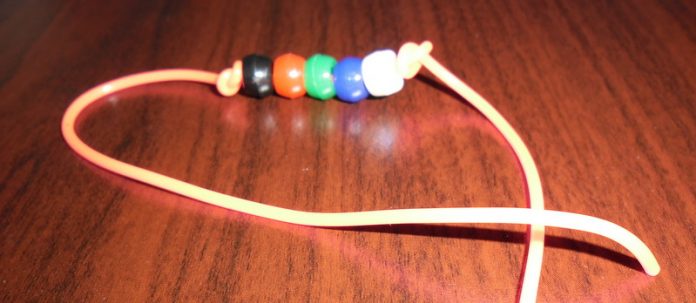 DIANE QUINTAL
Children preparing for First Reconciliation at St. Stephen the First Martyr parish make Prayer Bracelets to encourage them to learn their prayers and to get parents involved, too.
Materials
Pony beads in five colors: black, red, green, blue, and white. Have enough so that each child in your program gets one of each color.
9.5-inch length plastic lacing for each student. Tie a knot in each lace that is just short of the center.
At the last workshop before the Sacrament of Reconciliation, five classrooms are set up as "prayer rooms." Each prayer room contains a bowl of pony beads—a different color bead in each room.
The children are divided into groups of 5 and each is given a 9.5-inch length of plastic lacing. Assign a volunteer catechist to each group of children. The catechist leads the group into each classroom. In each classroom, the children are "tested" on a particular prayer (see the list of prayers below). If the child knows the prayer, they are given a pony bead from the bowl in that prayer room, which they add to their prayer bracelet.
The prayers and corresponding pony bead colors are: 
Sign of the Cross – Black
The Glory Be – Red
The Lord's Prayer – Green
The Hail Mary – Blue
The Act of Contrition – White
While the children are visiting the prayer rooms, their parents are given a handout with all the colors explained and encouraged to pray with the children at home.
After the children have visited all the prayer rooms, the bracelets are knotted off and the children return to their parents. The parents know immediately which prayers still need work and which prayers the children already know.
Children like getting the beads so much that they come back a few days later to recite the prayers they did not know at the workshop and receive the beads they are missing.
Diane Quintal is the Director of Religious Education at St. Stephen the First Martyr parish in Sanford, NC.
This article was originally published on the Catechist Community blog in June 2012 as the winning Idea of the Month.
Photo: Diane Quintal