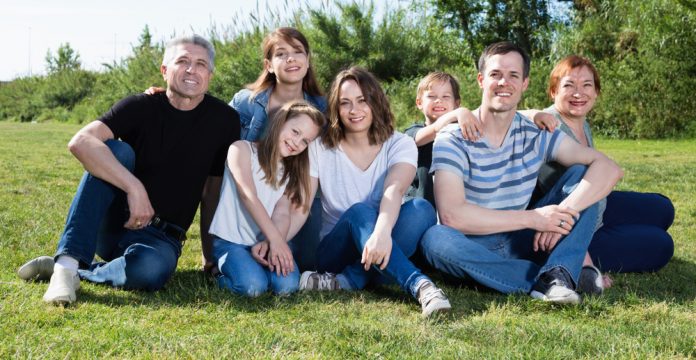 On Moving Away From One Size Fits All
John Roberto
Typical parish adult faith formation approaches often utilize a "one-sizefits-all" program — a Lenten speaker series, a small group renewal program, a Bible study program, a retreat experience, to name some examples. The offerings are designed to address the needs of all adults. This approach — while it may represent the best a parish can do with limited resources, staff, and time — no longer fits the reality of today's adults.
The Seasons of Adult Life
We know that each stage of adulthood — young adults (20s–30s), midlife adults (40s–50s), mature adults (mid 50s–mid 70s), and older adults (75+) — has unique life tasks, needs, interests, and spiritual and faith journeys. We also know that there is an increasing diversity of religious-spiritual identities among adults, of participation in church life, of religious practice, and of the importance and significance of religion and faith in the lives of adults today. There also is a spectrum of religious-spiritual identities (and corresponding needs): those who are religiously/spiritually committed and engaged in the faith community; those who are less religiously committed and participate occasionally in the faith community; those who have left established churches and religion, but are still spiritual and spiritually committed; and those who are unaffiliated, uninvolved, and claim no religious identity.
Given this great diversity across the adult seasons of life, it is imperative for adult faith formation programs, activities, and resources to become more targeted and tailored to the lives of adults at each stage of life. Adult faith formation is no longer about finding the program to attract all adults. It is about addressing the diversity of adult learning needs with a variety of faith formation content, experiences, activities, programs, and resources.
Matching Learners With Content
With the abundance of print, audio, and video content, and the easy accessibility of digital media and platforms for learning, churches can now offer a greater variety of adult faith formation topics and activities tailored to the needs of each season and generation. The digital world has given us technologies and resources that allow parishes to build faith formation around individuals and groups with a specific spiritual or religious need, interest, passion, concern, or life issue. We no longer need to worry about reaching a mass audience.
Adult faith formation can now utilize digital technologies and digital media to engage people with faith-forming content anytime, anyplace, just-intime — and extend and expand faith formation from physical, face-to-face settings into people's daily lives through digital content and mobile delivery systems. A parish adult faith formation website can integrate all adult faith formation offerings and make everything available anytime, anywhere, any day of the year.
Resources:
■ Lifelong Faith Journal: Fall 2015 and Winter 2016 Special Issues on Adult Faith Formation. Available free at Lifelongfaith.com
■ Reimagining Faith Formation for the 21st Century and The Seasons of Adult Faith Formation. Available at LifelongFaith.com.
■ Reimagine Faith Formation website: ReimagineFaithFormation.com.
■ Seasons of Adult Faith Formation website: SeasonsOfAdultFaith.com.
To make this shift toward offering a variety of content, experiences, programs, and experiences that address the seasons of adulthood, leaders will need to become curators of programming rather than creators of programming. A faith formation curator is a trusted guide who continually finds, groups, organizes, and connects the best and most relevant content and resources on a specific subject to match the needs of a specific audience. Leaders will need to become skilled at curating content, experiences, programs, activities, and resources from a variety of sources — especially online and digital media; they must become adept at matching content with adult needs. We are moving from an emphasis on developing religious content, designing and managing programming, and teaching/ facilitating learning to designing faith-forming environments, designing digital platforms for faith-forming content, and curating religious content and experiences.
Action Steps
1. Develop topics to address in one or more seasons of adulthood. Do a survey or focus groups to determine interests.
2. Curate content — programs, activities, resources (print, audio, video), online and digital media — that addresses each topic. Consult with colleagues to develop a recommended list of resources.
3. Offer adult faith formation in multiple environments: self-directed, mentored, at home, in small groups, in large groups, church-wide, in the community, and in the world.
4. Build an adult faith formation website to present all opportunities for faith formation (see SeasonsOfAdultFaith.com).
5. Use social media (such as a Facebook group) to connect people participating in a common program or activity.
It is possible to move from a "one-size-fits-all" approach to adult faith formation. Apply the ideas in this article (and in the resources box on this page) by developing a small-scale pilot project focusing on one season of adulthood.
JOHN ROBERTO, MRE, is a consultant to churches and teaches many courses and workshops. His books include Families at the Center of Faith Formation, The Seasons of Adult Faith Formation, Reimagining Faith Formation for the 21st Century, and Generations Together. Find more at LifelongFaith.com or ReimagineFaithFormation.com.
This article was originally published in Catechist magazine, October, 2017.
Image credit: Lakov Filimonov / Shutter Stock 773464015