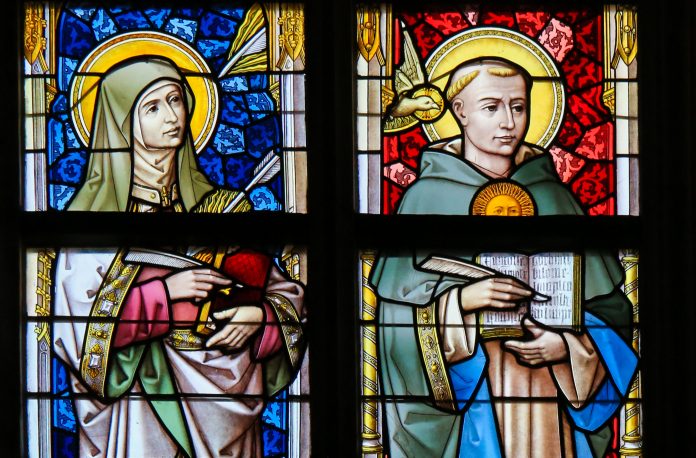 by Kathy Carlisle
The upcoming observance of the Feasts of All Saints provides an opportunity for you to consider including saints in your VBS next summer. Whether you use a program all about saints or build on another theme, including saints is important to the faith formation of our youth.
Saints are models of faith for all of us. They lived on earth according to the Gospel. They valued virtue and lives of holiness. This saintly commitment to God and his people is summarized well in Colossians 3:12-14: "Therefore, as God's chosen people, holy and dearly loved, clothe yourselves with compassion, kindness, humility, gentleness, and patience. Bear with each other and forgive whatever grievances you may have against one another. Forgive as the Lord forgave you. And over all these virtues put on love, which binds them all together in perfect unity." Each of us is called to live a virtuous, holy life.
To Highlight Virtue
Including saints in a VBS program provides an opportunity to highlight these virtues. For example, saints showed love and compassion toward others—so how can you encourage young people to accomplish this through outreach and service? Saints were brave and courageous—so how can you encourage young people to be strong in the face of adversity? Saints evangelized others—so how can you teach young people to be witnesses to their faith? Saints were humble and patient—so how can you encourage this behavior in a culture that values competition and instant gratification? Saints offered forgiveness to their transgressors—so how can you help young people heal broken relationships?
A VBS program can provide the time and schedule that allows participants to explore these topics. Because the VBS format often calls for young people to gather together on consecutive days, you can build upon these elements each day. Larger blocks of time can allow for hands-on service projects or presentations by guest speakers on relevant topics.
To Emphasize Prayer
Another aspect of the saints' lives that can enrich a VBS experience is their commitment to prayer. Saints communicated with God when they faced both difficult trials and good times. Prayer was an expression of their deep faith as well as a tool for discerning how best to live according to God's will. The steadfast power of prayer is a lesson to share with young people!
Be sure young people understand that we do not worship saints; rather we venerate, or honor, them. As role models of faith, saints provide insight into living a holy life and a blueprint upon which we can model our own actions. A VBS program that incorporates the stories of the patron saint of your parish, for example, or looking at saints from the Bible can provide a new avenue of faith formation and exploration.
To Move Closer to God
The lives of the saints show us how to live the teachings of Jesus. The long Tradition of the Church officially recognizing the virtuous lives of people is a gift to all the faithful. The pope is the one who declares a person a saint, after a special group conducts research about that person's life and documents his or her saintly acts. Steps to being canonized begin with being declared Venerable and then Blessed. Some holy people have been recognized with these titles and may one day be declared saints.
By emphasizing the virtues of living holy, saintly lives, young people can contemplate their daily choices and decisions that help them move closer in their relationship with God. A VBS program is one way to provide a special emphasis on the saints through varied themes and initiatives.
Kathy Carlisle has worked in ministry for over 15 years at national, diocesan, and parish levels. She holds an M.Ed. from Loyola University Maryland. She directs the VBS program at her parish, St. Rose of Lima in York, PA, where she also assists with the religious education program.
---
Copyright 2010, Bayard, Inc. All rights reserved. This article is protected by United States copyright and other intellectual property laws and may not be reproduced, rewritten, distributed, redisseminated, transmitted, displayed, published or broadcast, directly or indirectly, in any medium without the prior written permission of Bayard, Inc.
This article was written by the Catechist Staff and appeared in Catechist magazine, September 2010.
Image Credit: jorisvo/Shutter Stock 544541167