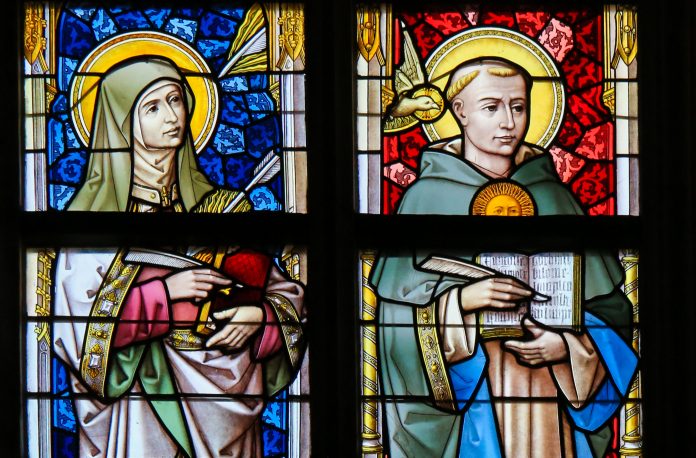 by Patricia Mathson
CLICK HERE for a fun activity page about St. Julie Billiart.   
Life was not easy for Julie Billiart, but she was a person of faith in God. As a young woman in France, Julie was paralyzed for many years and unable to walk. Instead of feeling sorry for herself, she taught Bible stories to the children who came to her bedside. Many years later she was able to walk again.
Loved God and Others
Julie wanted to serve God, and she saw each person as God's creation. In 1803 she began a group of Catholic sisters known as the Sisters of Notre Dame de Namur. She and her sisters started schools, cared for children without homes, and helped people who were sick and lived in poverty. Julie brought God's love to the lives of others.
Difficult Times
Julie Billiart trusted God even during difficult times. There were some people who did not believe in her work. So she moved her sisters to Belgium. She continued to serve others as she knew God was calling her to do. "Oh, how good God is" was her motto.
Work Goes On
Julie Billiart's group of sisters still carries on its mission to help people in need. They help others through schools, shelters, outreach, and in many other ways. The life of St. Julie Billiart shows us that we should not give up when things are difficult for us. Rather we must trust in God at all times.
What Can We Do?
* Let's talk about the life of St. Julie. What were some of the difficulties in her life? Did she always trust God? How can we learn to trust God? Who did Julie help? What is her group of sisters called? What do they do today?
* Let's be like St. Julie and look for the blessings in each day. She said, "Oh, how good God is!" How do we see the goodness of God in our lives? In our world? In other people? Let's look for the good things in our lives.
* Let's make posters to remind us to share hope with others like St. Julie and her sisters did. We can use Bible verses such as "May the God of hope fill you with all joy and peace" from Romans 15:13. We can also use Psalm 31:25 and 1Timothy 4:10. Let's look up these quotes.
Prayer
God of Hope, thank you for the example of St. Julie. May we always trust in you even when times are difficult. Give us the strength to know what is important. Help us to bring hope to others, as St. Julie did. Amen.

Patricia Mathson has many years experience in faith formation as a DRE and holds a Master of Religious Education degree. She is currently the children's ministry coordinator at Hope Family Center in Des Moines, IA. She is the author of 11 books with the latest titledPlant the seed: Sharing the Gospels with Children (Liguori Publications).
---
Copyright 2011, Bayard, Inc. All rights reserved. This article is protected by United States copyright and other intellectual property laws and may not be reproduced, rewritten, distributed, redisseminated, transmitted, displayed, published or broadcast, directly or indirectly, in any medium without the prior written permission of Bayard, Inc.
This article was written by the Catechist Staff and appeared in Catechist magazine, March 2011.
Image Credit: jorisvo/Shutter Stock 544541167