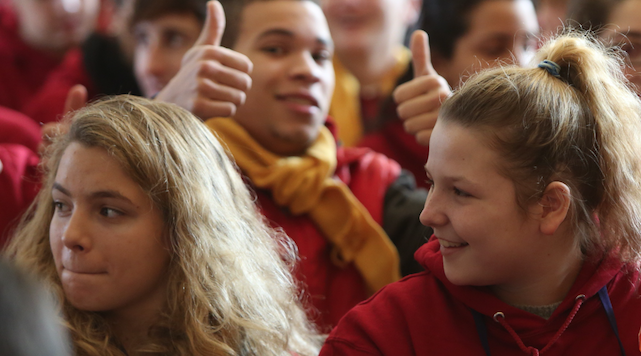 BY ERIC GROTH
My paternal grandmother — God rest her soul — was really Catholic, the matriarch of faith in our family. Maybe you can relate. Grandma lived in a small condo on the northwest side of Chicago. For more than 30 years, she cooked meals every day for the priests of her parish.
During one holiday visit, my nine cousins and I decided to count how many religious articles Grandma had in her home. We counted almost 200 prayer cards, saint statues, rosaries, and other Catholic icons and sacramentals. My uncles used to joke that if you climbed into Grandma's car and flipped down the visor, you would get bonked in the head by 15 plastic Jesus statues. Grandma had constant visual reminders in her life that led her to encounter Christ, and she constantly lifted her grandchildren up in prayer. Grandma continues to be a spiritual giant in my life. Hardly a day goes by when I don't think about her or request her intercession.
The "grandparent generation" can tremendously enhance the success of any youth ministry. I have spoken with countless grandparents around the country, and a consistent sentiment always rises to the surface: Grandparents have tremendous love and hope for the young Church, and even though they feel ill-equipped to connect and communicate with them (largely because of the digital world), they want to be involved in their grandchildren's lives.
Grandma continues to be a spiritual giant in my life. Hardly a day goes by when I don't think about her or request her intercession.
Here are three ways to foster an intergenerational relationship in your youth ministry:
PRAYER: Invite the grandparents in your parish to make a regular prayer commitment for their grandchildren and other teens of the parish. In our parish, we assign every teen on the registry (by first name) to an adult who will privately pray for them every day.
PRESENCE: Invite your grandparents to be present at some of the youth ministry programs throughout the year. Just being there is a wonderful two-way street in which both teens and grandparents benefit from being in each other's presence. It's amazing what can happen even in a passive experience of presence.
PARTICIPATION: Actively get your grandparents involved. They have numerous and amazing life stories and experiences to share with the younger generation. Be creative and provide them with opportunities to talk about what life was like for them as teenagers, the wisdom they have gained through the tough times, and the journey of faith they are still on.
The gap between grandparent and grandchild might be decades, but the life themes, emotions, and choices to connect make for a solid bridge to discover more common ground than ever before.
Eric Groth is president and executive producer of Outside da Box, and ODBFilms. Go to ODBFilms.com.
Image Credit: Courtesy of George Martell/Archdiocese of Boston.