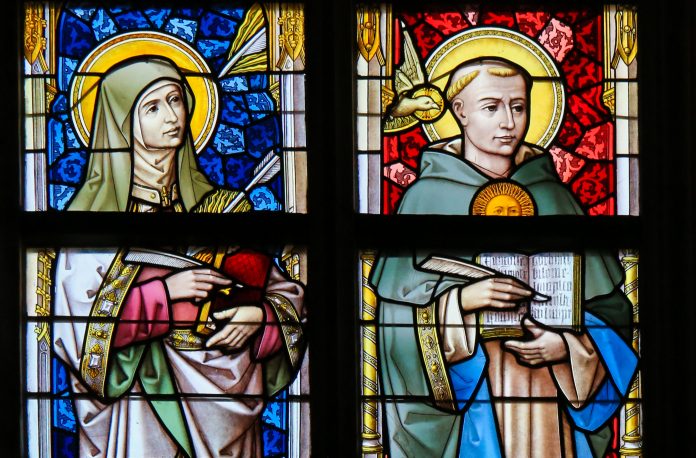 SHEILA KEARNEY
The learning area needs to inspire and engage your students. Here is an idea for how to decorate and arrange your learning space and prayer table for October.
Your Space
In anticipation of the celebrations of All Saints Day and All Souls Day, surround students with images that represent saintly virtues.
Cut different sizes of halos out of various shades of gold and yellow construction paper. Make at least one size large enough to place on a child's head, with the rim being about 2" wide (one for each child). Around the rim of the larger halos, write the characteristics of a holy life: LOVE, CHARITY, HOPE, FAITH, PRAYER, PATIENCE, WISDOM, SERVICE, etc.
Hang the smaller halos from the ceiling and/or use them as trim around the bulletin board, a portion of the wall, the windows, or the door to your learning space. On a large poster board (or with individual letters spelling out the words) write "We Are All Called to Be Saints" and position the poster where it is surrounded by the halos. Place the larger halos on which you've written the characteristics of a holy life on your prayer table.
Your Prayer Table
The liturgical color for All Saints Day and All Souls Day is white. Drape a small piece of white cloth across the green cloth that is on your prayer table representing Ordinary Time. On your prayer table, place a Bible and a crucifix, the large halos, a few books about the lives of the saints or books or holy cards depicting specific saints with whom your students should be or might like to be familiar. Also include symbols often associated with each of those saints (i.e., a small figurine of an animal with St. Francis; an artificial lily with St. Kateri Tekakwitha; a few keys with St. Peter; a medical symbol with St. Marianne Cope; etc.). Form your prayer around the virtues of the saints, encouraging students to model their lives after saints they admire. Give each child a halo at the end of the prayer.
---
This article originally appeared in Catechist magazine, February 2013.
Image Credit: Shutter Stock 544541167