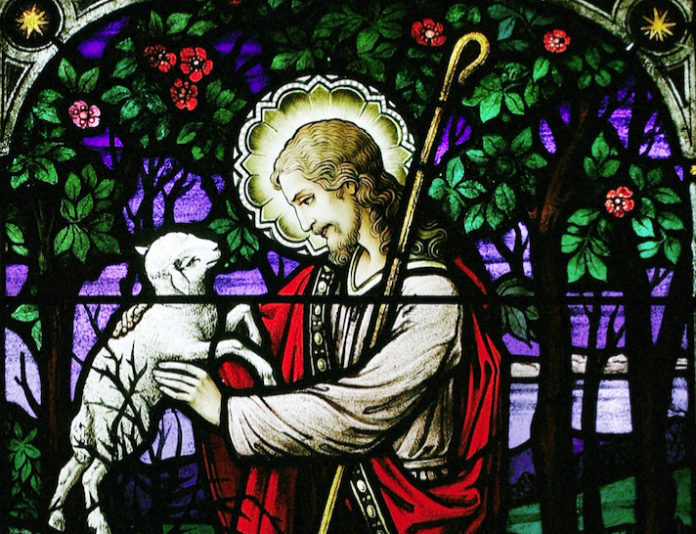 BY LYNN WEHNER
There is a story about a shepherd who was falsely accused of stealing another man's sheep. When he is brought before the judge, the wise judge asks both the accused and the accuser to wait out in the hall and, one at a time, call for the sheep. The sheep, knowing his shepherd's voice, runs loyally to his rightful master.
We Christians know our shepherd—and he knows us. Yet sometimes we still wander away. Our Good Shepherd always wants us to be in the fold, and he rejoices when we have returned. What an important life lesson to explore with our students! Let's look at a well-known, and important, parable …
From the Word
"What man among you having a hundred sheep and losing one of them would not leave the ninety-nine in the desert and go after the lost one until he finds it? And when he does find it, he sets it on his shoulders with great joy and, upon his arrival home, he calls together his friends and his neighbors and says to them, 'Rejoice with me because I have found my lost sheep'"

(Luke 15:4-6).
Class Discussion
✱ Who does the shepherd represent in this parable?
✱ Who are his sheep?
✱ In what ways might we get "lost"?
✱ What can we do to ask God for forgiveness?
✱ Why is Jesus so happy when we return to him?
✱ How does it make us feel that no matter how far we stray from him, God will never stop "searching for us" to bring us back?
Activities
1. Action! Share with the class the story (from the beginning of this article) of the unjustly accused shepherd. Have several students act it out, playing the roles of the rightful owner, the lying shepherd, the judge, and the sheep. Acting it out will bring the reality of the drama alive for the whole class. Be sure both the sheep and his shepherd express their great joy in finding each other.
2. Lost and Found. Have a "sheep hunt" in your classroom. Hide paper sheep around the room and send the "shepherds" out to find them. When all have been found—every single one—have a class celebration!
3. Reconciliation. This parable speaks clearly of being lost and being forgiven. It is a great opportunity to review with the class the sacrament of reconciliation and plan with your priest a time for confession.
At the end of this parable, Jesus says, "I tell you, in just the same way there will be more joy in heaven over one sinner who repents than over ninety-nine righteous people who have no need of repentance" (Luke 15:7). Let's help our students to know the mercy freely given to us by our Father in heaven, who loves us enough to search until we are found—and rejoices when we are safely home in the flock.
Lynn Wehner is a Catholic writer, editor, and speaker who lives with her husband and their children in Connecticut.
This article was originally published in Catechist magazine, January, 2017.
Image credit: Keith McIntyre / Shutter Stock 6673156