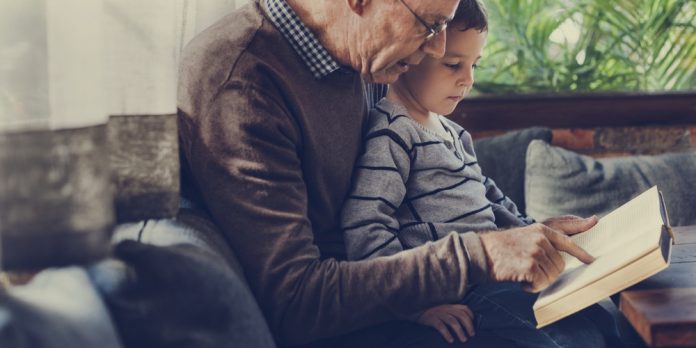 Editor's note: These suggestions are helpful for grandparents to share with their grandchildren! But others may use them with children, too!
Rosie Soto Seaman
As Christians we are called to be caring people. We should care for one another, our church, our country, and our environment. The best way to help children develop this Christian attitude is to show them through your own loving and caring actions. What follows are some ideas that grandparents and others can share with children.
Start with the Bible Stories
The Bible has many stories to share with your grandchild that provide a dramatic example of caring.
The story of the Good Samaritan (Luke 10:25-37) is a perfect place to start. It is a story your grandchild will hear many times during his lifetime. The Samaritan's compassion offers us the ideal:  to become a loving, caring, and forgiving person.
Also share with your grandchild the story of Moses in Exodus 2:1-10. Point out that baby Moses was loved and cared for by his family even though doing so put them in great danger. When the family could no longer keep Moses from being discovered and possibly killed, his mother and sister took him to the river where they hoped some other caring person would find him and keep him safe. Because his family cared Moses lived to play a very important role in salvation history and the destiny of those who put their trust in God.
In Acts 2:42-47, the Bible speaks about how the early Christian community cared for one another, went to church together, and prayed together. Tell your grandchild this beautiful story of the early Christians and how God wants us to follow in their footsteps.
"Get Well Soon" Card 
If your grandchild has a close friend or relative that is sick, help her make a "Get Well Soon" card. Use a sheet of light-colored construction paper and a thin black marker. Fold the paper in half. Encourage the child to draw a happy face on the front portion of the card.
Open up the card, and have the child make a cross on the left side. On the right side of the card, have them print the words "Get Well Soon" and sign their name. After you have prepared the card for mailing, let your grandchild put it in the mailbox.
Gumdrop Candy Flowers
If you have elderly neighbors or family members who live alone, have your grandchild make them a bouquet of gumdrop candy flowers to take to them on a special holiday or birthday. Put five or six straws together. Tie them at the center with a colorful and strong length of ribbon. Invite your grandchild to press large gumdrop candies on top of each straw. You can use all one color, (such as red for Valentine's day, or Christmas), or mix a variety of colored gumdrops to make the bouquet.
Donation Box
Encourage your grandchild to look through his closet and toy chest, and pick out a few items he has outgrown and put them in a box. Take the box to your church or a selected charity such as Catholic social services or the Society of St. Vincent de Paul that help people in need. When you return home, offer a simple prayer together: "Thank you, dear God, for all the blessings you have given us. Help us to always be caring Christians as you ask us to be. Amen."
Rosie Soto Seaman is a former Montessori teacher, and TV personality on WKRG-TV where she was a longtime host for children's programming. She writes from her home in Mobile, Alabama. She is mother to four grown children, and seven grandchildren. This post is an excerpt from Grandparenting with God's Love and is used with permission.
Image credit: Rawpixel / Shutter Stock 568104286