The shaking had started in the delivery room. My baby's heart rate had slowed, and by the time the nurses wheeled me into surgery for an emergency C-section, my entire body trembled violently in fear. Now, long past midnight, in a darkened recovery room, I couldn't stop shaking. Why now? My baby boy had arrived, healthy and safe. Everything was okay. But new worries beset me. How could I do this parenting thing if I couldn't control my own fears?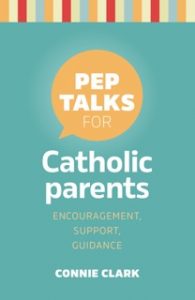 Until now, I hadn't noticed a faint glow on the hospital bed. Someone, a nurse maybe, had left the light on in the adjacent bathroom, and for a moment I was a seven-year-old kid, afraid of monsters in the dark. Back then, all I had to do was call out, and my mom would leave the bathroom light on until I fell asleep. Tonight in that hospital room, I knew mom was still with me-even though she had died years before-reminding me that God always leaves the light on.
All parents worry. You may even physically tremble at times. But know this, and repeat it whenever things seem darkest: "The light shines in the darkness and the darkness has not overcome it."
TO DO» Next time you're at church, notice the candle near the tabernacle-the sign of Jesus' presence. Picture him next to you as you pray.
---
TO PRAY» Jesus, I worry about so much. Show me that your light shines on me.
CONNIE CLARK is the editor of Living Faith Kids and the author of several books, including Living the Beatitudes (Twenty-Third Publications). She is a parent of two teenagers.
Excerpted from Pep Talks for Catholic parents, by Connie Clark. 2016. Published by Twenty-Third Publications. Used with permission. All rights reserved.