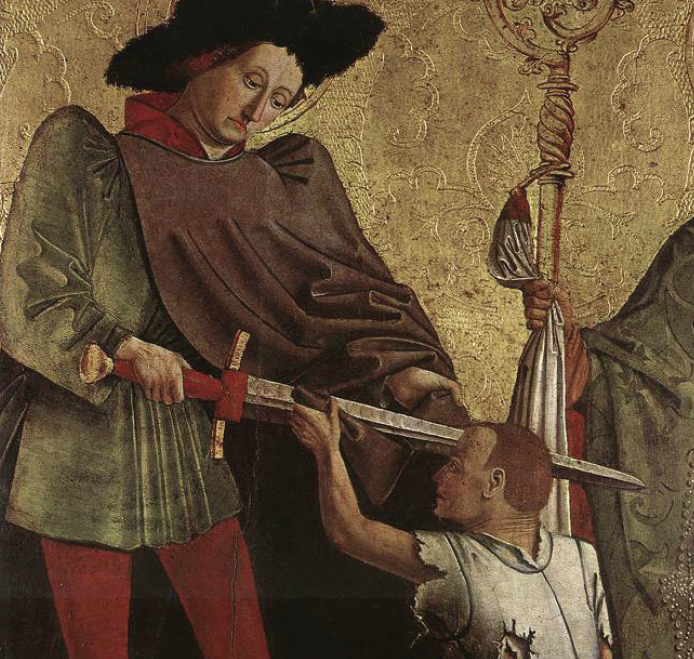 BY PATRICIA MATHSON
FEAST DAY: NOVEMBER 11
Martin was a caring and compassionate person. One day he was riding his horse when he saw a beggar shivering in the cold. Everyone else had ignored the man and passed by, but Martin stopped. He cut his warm cloak in half and gave it to the beggar. We, too, are called to share what we have with others.
Saw Jesus in others
The night after he gave away half his coat, Martin had a dream and saw Jesus wearing the coat he gave to the beggar. Martin knew we are called to see Jesus in all people. Martin had been a soldier since he was 15 because in those days the sons of soldiers were required to enlist. After he completed his military service, Martin became a monk.
Lived a life of prayer and service
Martin was a humble person. He loved God, and he loved others. Martin wanted to live a quiet life of prayer and service, so he settled in the French countryside. Many people admired his faith in God and his dedication to helping people—especially the poor, sick, and outcasts.
Became bishop
The people wanted Martin to become the bishop, but he declined. So they told him that someone in town needed his help. When he got there, they made Martin the bishop of Tours. Even after he was chosen as a bishop, Martin lived simply and continued to care for people in need each day. Martin of Tours died in 397.
What can we do?
✱ Talk about the life of this saint.
Who did Martin see when he was riding his horse? What did Martin do to help him? What was Martin's dream that night? What does it mean to see Jesus in others? Who did Martin help when he was a monk? How did he become bishop of Tours? What are some ways we can help people in need?
✱ Encourage the children to work in small groups to perform a newscast about Martin of Tours.
Have them act as news anchors and reporters. They can report on events in Martin's life, such as encountering the beggar, helping others, and becoming bishop. Each group can do their newscast for the rest of the class.
✱ Create fall greeting cards for homebound people.
Show the children how to fold card stock in half and decorate the front with colorful leaf stickers. Inside have each child write "thinking of you" and sign his or her first name. Ask the children to pray for the people who will receive their cards. Then deliver them to the ministry leaders who serve the homebound.
Prayer
God of love, we praise you for all the blessings you have given us. Most of all we thank you for your love for each of us. May we share your love with others the way St. Martin of Tours did. Guide us to be people of compassion who reach out to people in need. Help us to see Jesus in other people. Amen.
PATRICIA MATHSON, MRE, has years of experience as a director of religious education. She is the author of many books, including 70 Prayer Starters for Children from Twenty-Third Publications.
Image credit: Public Domain.