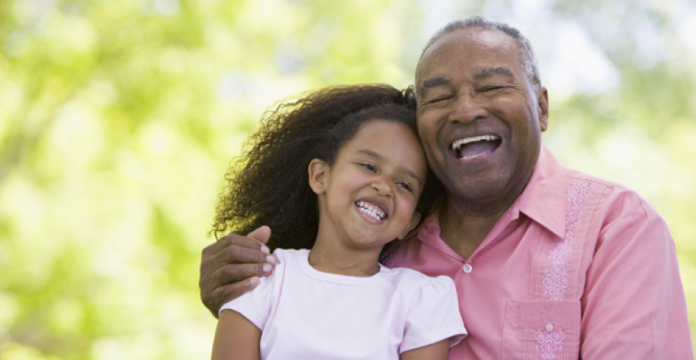 BY SR. JANET SCHAEFFLER, OP
"Grandparents are the living memory of the family. They pass on the faith; they transmitted the faith to us." —POPE FRANCIS, FESTIVAL OF FAMILIES, PHILADELPHIA, 2015
Pope Francis reminds us of the unique roles and blessing of grandparents. The realities of today's grandparents are very different than 40 years ago. For instance, the average age of a U.S. grandparent is 48; therefore, for possibly half of their adult life, the average American will be a grandparent. One tenth of American children live with a grandparent. About 15% of grandparents care for grandchildren while the parents work. This includes grandparents who are eager to provide child care and those who help out mainly because of the expense of day care.
There isn't one kind of grandparent; grandparents have many roles and needs. Grandparents desire to live life and share their faith with their grandchildren; they crave support for this cherished role in their lives. Many live far away and want ideas for ways of staying in touch. Some
have the sole responsibility for passing on the faith. S.ome are exclusively raising their grandchildren. Some have experienced the devastating death of a grandchild.
Throughout the country (and the world) today, parishes are enthusiastically responding to the needs of today's grandparents. This article will look at only a few of the many creative opportunities: some suggestions for including grandparents in our catechetical opportunities with children and youth and some ways to support and affirm grandparents
Support and affirmation for grandparents
Grandparents living far away According to a recent AARP survey, 66% of American grandparents live more than twenty-five miles from their grandchildren; 75% wish they could see their grandchildren more often. Parishes can suggest ideas (one a week in the bulletin/on the website), such as: sending care packages (which could include books of prayer, etc.) and using Facetime or Skype for a book club.
Grandparents raising grandchildren St. Rita of Cascia Parish, Chicago, Illinois, has had a support group, G.R.A.P.E.S. (Grandparents Receiving and Providing Encouragement and Support), for grandparents supporting unmarried adult children with children and grandparents who are parenting the grandchild themselves. Transfiguration Parish in Marietta, Georgia, offers a bi-weekly support group for Grandparents raising Grandchildren. Many websites offer help for grandparents raising grandchildren. These can be shared with grandparents in the parish.
Grandparents joined in prayer Because of 9/11, some grandparents at Our Lady of Victory Parish, Centerville, Massachusetts, began to gather for prayer, beginning on July 26, 2002 (the feast of Sts. Anne and Joachim). Since then, the Gathering Grandmothers Novena, a group of grandmothers, meets every Friday at noon. Other parishes have begun something similar, sometimes meeting monthly, some also expanding to do a few weekend gatherings a year with families, including grandparents. See the Gathering Grandmothers at OLVparish.org.
A parish in Meath, Ireland published their own "Grandparents Book of Prayers" in 2012. See KingsCourtParish.ie. The author of the book, a writer, director and actor, commends the important role of grandparents in passing on faith and values to their grandchildren.
One-time Events Some parishes have provided one-time events for grandparents, such as St. Raphael parish, Rockville, Maryland, where the Living Catholic Evangelization Team planned monthly forums on topics connected with faith-life challenges. One was Grandparents' Night, an evening to explore questions such as: Can you share a grandparent faith-sharing success story? Do you have questions about your role as a grandparent? What are some ways the parish can help you to share faith with your grandchildren?
Catechetical opportunities with grandparents, children, and youth
Communication Do all of our communications include grandparents as well as parents? We must realize that many grandparents are involved in the raising of their grandchildren. See OurLadyLoretto.com/religious-education.html. Can we invite parents, if they wish, to share the email addresses of grandparents, so that grandparents can be kept up-todate on the faith formation activities of their grandchildren?
Can we frequently use the bulletin, website, and emails to give the grandparents of our parishes (their grandchildren might live elsewhere) ideas of things to talk about and things to do with their grandchildren, particularly about their growing faith? Some ideas might be appropriate for interactions face-to-face; many might also be able to be done online.
"Homework" Encourage children to "interview" their grandparents, recording the stories. For instance: At First Eucharist time, ask grandparents about their First Communion; at Thanksgiving time, ask grandparents what they remember about Thanksgiving over the years; after a session on God's presence in difficult times, ask grandparents what got them through the hard times. Find ideas at StoryCorps.org.
Mentoring opportunities Blessed are those children who are surrounded by their grandparents and/or grandparent-like figures in their lives. Is it possible to link each child in your program with a grandparent (their own, if they live nearby) or a parishioner who is willing to "adopt" and walk with them on their faith journey? Suggest conversation starters and things to do. Invite them to accompany the children and their parents to parish and catechetical program activities. Design activities just for them and their children/mentees.
Reverse Mentoring We often look for ways for grandparents to mentor children/youth. What about the other way around? For instance, can young people help the "grandparents" in the parish to learn more about technology? Check MentorUp.org and "What is tBridges" on Youtube. In addition to technology, look for ideas at "Young Serving Old" in the "For All Ages Guide" on the resources page at GIaging.org.
Grandparent-Grandchild Camp An emerging practice is to bring together grandchildren and grandparents, especially during the summer, in a Vacation Bible School-like atmosphere. St. Robert of Newminster Parish, Ada, Michigan, has had a camp for a few years, with increasing popularity. To read more about it, go to GEMS #64 in best practices at JanetSchaeffler.com.
Passing on the Faith One international group has as their mission: "to help grandparents pass on the faith and to keep prayer at the heart of family life." The Catholic Grandparents Association was officially launched in Knock, Ireland, in 2009 and came to the United States the same year. The website is CatholicGrandparentsAssociation.org One U.S. chapter takes place at St. Margaret of Scotland Parish, St. Clair Shores, Michigan. In addition to their monthly meetings with presentations and conversations which often spark ideas of things to share with their children and grandchildren, they have created a Grandparent-Grandchild Garden at the parish, a place where grandchildren and grandparents can work in nature. Each grandparent also receives a prayer journal, where they keep a section for each grandchild: placing photos, listing their desires and needs as well as their favorite things and prayer requests. These journals are often shared with the grandchildren. The group is planning a Cultural Sunday—an opportunity to share various cultures with their grandchildren; and a day of reflection focusing on Sts. Anne and Joachim, followed by a family picnic.
"Lord Jesus … Look with love on grandparents the world over. Protect them! They are a source of enrichment for families, for the church, and for all society. Support them! As they grow older, may they continue to be for their families strong pillars of Gospel faith, guardian of noble domestic ideals, living treasures of sound religious traditions."

(Pope Benedict XVI, written specifically for the Catholic Grandparents Association).
Sr. Janet Schaeffler, OP, is involved in catechetical and adult faith formation, consultation, writing, workshops, days of reflection and retreats, and teaching. Find more at JanetSchaeffler.com.