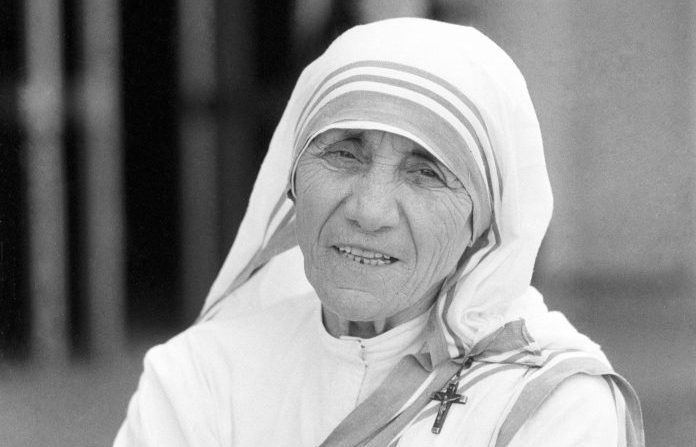 A Lesson for Families from St. Teresa of Calcutta
SUSIE LLOYD
I once visited one of the houses of the Missionaries of Charity, the community founded by St. Teresa of Calcutta, and I was amazed by a map of the world hanging on the wall covered in push pins. Each one represented a house just like the one I was standing in. One woman who obeyed God had, in just a few decades, morphed into thousands of sisters doing the same work among the poorest of the poor. Truly they had gone forth into the whole world.
Did you ever wonder how Mother Teresa managed that many people and still maintained quality control? OK, so she was a saint; there was that. And also there was the rule which they all followed. Yet what about the day-to-day difficulties of a bunch of women living together, working together, and living in poverty in the same manner as the poor of Calcutta do? I know I'd get cranky. And the sisters did.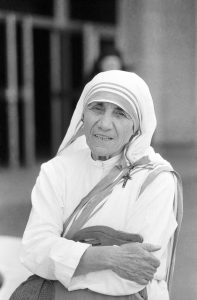 There is a famous story of how Mother Teresa dealt with a particular house whose members had fallen into constant quarreling. As a mom I have always been fascinated by it. Just as any mother would, Mother Teresa had to personally step in. A letter or even a phone call would not do. Her daughters needed her loving presence. She needed to gather them together in the same room and remind them that they were a family. This meant dropping what she was doing in some other part of the world and traveling to the house where the problem existed. (I guess I'll stop complaining about having to stop my work to travel from one room to the next.) When she arrived, she did not punish them. (I would have.) And she well could have — the lives of the poor of that neighborhood depended on them. But punishing them wasn't her style. Besides, it could have made the sisters more bitter, and the problem would have resurfaced as soon as she left. Instead, Mother Teresa did something completely different, something gentle and loving.
Mother Teresa had each sister say something nice about each of the others. She changed their focus. For weeks it had been nothing but picky-picky and what's wrong with the other person. Now it was appreciation and what's right about the other person. With this simple exercise, she made them grateful for each other and, no doubt, sorry for their own fault in faultfinding!
You've got to try it! I have done this with my own kids, and I can tell you it not only works, it is fun. Kids come up with the silliest things to appreciate about each other. Everybody ends up laughing.
Mother Teresa said, "If we truly want peace in the world, let us begin by loving one another in our own families." Think of the push pins and know that when a family is united in joy and peace, God can work his wonders through them, and soon the whole world could be covered in love.
SUSIE LLOYD has won three Catholic Press Awards for her writing. Find her books, articles, and speaking schedule at SusieLloyd.com.
PHOTO: L'OSSERVATORE ROMANO
This article was originally published in Catechist magazine, April-May, 2018.