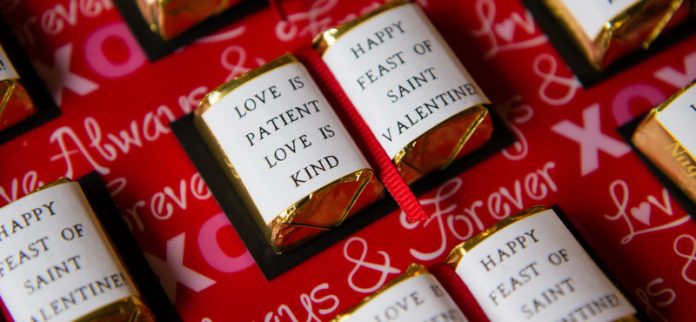 JESSICA GORDON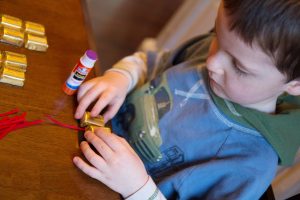 Just as the spiritual toil of the Christian life guarantees a heavenly reward, students will enjoy this simple teaching craft that offers a chocolaty treat at the end. The study of Sacred Scripture is an important part of the Catholic life. The Catechism of the Catholic Church reminds us that the Church "forcefully and specially exhorts all the Christian faithful … to learn 'the surpassing knowledge of Jesus Christ' (Philippians 3:8) by frequent reading of the divine Scriptures. … Let them remember, however, that prayer should accompany the reading of Sacred Scripture, so that a dialogue takes place between God and man. For 'we speak to him when we pray; we listen to him when we read the divine oracles'" (CCC, 2653). The Catechism also reminds us that ignorance of Christ and his Gospel is one of the "errors of judgment in moral conduct" (CCC, 1792). Students can create Bible Candy Valentines to take to heart and spread this message.
MATERIALS NEEDED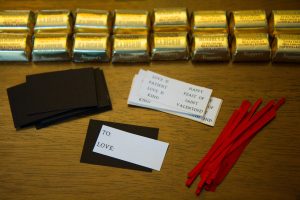 ✱ Hershey's Nuggets, wrapped in gold paper
✱ black card stock, cut into 2.25" x 1.5" cards
✱ 1/8" red ribbon cut in 2 1/2" to 3" lengths
✱ scissors and glue stick
✱ printable (or create your own)
WITH THE CLASS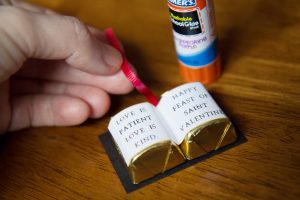 ✱ Glue about one half-inch of the ribbon to the middle of your black paper rectangle.
✱ Add additional glue to the paper and center the wrapped chocolates on the paper, side by side, over the red ribbon.
✱ Cut out the printed text (from printable) and fold in half. Cover the back with glue and attach it to the top of the chocolates, sticking the folded center down the middle of the two chocolates, creating the appearance of an open Bible.
✱ Take the ribbon and put a little glue in the center of the side facing you. Bring the ribbon over the two pieces of chocolate and place it right down the middle of the open pages. You might need to press the ribbon down gently (with your finger or a paperclip) so it will stick. Let dry completely.
LET US PRAY
O St. Valentine, lover of Christ and of the Church, we ask your intercession that we may learn how to love God above all things, and to selflessly love one another. O glorious St. Valentine, pray for us, that we too may have the steadfast faith of the martyrs.
— PRAYER TO ST. VALENTINE
Jessica Gordon blogs at ShowerOfRoses.blogspot.com and CatholicCuisine.blogspot.com.
This article was originally published in Catechist magazine, February 2017
PHOTOS COURTESY OF JESSICA GORDON