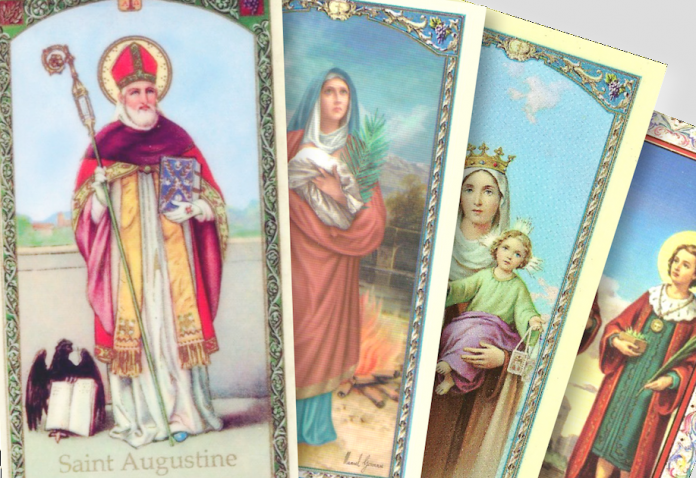 LISA MLADINICH
In 1992, just before I returned to the Catholic faith, I met a woman who loved St. Thérèse of Lisieux as a friend — which ignited my ongoing fascination with the "Little Flower." Since Thérèse exemplifies spiritual simplicity and abandonment to God, her life and writings reoriented my faith and planted seeds of trust that are still bearing fruit in my walk with God today. There are many wonderful saints to befriend, each with their own charisms and quirks.
For example, I dearly love St. Joseph, who brought a profound peace to my family after a novena in his honor long ago. The St. Joseph's Memorare is ideal for group settings (see the box on opposite page). Your students would have no trouble memorizing it, and friendship with this powerful protector of the Church would be a great gift to their budding spiritual lives.
St. John Vianney increased both my love for the priesthood and my faith in the Real Presence of Jesus in the Eucharist. Teens might find the fact that he was a lackluster seminary student — whose priestly ministry would eventually convert thousands of souls — an inspiration on days when they feel they just don't measure up to their
peers. God has a glorious and unique plan for each of them, and they should never compare themselves to others.
It can be exciting to have teens select a saint to be their patron for a period of time (i.e., a month, a year, or the season of Lent), and have them prayerfully ask the saint, "Teach me what you know." One way is to use SaintsNameGenerator.com, but it's equally fun to randomly choose a prayer card from the bowl. (Have the cards blessed, if possible.)
First, pause with the class to say a prayer to the Holy Spirit. Ask that the saints, chosen with God's help, will gift the students with insights and desires that will draw them closer to God and help them find their true purpose. Let them take the prayer cards home, and remind them that they can talk to their new friends the way they talk to anyone they trust: naturally and honestly. From week to week, invite sharing on any special graces or insights that have become evident in their lives, and consider offering an incentive for speaking up (gum or candy works great).
To add interest in the liturgical year, look for saints' days that coincide with class dates and ask those saints to intercede for your students. Sharing a short biography of the saint of the day (or one chosen from that week) can be a highlight of your lessons. While introducing compelling details of the saint's life, note their special gifts and virtues on the blackboard (or poster); then, pray with your class, prompting them to offer intentions they think are in that saint's wheelhouse. Refer repeatedly back to the notes display for inspiration.
For instance, it would be fitting to ask St. Maria Goretti for greater purity and St. Joan of Arc to bring us courage. St. Dominic Savio would be a wonderful person to ask to open our hearts to a more ardent love of God, while St. Teresa of Calcutta would surely inspire us to serve unselfishly. Since more is "caught than taught," your example will jumpstart their thinking, and teens will naturally start to make their own associations.
A litany is an ancient form of prayer that addresses a holy person (God, Our Lady, the angels, the saints) according to their attributes. For instance, the litany to St. John the Baptist calls him "intrepid preacher of truth," "voice crying in the wilderness," and "glorious martyr of zeal for God's holy law." Teens love the expressive universe of social media, so help them to internalize the message of each litany through an exploration of nicknames via hashtags.
After reverently praying a litany together, the holy titles for each saint might be condensed into short phrases by students working in teams, then shared on the class' Facebook page, the parish website, or posters placed around your classroom. An example might be #SaintJohnBaptist #wildernesspreacher #martyr #prayforus! Having students create five-minute smartphone videos using a saint's titles as a jumping-off point can engage the more visual students in this rich topic and produce enchanting resources to share with the younger grades.
Through discussing the importance of "praying without ceasing," recommend that these hashtags become go-to prayers for busy times, much the way we text short messages to our loved ones: #wildernesspreacher #prayforus, #martyrofpurity #prayforus, #JesusItrustinYou!
Above all, emphasize our membership in the communion of saints and our true home in heaven. The saints teens befriend now will intercede for them throughout their lives, and one day they will meet face-to-face!
Resources:
ST. JOSEPH'S MEMORARE: 
Remember, O most chaste spouse of the Virgin Mary, that never was it known that anyone who implored your help or sought your intercession was left unassisted. Full of confidence in your power, I fly unto you and beg your protection. Despise not, O Guardian of the Redeemer, my humble supplication, but in your bounty, hear and answer me. Amen.
FOR MORE INSPIRATION: 
Ablaze: Stories of Daring Teen Saints, by Colleen Swaim
Lisa Mladinich is the founder of AmazingCatechists.com and the author of Heads Bowed: Prayers for Catholic School Days (Liguori Publications).
This article was originally published in Catechist, March 2017.
Photo: Catechist staff