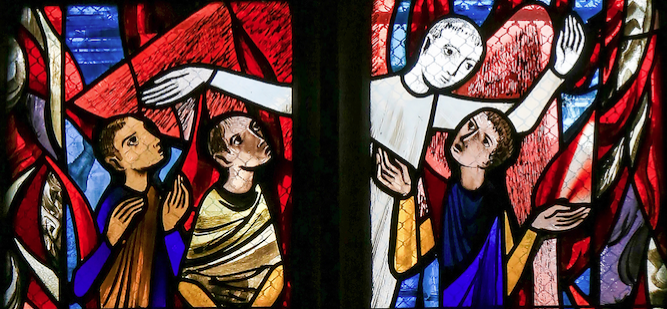 BY SUSAN TASSONE 
Purgatory — a masterpiece of God's mercy
It's no small wonder that coming up with a lesson plan on purgatory can be challenging. Often our own catechesis has been a little … sketchy.
As one comic (incorrectly) summed it up: "Purgatory is hell without the humidity."
But truly, it's far, far, far from hell. And oh-so-close to heaven.
Purgatory is a God-given gift, and it's one in which your students and their families can play key roles.
So let's take a look at what purgatory is (and isn't), and how students can learn more about it, and ways their families can incorporate those lessons into their home life.
Truth #1: Purgatory exists!

Purgatory is a declared doctrine of the Church that's been part of the deposit of faith since the time of the apostles. As faithful Jews, Jesus and the apostles joined in prayers for the deceased.
St. Clement (the pontiff from 88-97 AD) stated that St. Peter liked to offer prayers for the relief of those who had passed away, an action that clearly implies there's a purgatory of some kind.
The Scriptures speak of a cleansing fire after death (see 1 Corinthians 3:15, 1 Peter 1:7, and Matthew 12:32).
In fact, it wasn't until the Protestant Reformation in the 16th century that there was any significant opposition to saying prayers for the dead.
The Church formulated her doctrine on purgatory especially at the Councils of Florence and Trent. St. Ephrem (d. 373) stressed the value of prayer for the dead: "Instead of shedding tears over the grave let them flow at prayers in church." St. Ambrose (d. 397) offered a touching prayer in the funeral sermon he gave for the Roman Emperor Theodosius: "I will not leave him until by my prayers and lamentations he will be admitted unto thy holy mount of the Lord."
And in our own time, the Catechism of the Catholic Church confirms:
All who die in God's grace and friendship, but still imperfectly purified, are indeed assured of their eternal salvation; but after death they undergo purification, so as to achieve the holiness necessary to enter thy joy of heaven (CCC, 1030-1031).
Truth #2: Purgatory exists because of God's love for us.
Purgatory exists because of God's unfathomable love, incomprehensible holiness, and supreme mercy! Purgatory is a masterpiece of God's mercy. God loves us more than anybody else does and anybody else can. It's his love that cleanses and purifies us to be able to stand before his presence. God is a God of unspeakable purity. Because of our sin and selfishness, we need purification and healing.
Purgatory is a loving and healing place. It's the heavenly beauty of God that ravishes these souls, and they will not go before him with the least stain. Once the souls experience God, they willingly hurl themselves into the purifying love of God so they're able to be with him. To be with God our souls must be pure. There's no rebellion in purgatory.
St. Catherine of Genoa (d. 1510) — the "Apostle of Purgatory" — tells us in Treatise on Purgatory:
Were a soul to appear in the presence of God with one hour of purgation still due, it would consider itself grievously injured and it's suffering would be worse than 10 purgatories, for it could not endure the justice and pure goodness of God.
Truth #3: Purgatory isn't a "punishment."
The work of purgatory can be called "punishment" only in the sense that it will be spiritually and psychologically demanding, as the acquisition of any virtue is. The theological virtues of faith, hope, and charity — these "soul-virtues" — are the means that prepare us for our life with Jesus in heaven. Heaven is looking for Christlike people. That's what God will be looking for! If, at the time of our death, these qualities are deficient in us, with God's help we will be able to purge the remnants of selfishness from our souls through this purifying process. Simply put, it's a labor of love.
Anything worthwhile requires pain to make progress, but it's pain with a reward at the end. Purification is hard. To rid our souls of the stains of sin is analogous to losing weight, stopping smoking, or preparing for a sports tournament. There's pain as we struggle to achieve our goal, but it's a sign of progress. No pain, no gain. It means we're on the road to where we eventually want to be. That makes it a joyful pain.
Placing too strong an emphasis on purgatory as a punishment is the wrong way to look at it. God isn't trying to get even with people. It's not a chamber of horrors. Rather, out of his infinite love for us, God is preparing his less-than-ready children for the joys of heaven.
We are charged with a mission on earth. We are charged by the Gospel to prepare for heaven while we're here. There are countless times God gives us the graces we need to help us get ready, but if we failed to use those graces while still on earth, whose fault is that?
Even so, our (merciful!) God doesn't regard our failures to prepare as final. He comes to help us complete the work we've left undone. He doesn't say, "You failed me completely." We learn to see purgatory as a place where shallowness and selfishness are overcome — a place of spiritual growth and maturing.
Truth #4: The souls in purgatory suffer the loss of the sight of God.
The primary pain of the souls in purgatory is the loss of the sight of God.
Once the soul sees God even for one brief moment, the eyes of the soul can never close without the inexpressible pain of longing for God. Now the soul realizes the awesome beauty and lovableness of God: how good God is and what joy it is to be with him. The soul sees how providence designed all things. It cries out: "God, God! I must be with God!"
Truth #5: Purgatory isn't a physical fire.
Purgatory is an inner burning, a "spiritual fever," for the love of God.
The souls in purgatory have seen God in all his glory, and now they're unable to be with him. So they burn "interiorly" for God. It's God's burning love, his longing for souls, that creates their longing for him. They "burn" for love of him; they are hearts aflame for love of him. They have an unquenchable thirst, an unspeakable yearning for him. They have a "heartsickness" for him. He's the fulfillment of all their desires.
This is the essence of purgatory.
[The article is continued below.]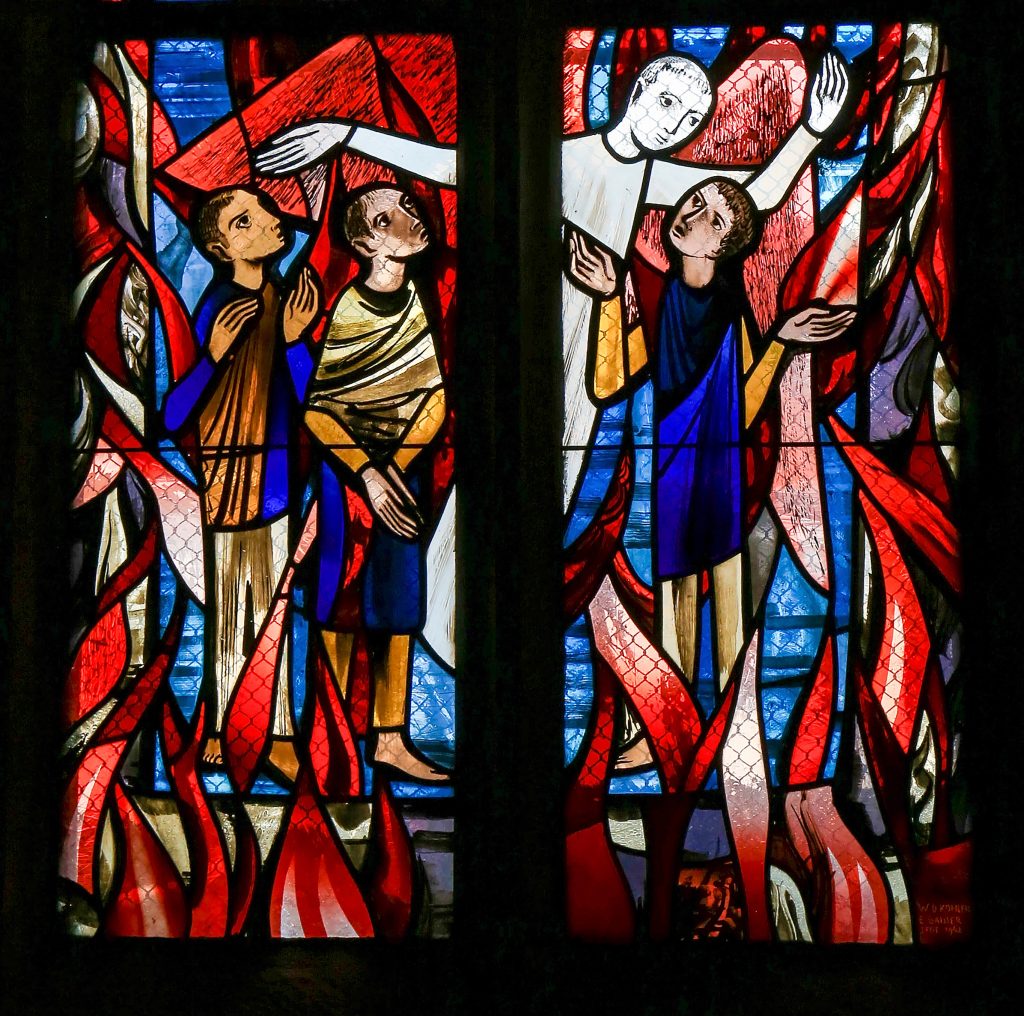 Opportunities to discuss purgatory
1. We all need to prepare for heaven. Ask students what they do to get ready for a special party or event. (Answers might include a bath or shower, for example; clean nails; "dress-up" clothes; good shoes.) Do we always want to do that? No. Would we feel out of place, and maybe a little embarrassed if we showed up at the party and were the only one who didn't get ready? Most likely, yes.
Our time on earth is when we get ready to go to heaven, but sometimes we aren't as prepared as we should be.
Does that mean that God doesn't love us or want us to be with him in heaven?
Of course not! In fact, he gives us a way after we've died to get ready for the best party ever!
2. Share this hope when children experience loss. When a parent, grandparent, or loved one dies, children, (and adults, too) may feel helpless. They wish they could do something! The teaching on purgatory says they can do something valuable — and should!
Students can pray for loved ones and acquaintances who have passed away. They can pray for someone who is grieving and for that person's loved one who has died.
They have power! God loves, and listens to, their prayers. And those prayers help that soul prepare to enter heaven.
Be sure to instruct student on how to pray for souls: Offer up a Mass or a small sacrifice. Pray a decade of the Rosary. Lift up a Hail Mary, Glory Be, or Our Father. Make up your own prayer. Light a votive candle.
Remind them that soul, later in heaven, will pray for them. Years ago children had "pen pals" that would write to each other. Now each student can have a "soul pal" who they can pray for and who prays for them. (In fact, a boy or girl can have many "soul pals.")
3. Teach about All Souls Day, November 2. Talk about what it means and why it's part of the Church's calendar. Help students learn the Eternal Rest Prayer.
It can help, too, for students to spend some time considering how they can make sacrifices that can be transformed into prayer. What's hard? What hurts? Why would "uniting" that to Christ's great sacrifice on the cross turn their hardships into prayers?
The bottom line: Let children know that purgatory exists, that they can help the holy souls who are there, and that in doing so, they're making friends for all eternity.
Helping parents better promote what the Church teaches
Moms, dads, and other older family members or guardians can:
Prepare a calendar for the month of November with special groups of people to pray for on each day of the month.
Pray the Eternal Rest Prayer before family meals
Celebrate a "Cemetery Sunday" with the family during the month of November by visiting the local cemetery and praying for those buried there.
Share stories of deceased family members and other loved ones and remember them in prayer.
Let's not shy away from teaching a lesson or two on purgatory.
Why not offer a few prayers for the holy souls today?
Susan Tassone is the author of the best-selling books Day by Day for the Holy Souls in Purgatory: 365 Reflections; The Way of the Cross for the Holy Souls in Purgatory; The Rosary for the Holy Souls in Purgatory; Prayers, Promises, and Devotions for the Holy Souls; St. Faustina Prayer Book for the Holy Souls; Thirty Day Devotions for the Holy Soul; and St. Faustina Prayer Book for the Conversion of Sinners. Learn more at: SusanTassone.com.
The article was originally published in Catechist magazine, Nov/Dec 2017. It has been modified to fit this format.
Image credits: Jorisvo/Shutterstock 693243049.