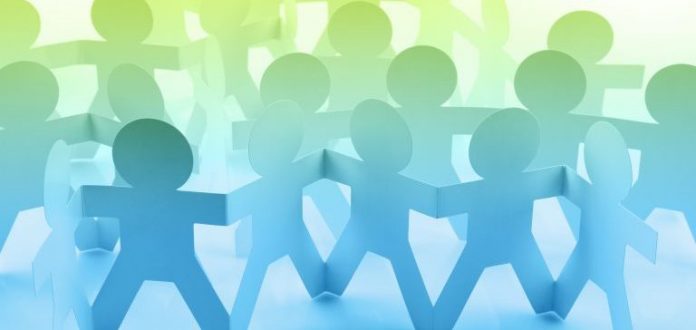 By Sr. Mary Kathleen Glavich, SND
A community is a group of people who are united because they share common values. A priest once told of how one day for breakfast the rectory housekeeper from the South prepared grits, a dish unfamiliar to him. When he asked for just one grit, the housekeeper and other priests roared with laughter. Like grits, a community comes packaged together.
God is a Trinity, a community of three divine Persons bonded together by love. Our Creator made us social beings, too. We require the comradeship, support, and thoughts of others to thrive and live well. Teaching about community and how to build it is of prime importance today when our world is marked by strife due to multiple divisions between people, nations, races, and religions.
God's Communities
When God first revealed himself, he called the Israelites not as individuals but as a people, a community. They were God's chosen people, bonded together by a sacred covenant with him.
To Jesus, community was a priority. He called the Twelve, and they traveled together, sharing food and finances. He sent his disciples out two by two. Jesus taught how to foster community: Be humble, be as simple as a child, forgive without limit, and above all, love one another as you love yourself.
The first Christians were "of one heart and soul" (Acts 4:32). They were such a tight-knit community that they "had all things in common; they would sell their possessions and goods and distribute the proceeds to all, as any had need … they spent much time together in the temple" (Acts 2:44-46). These followers of Jesus were united by love for him and one another.
The Church is a community so completely bonded that it is known as a body, the body of Christ.
Another name for the Church is the communion of saints. It comprises people of faith in heaven, in purgatory, and on earth, or, as someone quipped, all saints, all souls, and all sorts. The heart of this task of catechesis is to teach what it means to be part of this grand community and how to be a responsible member.
The Classroom Community
You and your students are a subset of the Church. You form a Christian community — journeying together sharing belief in Jesus Christ, growing in faith, and celebrating it. Communicate that you are united in Christ and trying to deepen your relationship with him together. As a catechist, you are not the sage on the stage, but a guide at the side. You and your students learn from one another.
Provide opportunities for sharing faith. This can be done in whole-class discussions or more intimately by having the students discuss in small groups topics about Jesus, prayer, or discipleship.
Work with other teachers to plan activities that allow all the children to interact, such as a play, a program, or a prayer service. Or do something for or with another class.
The Families of Your Children
The members of the church community closest to your children are their parents and siblings. It is within their families that your children first hear the Good News of Jesus, pray, and learn how to live as Jesus taught. Engage family members in activities with your students and with other families. Hold family nights, invite parents to be guest speakers in your class, and assign homework and projects for families to carry out together. While children are in class, arrange for parents (and grandparents) to meet for Bible study, a presentation, or just socializing.
One way to create a sense of community among families is to schedule a day or week when everyone will pray for one of the families. Keep families apprised through newsletters or emails. Invite families to participate in class or school Masses. An open house day during which parents sit in on classes is another option. Families meet one another, and parents might even learn something about the faith that they didn't know.
The Parish
Help your children realize that they are part of the parish community. Foster a relationship between them by inviting their priest(s) and deacon(s) to teach a lesson or part of a lesson. Introduce the children to other parish leaders, perhaps by holding a panel in which each one explains how they serve the parish. Or have children interview them. Older students might create a booklet or a PowerPoint presentation about their parish activities.
The children might become prayer partners to senior parishioners and enjoy at least one special activity with them. Children can write to the RCIA catechumens and candidates, welcoming them into the Church. Encourage parents to participate in parish functions — Christmas concerts, parish picnics or festivals, parish missions, service projects, and the like — as a family.
Students can be taught to be active, responsible members of the parish family. Suggest that they become altar servers, hosts at receptions and fish fries, and cooks when baked goods are needed. They might contribute their own money to the collection!
Hold programs where the Catholic school children and those who attend the parish school of religion participate together, such as a vacation Bible school or a retreat.
The Diocese and Beyond
Alert parents to diocesan activities. For example, each summer the Cleveland Diocese holds a fest for families, with booths, Christian bands, a raffle, games, an evening Mass, and fireworks. Being gathered with thousands of other Catholics makes the children aware of the larger Church community and strengthens their connection to it. Visiting your diocesan cathedral imbues children with a sense of belonging to the wider Church. Inform children about news in the universal Church using Catholic newspapers, magazines, and websites.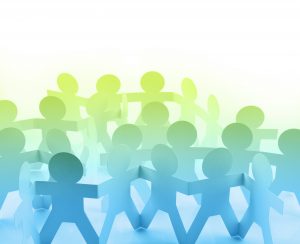 Serving Others
Jesus urged his followers to serve, and he provided poignant examples. On the night before he died, Jesus washed the apostles' feet. Jesus also taught that those who feed the hungry, give drink to the thirsty, clothe the naked, welcome the stranger, and visit the sick and imprisoned will merit a place in his kingdom.
Ways to Encourage Service
Pope Francis has captured the world's attention and admiration because, by words and deeds, he frequently teaches us to serve. Refer to him as a model and quote some of his teachings on serving others.
Study people known for serving the needy and oppressed. Some models to consider: Vincent de Paul, Dorothy Day, Martin de Porres, John Baptist de la Salle, Mother Frances Cabrini, Mother Teresa of Calcutta, Damian of Molokai, and Oscar Romero.
Let children become involved in projects aiding the needy: Assist at a soup kitchen, visit a nursing home, prepare packages for the missions, or raise funds for Habitat for Humanity.
Our Heavenly Members
The saints offer examples of how to live. They offer friendship, plus strength and protection by their prayer. They spur us on to victory — everlasting glory.
Preeminent among the saints is Mary, the Mother of God. Besides the doctrines about the Blessed Virgin, make sure the children understand that she is a human being. Moreover, Mary is their heavenly mother who loves them and intercedes for them. Teach about Mary using Scripture, her virtues, titles, prayers and devotions, and her appearances on earth.
Saints inspire children to be holy. When a saint's feast comes along, take a few minutes to talk about him or her. Begin class with a prayer by a saint or a prayer to a saint. Incorporate saint quotations in lessons. Choose a class patron and suggest that families choose a patron saint.
These Activities Can Help:
■ Have the children report on a patron or favorite saint by means of puppets, a skit, an interview with the saint, or a PowerPoint presentation.
■ Make a class mural of a saint's life.
■ Invite speakers to talk about saints.
■ For the feast of All Saints, have the students dress as their favorite saint. They might process into church for Mass that day.
■ Play games like saint bingo, or hold a "saint bee" with "Who am I?" riddles.
■ Design banners, posters, book jackets, scrapbooks, or websites about saints.
Vocations
All community members are called to be holy, and to a vocation — that of the ordained, married, consecrated religious, or single life. Invite representatives from each vocation for a panel discussion. Or, visit a local convent or seminary. Contact your diocesan vocation office for more opportunities.
Ecumenism
A key aspect of teaching community is preparing your children to live and work with people of other faith traditions. Inculcate an attitude of respect for other believers. Plant a desire for Christian unity but not at the expense of compromising the truths that the Catholic Church holds. An ideal time to teach ecumenism is the Week of Prayer for Christian Unity, celebrated annually in January.
SR. MARY KATHLEEN GLAVICH, SND, a noted educator and speaker, is author of more than 80 books, including The Six Tasks of Catechesis, The Catholic Way to Pray, Enriching Faith: Mary, Praying on Empty, and Leading Young Catholics into Scripture, all from Twenty-Third Publications.
This article was originally published in Catechist magazine, March, 2018.
PHOTO CREDIT: STILLFX/SHUTTERSTOCK