BY PATRICIA MATHSON
FEAST DAY: FEBRUARY 4
Jane of Valois was often disappointed by the people in her life who should have cared about her, but she trusted always in God. We, too, must remember that God is with us in both the good times and the difficult times. Sometimes only a lot of prayer gets us through the challenges in our lives.
Daughter of the king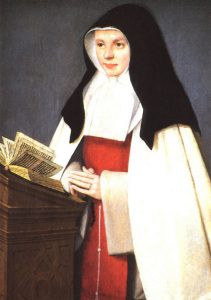 Jane was the daughter of the king of France. This would have been wonderful, but her father did not really like her because she was not a boy and she had a slight disability. He sent her away from home as a young child to live with others. Jane did not turn bitter, but was always kind to others. She knew that God loved her.
Trusted in God
As a young woman she was married to someone her father chose for her. After Jane's father died, her husband became king. Her husband then had the marriage annulled and said untrue things about her. But Jane continued to trust God and pray for the man who had been her husband.
Person of compassion
Jane founded a religious order in 1501 called the Order of the Annunciation. The sisters tried to be like Mary by being humble, patient, and compassionate. The sisters were people of prayer and helped the poor. Jane of Valois' example teaches us not to hold grudges. We cannot change the actions of others, but we can choose how we respond. This is an important life lesson for all of us.
What can we do?
✱ Learn about St. Jane of Valois. Who was her father? Why was her life difficult? Why is it important to trust in God? Was Jane bitter toward others? What does it mean to be a person of prayer? Does God always love us? What did Jane do later in life? Why should we not hold grudges?
✱ Talk about making good choices. You wanted to be chosen for a class leadership role, but it didn't happen. Do you complain endlessly, or do you choose to volunteer for a school project instead? You see a child struggling to get his class project through the school door while other kids make fun of him. Do you laugh too, or do you go help that child? What are some other ideas?
✱ Reach out to others with kindness. In February some people celebrate Random Acts of Kindness Week. Invite your young people to do this. Help children think of kind actions for this week, such as thanking someone, talking to a new classmate, inviting a child to join a game at recess, or giving to the parish food drive.
Prayer
God of mercy, help us to trust always in you even when life is a challenge. May we rely on your strength in all we do each day. Like St. Jane of Valois, guide us to be people of kindness toward others. We know that with you all things are possible. Amen.
Patricia Mathson, MRE, is the Children's Ministry Coordinator for a shelter. She has authored many books from Twenty-Third Publications, including 70 Prayer Starters for Children.
Image credit: PUBLIC DOMAIN
This article was originally published in Catechist magazine, February 2017.