CATECHIST magazine serves catechists and catechetical leaders in parish religious education and formation programs, and religion teachers in Catholic schools.
For more than fifty years, CATECHIST magazine has been the leading periodical that helps both the veteran and the first-year catechist/teacher be more successful.
CATECHIST is a tool that supports classroom preparation and presentation. Articles often contain craft ideas, patterns, and prayer services.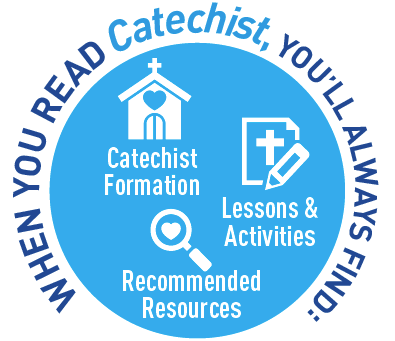 CATECHIST provides reliable catechetical formation with insightful articles about Scripture, the sacraments, liturgy and prayer, and Church history, dogma, and Tradition. Articles are written by volunteer catechists, parish and diocesan catechetical leaders, and scholars in the field of catechesis.
CATECHIST is issued seven times a year: September, October, November/December, January, February, March, and April/May.
---
Each issue includes
FEATURES offering practical suggestions and catechetical insights that will enrich catechist formation and help generate creative ideas for classroom lessons and activities
IDEAS that can be used for classroom experiences or as take-home activities that help catechists connect with their students' parents and families
CRAFTS that include background information about a key Catholic teaching or tradition, along with craft how-to's that help reinforce the teaching with students
PRAYER SUGGESTIONS for personal prayer, classroom prayer, and more.
CELEBRATION SUGGESTIONS for special feasts and holy days, including the profile of a saint whose feast day is celebrated the month of that issue.
CATECHETICAL LEADERSHIP INFORMATION for those responsible for the coordination and management of parish catechetical programs.
RESOURCES that offer news about books, games, movies, videos, apps, and opportunities that enhance catechetical experiences and faith formation.
WEEKLY SUNDAY GOSPEL REFLECTIONS that include summary commentaries and reflection questions that help catechists and students better understand the Gospel.
MASTER CATECHIST INSIGHTS AND PRACTICAL ADVICE in response to questions raised by readers.
---
PLUS . . .
CATECHIST HANDBOOK & PLANNING GUIDE
Free with every subscription to CATECHIST is the annual CATECHIST Handbook & Planning Guide. This is a reliable recordkeeping and planning tool for the entire year, yours free with the September issue.
LITURGICAL YEAR CALENDAR
This colorful calendar appears in the November/December issue, offering a simple and engaging representation of the liturgical year. If you choose, you may purchase this calendar for classroom or home use. When purchased separately, the calendar will come with background information on the Gospel to be proclaimed that year, and a simple step-by-step procedure for presenting the liturgical year to students. This item is also available in a classroom-poster size as well as family size (English and Spanish) so that each household in the parish can post a liturgical year calendar in the home. Click here to find out more, or to make a purchase.
---
Ways to use Catechist Magazine
Departments designed for Catechists, DREs, and parish leaders:
Check out these departments in each issue:
Effective Teaching offers inspiration and catechetical formation. This year, well-known author and catechetical blogger at The Religion Teacher, Jared Dees, is writing our columns. Lots to share with your catechetical team!
Leading DRE is dedicated to parish-based directors of religious education and faith formation leaders offering advice, encouragement, and resources.
Engaging Adults is a new department in Catechist this year, dedicated to adult faith formation with ideas that support adult spiritual growth. Many catechists serve both children and adults, so this department shines a light on that important ministry.
Advice from Master Catechists offers practical and insightful responses to questions you've submitted to our Master Catechists. Here is a great opportunity for you and your fellow catechists to organize a discussion group, using these same questions for further discussion based on your own personal learning situations!
From the Field offers creative ideas that have worked successfully for other catechists just like you. Reflect on your own catechetical experiences and consider sharing those successes with our readers!
The Domestic Church encourages parents in their role in building a Catholic life at home. You are free to reprint this one-page resource and distribute to your students to bring home.
Digital Catechesis explores technology and media recommendations by tech-savvy catechetical leaders.
Books and Blogs offers recommended reading of new titles and online links curated by the Catechist staff.
Features offer formation and inspiration. Each issue highlights a different focus. This year, after our inaugural September issue celebrates our 50th anniversary, CATECHIST will focus on the six tasks of catechesis. See the chart below.
| | |
| --- | --- |
| Sept 2018: | Bible Literacy |
| Oct 2017: | Social Doctrine |
| Nov/Dec 2017: | Sacraments |
| Jan 2018: | The Role of the Catechist |
| Feb 2018: | Youth Ministry |
| Mar 2018: | Intergenerational and Family Catechesis |
| Apr/May 2018: | Truth, Beauty, and Goodness |
Departments designed with lessons and activities for your students: 
Living the Liturgical Year is one of our newest departments, and it offers short lessons for the minor feast days that are sometimes missed between the major feast of the liturgical calendar. Fun puzzles and activities engage your learners.
The Sunday Gospel offers a summary reflection each Sunday's Gospel, plus discussion questions, and short suggestions for prayer and action to use with your class.
Crafts for Catechists is a craft activity. This year's crafts are geared to sacraments. Step-by-step instructions, photos, and links help you prep and execute each idea.
Praying with the Pope is a ready-to-use reproducible activity page and prayer that you can share with your students. This series, courtesy of the Pope's Prayer Network, builds awareness that we are part of a global church, as it helps students and catechists pray with the Pope's intentions. Use it in class or send it home with them to enjoy with their families.
Catholic IQ is a popular reproducible page of 20 multiple-choice questions about the Catholic faith. Students and families enjoy learning by using this fun format. Additionally, this year we've introduced an easier 10-question kids quiz as well.
We Gather to Pray presents tips for praying with your students and calling them to personal pray every day. This year's focus is on prayer and music.
Celebrate Saints presents a saint's short biography from the liturgical calendar. It is written in simple language for younger students to read aloud, discuss, and do a related activity.
Yes You Can offers activity-based lesson plans. This year's focus is teaching the Old Testament. Find discussion-starters and hands-on activities for exploring the Bible.
Youth Ministry Chat provides tips and encouragement for working with teens. Our experts' suggestions will help you flourish in your mission to youth.
Don't forget to explore Catechist.com for more archived articles from Catechist magazine!
WRITERS GUIDELINES:
Queries are preferred to manuscripts.
Please email Editor Pat Gohn: pat.gohn@bayard-inc.com.